Richard Steadman Passes Away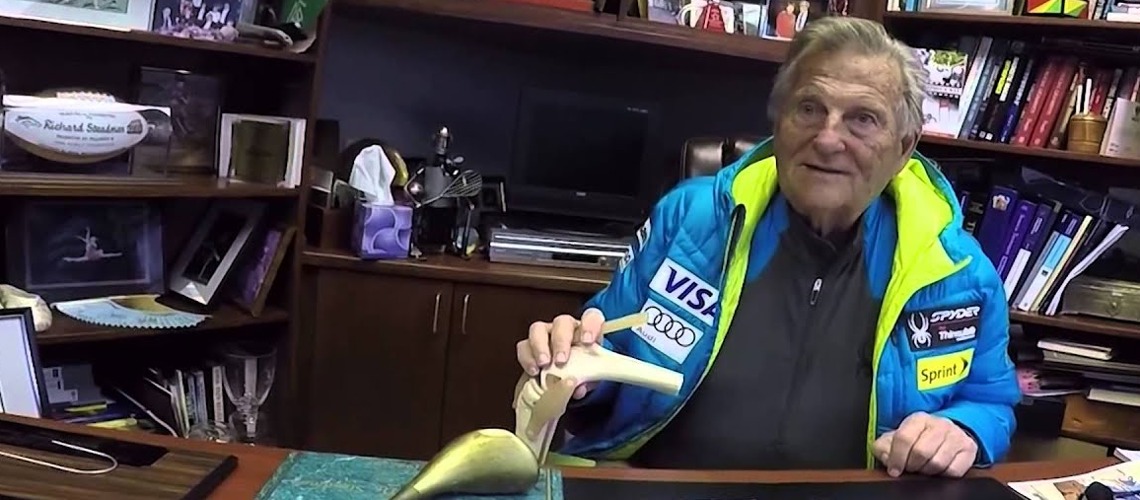 Dr. J. Richard Steadman, famed orthopedic surgeon from the Vail Valley and founder and champion of U.S. Ski & Snowboard's medical program, passed away on Friday, Jan. 20 at age 85.
One of the most talented surgeons in sports medicine history, many U.S. Ski & Snowboard Team athletes throughout the years owe their careers to Steadman. He was an award-winning innovator in his field and became a legend for his pioneering approach that got world class athletes back on snow ready to perform at their best.
"Dr. Steadman has been revolutionary in the sports of skiing and snowboarding, and has left a lasting impression on the sports and athletes he cared for throughout his career," said U.S. Ski & Snowboard President & CEO Sophie Goldschmidt. "U.S. Ski & Snowboard has been partnered with the Steadman Clinic and the Steadman Philippon Research Institute for decades, which has allowed our athletes to maximize their careers and do what they love at the highest level."
Steadman earned his medical degree from the University of Texas Southwestern Medical School in Dallas in 1963 and went on to work in South Lake Tahoe, California as an orthopedic surgeon at Barton Memorial Hospital. When he volunteered his services at a FIS World Cup alpine ski race in Heavenly Valley in 1973, a long and successful relationship with the U.S. Ski & Snowboard Team began.
Steadman pioneered significant improvements in post-surgical rehabilitation developing novel exercise protocols that shook the foundations of sports medicine. In 1974, U.S. Ski & Snowboard Team Olympic medalist alpine skier Cindy Nelson became the first elite skier to be treated by Dr. Steadman. Nelson would undergo 11 surgeries in her 14-year career, without ever missing a full season. Legions of U.S. Ski & Snowboard Team athletes coursed through Tahoe over the next decades before Nelson, working as Vail's Director of Skiing, and former Vail Associates owner George Gillett persuaded Steadman to leave Lake Tahoe in 1990 with the promise of expanded research, treatment and training facilities in Vail.
Steadman treated well over 22,000 patients during the course of his 40-year career in Tahoe and Vail. In addition to members of the U.S. Ski & Snowboard Team, the list includes such legendary athletes as tennis greats Martina Navratilova, Monica Seles and Billie Jean King, NFL Hall of Famers Dan Marino and Bruce Smith, musicians Judy Collins and Rod Stewart and global soccer sensations Cristiano Ronaldo and Lothar Matthaeus. Steadman became a consultant to the Denver Broncos and Colorado Rockies while serving as U.S. Alpine Chief Physician at nine consecutive Olympic Winter Games from 1976 through 2006.
Steadman championed U.S. Ski & Snowboard's Sports Medicine program, chairing U.S. Ski & Snowboard's Medical Committee and working alongside the first medical director Melinda Roalstad, MS, PAC. Dr. Steadman was a constant source of support for the department providing consultation, mentorship and guidance at every turn.
"Dr. Steadman affected every aspect of U.S. Ski & Snowboard throughout his career—from his world-renowned medical care to forging our medical program and chairing our medical committee, to helping formulate our foundational sports medicine policies and procedures," said U.S. Ski & Snowboard Director of High Performance Gillian Bower. "His vision of athlete health and wellbeing will continue to have broad impact on both the athletes and our Sports Medicine Department. His generosity with his talents, time and passion for our sports will live on within our organization in perpetuity."
Steadman's internationally renowned advanced surgical protocols and innovations include: Microfracture, a procedure that repairs the damaged joint and encourages the regrowth of articular cartilage; Healing Response, an arthroscopic alternative to full knee reconstruction; and The Package, a collection of arthroscopic procedures performed in a single operation, for which Steadman received a research award in 2012.
Today, the Steadman Philippon Research Institute (SPRI) in collaboration with the doctors of the Steadman Clinic, is known worldwide for its unprecedented clinical database and research into orthopedic injuries of the knee, hip, shoulder, ankle and spine.
Dr. Steadman's pioneering spirit, surgical prowess, revolutionary advancements and uncommon devotion to treating the whole patient leaves a distinctive and lasting impact in the field of sports medicine, in the lives of everyday people and across many pro sports, particularly the U.S. Ski & Snowboard Team.
Share This Article