PistenBully Promotes 600 Select As Their Premium Preowned Model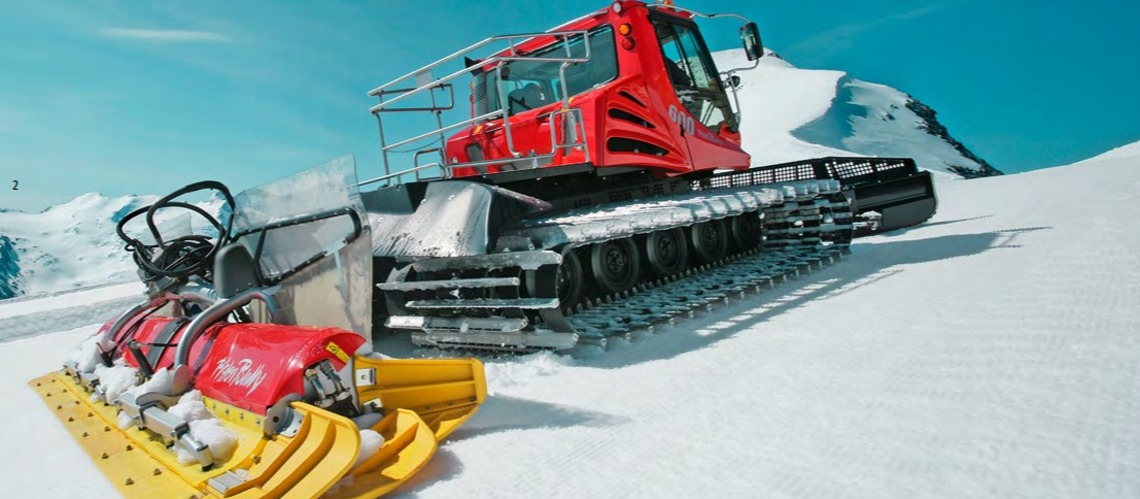 The PistenBully 600 Select is the premium preowned model from Kässbohrer and offers you lots to smile about. Select is the most comprehensive repair and warranty option for your used PistenBully 600, PistenBully 600 W, PistenBully 600 Polar or PistenBully 600 Polar W, from the high quality standard of the work and the parts used (high-end parts, an engine completely overhauled by Mercedes and an update to the current state of technology), the new vehicle warranty and the extensive equipment, to an attractive financing and service package*.
Additionally: because the servicing work is such a lengthy process, we only sell a limited number of PistenBully 600 Select – based on the expected demand from the market. This means we can react to demand immediately without a waiting period, ensuring that a Select is always available for you. Last but not least, the environment also benefits from PistenBully 600 Select, which is another reason to be happy, because valuable resources are conserved. The PistenBully Select concept is part of BLUE IQ – Kässbohrer Geländefahrzeug AG's philosophy designed to ensure a responsible approach to the future. Therefore the PistenBully 600 Select is the perfect alternative to a brand-new PistenBully.
*depending on different countries
SNOWsat ready as standard. Customers used to have to decide before the overhaul whether or not to opt for SNOWsat. Now, they can postpone this decision: All PistenBully 600 Select vehicles are now SNOWsat ready. No matter when you decide to use SNOWsat (or whether you decide to at all), the option is provided. It makes it easy, the Select can be integrated into the SNOWsat fleet at any time.
New vehicle warranty extended. From the beginning, PistenBully 600 Select vehicles have come with a full manufacturer's warranty, just like all new PistenBully vehicles. Kässbohrer's high investment in the quality of the "as good as new" model is demonstrated by this offer – there is now an option to extend the new vehicle warranty to three years. With that, you will have peace of mind going forward
4 T WINCH
Whether in use on steep slopes or to shift large volumes of snow: The 4-t winch is the perfect complement to the PistenBully 600 Select for big challenges on the mountain. The tailor-made winch attachment system with 5 fixing points facilitates quick and easy fitting and removal.
Maximum load capacity and service life
4 tonnes of tensile force, 1,050 metres of rope length, extremely robust winch block, stable slewing ring with hydraulic drive and brakes for secure positioning of the hydraulic, freely rotating driving drum winch – these are some attributes of the 4-t winch.
The active winch control that comes as standard also provides optimum steering capability of the machine in difficult snow conditions. Selected steering parameters can be modified to accommodate the snow and slope conditions.
The low-wear winch system and the high durability of the gear wheels and shaft bearings ensure long and safe usage with a low maintenance requirement.
High safety guaranteed
Sophisticated control system for optimum steering behaviour
Large winch hydraulic pump
Continuously variable rope pull control of 0 – 4,000 kp
Individual tensile force setting
Automatic winch winder control, malfunction alerts
Automatic rope monitoring for early detection of wire and strand breakages
emergency stop on the steering column
Alarm signal when winch arm tilted
Specific settings can be adjusted via the continuously variable potentiometer with raster function
Perfect visibility thanks to newly designed screen wash system
TECHNICAL DATA
Type Mercedes-Benz OM 460 LA
Cylinders 6
Displacement 12.8 l / 12,800 cm³
Power output (ECE) 295 kW / 400 PS
max. torque 1,900 Nm @ 1,300 U/min
Fuel tank capacity 220 l
Fuel consumption from 20.0 l/h
Exhaust emission standard EOROMOT 3A/ TIER 3
Share This Article