Peak Resorts Follows Record 2017/18 Ski Season With Packed Schedule Of Summer Events And Activities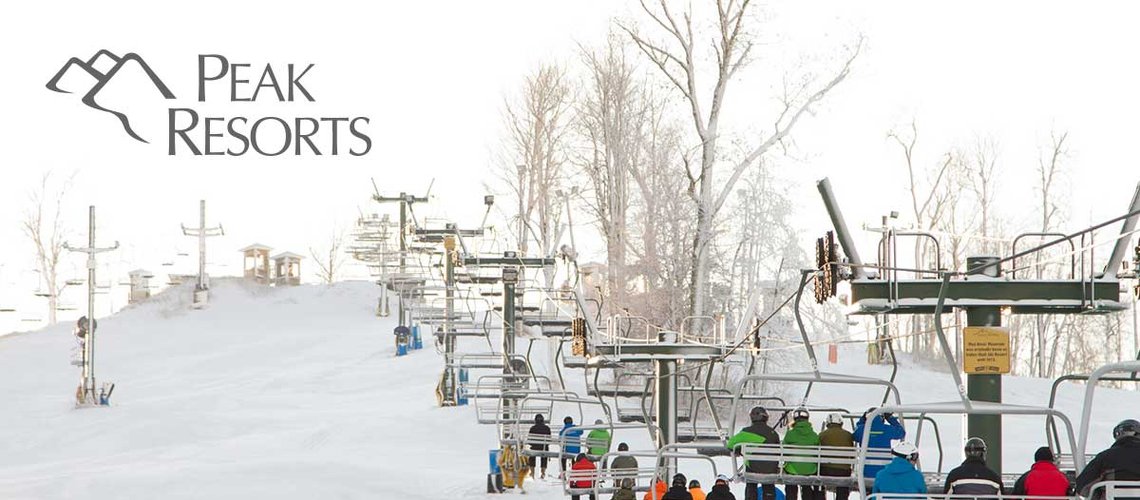 Peak Resorts, Inc. announced that the recent seasonal closing of Wildcat Mountain in Pinkham Notch, New Hampshire completed a highly successful 2017/18 ski season across its 14 ski resorts. The 2017/18 season, which began on November 11, 2017 with the opening of the Company's Mount Snow, Wildcat Mountain and Big Boulder resorts, lasted as long as 145 days at Wildcat and featured incredible skiing and riding conditions right until its final days.
Jesse Boyd, Vice President of Operations, commented, "On behalf of the entire Peak Resorts team, I'd like to thank our loyal guests for making the 2017/18 ski season one for the record books. Strong interest in our Peak Pass products drove great visitation throughout the season as guests responded to one of our earliest openings on record at Mount Snow and great mid and late season conditions with consistently good skiing and riding across many of our mountains. Our Northeast and Midwest on-mountain teams and snowmaking capabilities made it possible for us to mitigate much of the extreme weather variability experienced throughout the season and provide a more consistent experience to help drive added visitors to our mountains.
"I'd also like to extend my sincere thanks to our team members who showed up each day throughout the season to provide our guests with a fantastic skiing and riding experience. Our team braved record low temperatures in early January, leveraged our powerful snowmaking systems to resurface trails in the face of volatile and challenging conditions, and created the family atmosphere we are known for, thus demonstrating why they are the best in the industry. The Peak Resorts team remains the lifeblood of our company and we appreciate their hard work, dedication and devotion to excellence."
With the Company's transition away from the winter ski season now underway, Peak Resorts and its mountains have created a compelling lineup of events and activities that will keep guests entertained and active throughout the summer. From high-profile festivals like the Taste of Country Festival and Mountain Jam at Hunter Mountain to The Boston Mills Artfest Show and the Rugged Maniac obstacle course races at Paoli Peaks and Snow Creek, Peak's guests will have many good reasons to return to the mountains to enjoy the warmth of summer. Additionally, on-mountain activities like mountain biking, hiking, chairlift rides, zip lines, mountain coasters and climbing walls create great adventures for all ages.
Activities on tap for the 2018 summer season include:
Attitash Mountain Resort

Mountainside Summer Music Series presented by Bud Light (Saturdays, June 30 to Labor Day)
A newly revamped and bigger Blueberry Fest 2018 (August 4)
Red Parka Pub World Championship Downhill Tricycle Grand Prix (September 16)
4

th

Annual White Mountains Jeep Invasion presented by Granite State Offroad (September 22)
21

st

Annual Oktoberfest (October 6-7)
On-Mountain Activities (mountain biking, ZipTour, alpine slide, mountain coaster, chairlift rides)
Base Area Activities (slacklines, airbag, climbing wall, Eurobungy trampoline, waterslides)



Boston Mills Brandywine Valley

The Boston Mills Artfest Show I (June 29 - July 1)
The Boston Mills Artfest Show II (July 5-8)


Crotched Mountain

The Crotched Mountain Hundred (August 18)


Hunter Mountain

4x4 Adventure Jeep Go Topless Day (May 19)
Taste of Country Festival (June 8-10)
Mountain Jam Weekend (June 15-17)
4x4 Off Road Adventure (June 23, August 26, September 22, October 8)
Pursuit Series Adult Adventure Camp (June 29 - July 1)
Oktoberfest (September 22-23, September 29-30, October 6-7, October 12-13)
Ahimsa Yoga & Music Festival (November 2-4)
On-Mountain Activities (scenic skyride, zipline canopy tours, hiking, disc golf)


Mad River Mountain

Savage Race 2018 (June 9)
Savage Blitz 2018 (June 10)


Mount Snow

Peace Pipe Rail Jam (May 26)
Fireworks for Freedom (July 3)
Angry Orchard's Rock the Roots Tour featuring Sublime with Rome
Blueberry Bash (July 28)
24

th

Annual Mount Snow Brewers Festival (September 1-2)
ACS Hops for Hope 5k (September 1)
Vermont Wine & Harvest Festival (September 22)
8

th

Annual Vermont Wildlife Festival (September 23)
45

th

Annual Harvest Arts & Crafts Show (October 6-7)
Gulp and Gallop 5k (October 6)
21

st

Annual Mount Snow Oktoberfest (October 6-7)
Outdoor Exploration Camp
On-Mountain Activities (hiking, mountain biking, lift rides)
Golf


Paoli Peaks

Rugged Maniac (September 1)


Snow Creek

Rugged Maniac (September 22)


Wildcat Mountain

Wildcat On Tap - New Celebration of Summer in the Mountains
On-Mountain Activities (gondola rides, ZipRider, 18-hole disc golf, hiking)
In addition to delivering an exciting array of events and adventures, Peak Resorts will be working hard this summer to complete two major projects, which will significantly enhance the skiing and riding experience at Hunter Mountain and Mount Snow beginning with the 2018/19 season. The Hunter North expansion project, now underway, will increase Hunter Mountain's skiable acreage by approximately 25% through the addition of five predominantly intermediate trails. Access to the new terrain will come by way of a new high-speed six-person detachable chairlift, the existing White Cloud and Belt Parkway trails and a new entrance and parking area accessible via Route 23A. Peak Resorts estimates that the Hunter Mountain terrain expansion could generate an additional 40,000 annual skier visits at the resort. At Mount Snow, construction continues on the $22 million, 42,000 square foot Carinthia Base Lodge which will debut in time for the celebration of Carinthia Parks' 10th Anniversary later this year.
Peak Resorts also reminds guests that the 2018/19 Peak Pass is on sale now through the website of each Northeast mountain as well as at mountain ticket windows. Add-on seasonal products such as lockers, seasonal kids programs and more are also available at the time of purchase through the resort season pass pages, allowing guests a one-stop shop for all their 2018/19 season needs.
Share This Article