Pats Peak Ski Area Announces Capital Improvements For The 2019-2020 Season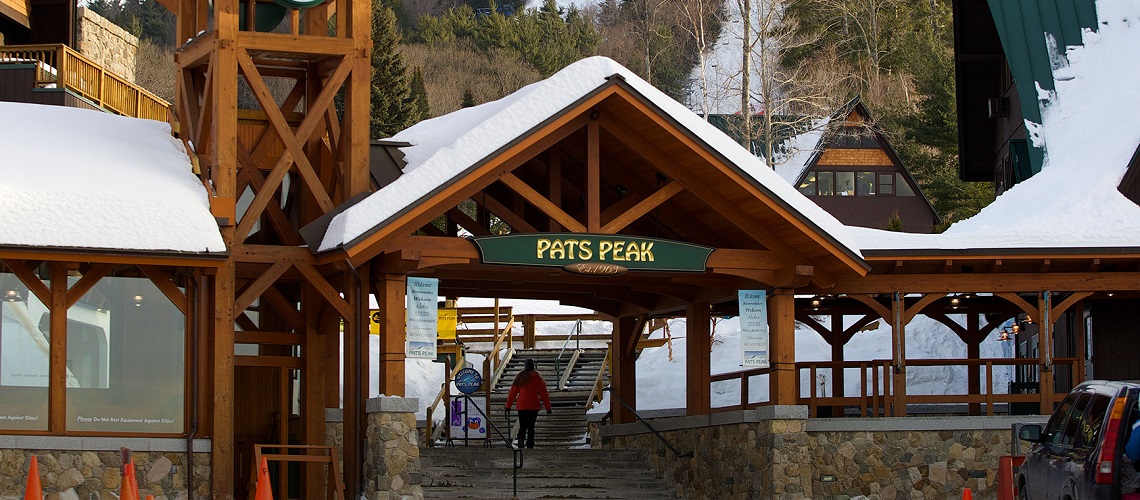 PATS PEAK, announces 2019-2020 capital improvements. This season marks the 57th consecutive ski and snowboard season under the same family ownership. This steadfast stewardship, along with continued investment, has made Pats Peak the go-to ski area in New Hampshire. Generations have called Pats Peak home and carry on the tradition to this day.
"We are proud to be locally owned and that our ownership continues to see the value of reinvesting in our mountain, year over year. While the lodge expansion is the cornerstone, we haven't forgotten about the mountain itself. Exceptional snowmaking capacity remains a priority for us. We're giving Cyclone a whole new look with new SMI fan guns and improved HKD snow guns. And we are very excited to unveil our lodge addition project." commented General Manager, Kris Blomback.
This year's list of capital improvements for the 2019-2020 season include:
v New Lodge Addition
Featuring new enlarged bathrooms, an elevator, ski boot friendly stairs, additional lodge space and a host of other things that will make the lodge experience better. Contractors include Lauer Architects, Conneston Construction Inc. (CCI), South County Post and Beam and others to bring this large project to fruition.
v Additional Energy-Efficient Snowmaking Fan Guns and Towers
Pats Peak continues to increase their snowmaking capabilities by adding to an arsenal that already gives the mountain 100% snow coverage. This season seven new SMI Polecat towers pierce the skyline on Cyclone to give skiers and riders wall to wall packed powder. Pats Peak was one of the first ski areas in New Hampshire to offer snowmaking and continues today to be a ski industry leader.
v Cyclone Powerline Upgrade
This new service will be a major improvement to deliver more snowmaking capacity to the upper mountain like never before. This will allow more snow guns to be able to run at one time and be more efficient with their snowmaking power.
v Rental Equipment
Every season the rental shop receives new inventory to keep the equipment in great shape. Whether it's skiing, snowboarding, snowblades, freestyle, snowbikes or snowshoes. The Pats Peak Rental Shop has the latest in rental equipment. The 9,600 square foot Starting Gate Rental Shop is Northern New England's largest rental shop. The Rental Shop provides fast service to renters with its self-service check-in service, where renter information is stored to make each rental process quicker to get out on the mountain even faster.
Season Passes remain some of the most value driven options in ski country. Pats Peak offers 100% snowmaking, one of the earliest to open ski area in southern NH, night skiing featuring NH's only beginner run off the summit-open both day and night, 11 lifts with tremendous uphill lift capacity and base lodges designed with skiers and riders in mind.
Skiers/Riders can lock in the Early Season Rate for 2019-2020 Pats Peak Season Passes and pay only $99 down if they buy before August 15, 2019 with 3 easy installments due before the season begins. There is no interest and no additional fees for using the payment plan. After August 15 through September 3, the early season rate will remain in effect. Pats Peak Season Pass Holders receive additional benefits including up to 50% off lift tickets at other mountains and a "Bring-A-Friend" benefit for discounted Pats Peak lift tickets. More information on season passes and how to order can be found online at www.patspeak.com.
Pats Peak Season Passes provide outstanding value for guests who ski or ride frequently. Pats Peak Season Pass rates remain affordable in order to allow individuals and families to spend more time on the slopes without financial burdens. The average adult who purchases a weekend lift ticket seven times, would be paying about the same as the price of an Unlimited Season Pass.
Share This Article