Onefinestay Unveils New Luxury Chalets In The Rocky Mountains Ahead Of Season Opener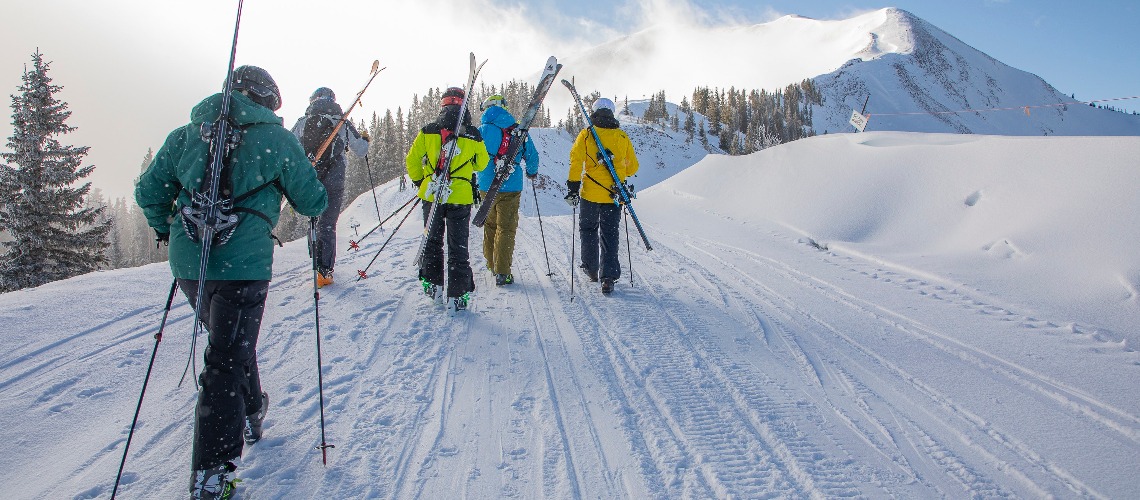 With ski destinations across the Rocky Mountains having recorded their first "official" snows of the 2023-2024 season before the close of summer, onefinestay, the world's leading luxury private rental brand, invites winter sports fanatics and après-ski enthusiasts to enjoy its newest chalet offerings at some of the most popular destinations in Colorado and Utah.
With an uncompromised level of service and attention to detail, every guest can look forward to tailored amenities, 24/7 support from a dedicated concierge team, and professional management to ensure that every detail of their stay is just what they're looking for. The concierge team is on hand to curate unmissable winter experiences in each destination, such as heli-skiing to ice fishing, securing the best tables at Michelin-starred restaurants, and even arranging personalised ski fittings in the comfort of your chalet.
onefinestay's chalet destinations have expanded impressively since the launch in 2021, with destinations including Aspen, Vail & Beaver Creek, Steamboat, Breckenridge, and Telluride, Colorado; Park City, Utah; and Jackson Hole, Wyoming. Ski season is quickly approaching with opening dates of November 10 in Breckenridge and Vail, November 17 in Park City, November 22 in Beaver Creek and Steamboat, November 23 in Telluride and Aspen, November 24 in Jackson, and November 29 at Deer Valley.
Discover onefinestay's new Rocky Mountain chalets for the 2023 ski season below:
Colorado
Breckenridge
Nestled at the base of the breathtaking Tenmile Range, Breckenridge is a mountain town like no other. Famed for its world-class skiing and snowboarding, there are adventures aplenty to be found here. After a busy day on the slopes, unwind in the quaint restaurants, bars, galleries and boutiques of this thriving mountain town. Among the four new chalets are:
Aspenglow Chalet Above Downtown – Named for the reddish glow that lights up the peaks as the sun rises and sinks, this exquisite five-bedroom chalet in the heart of the mountains offers access to everything outdoors, as well as interiors bathed in crisp alpine light through floor-to-ceiling glass. The sheer scale of the Great Room is breathtaking, with a fireplace surrounded by bespoke colored tiles and furnishings as inviting as they are plush.
From £720 per night.
Snow Mountain Lodge – As authentically Western as it is elegant, this five-bedroom chalet offers space to relax and unwind before views of snowy wilderness through cathedral-like windows, or to strap on outdoor gear and explore trails that crisscross the area. Classic log cabin motifs accented by contemporary touches provide warmth and atmosphere, as do the plush leather furniture and smooth river boulders of the fireplace in the Great Room. A hot tub beckons guests to sink beneath bubbles before sunset views.
Telluride
With challenging terrains for skiing, near non-existent lift lines, and over 300 days of sunshine per year, Telluride is a snow enthusiast's paradise. The ski-in, ski-out access of the town makes getting to the heart of town easy. Two new chalets include:
Canyon View Escape – Discreet and delightful, this six-bedroom chalet in one of Telluride's most desirable settings unfolds as a warm, welcoming, comfortable and contemporary hideaway for lovers of the great outdoors. A bespoke dining table and al fresco dining area on the terrace ensure perfect backdrops for every meal, while the feature fireplace is surrounded by plush sofas. Outside, an oversized hot tub, fire pit, and heated patio create an inviting scene for soaking up incredible mountain vistas.
Sunset Ridge Retreat – This exemplary contemporary chalet lives up to its name with sunsets bathing the mountain peaks in pink and gold. A strikingly modern take on a classic mountain chalet, the four-bedroom property set in a desirable location near the popular Boomerang Trail dazzles with white oak floors, walnut trim, plush furniture, an indoor dining area steps from the kitchen, and a gas BBQ outdoors
Mountain Village
Expect the duality of the region to be on full display, with steps-away access to a gondola ride to downtown Telluride and surrounding ski slopes, nearby wonders both natural and cultural, and a village core lively with boutiques and restaurants. A dozen new chalets include:
Knoll Top Retreat – Set in an idyllic spot surrounded by jaw-dropping beauty, this four-bedroom hideaway delivers from every angle, with laid-back opulence encouraging relaxation and oversized stonework beneath vaulted ceilings inspiring an organic feel. A hot tub waits on the terrace, a stone-lined fireplace in the primary suite, and comfortable furnishings in the main living area flooded with natural light.
Dancing Bear – Savor ski-in/ski-out convenience and captivating 360° views at this elegant four-bedroom mountain chalet with space for up to 10 guests. From the signature antler chandelier, dramatic exposed beams, grand piano and pool table to the professional-standard kitchen, private bar perfect for mixing après-ski cocktails, and bubbling oversize hot tub outside, expect an inviting scene for making memories that last.
Utah
Park City
The high point of the home of the "Greatest Snow on Earth," this former mining town is one of the most desirable destinations for year-round adventure, especially during the chilly season. From the best powder snow on the mountains to a town centre dotted with gourmet restaurants and shopping spots, Park City has it all. There are two new chalets, too:
Big Moose Yacht Club – Part of the heart of Park City's Old Town, this stunning three-bedroom chalet employs natural materials and takes design cues from the classic alpine log cabin to create a sumptuous scene. Imagine a Great Room decked out with honey-coloured timber-clad walls, a flickering fireplace, plush sofas, an open-layout dining area, and hardwood floors all around. There are no yachts in sight, but fabulous mountain views from a highly desirable location.
Blackstone Escape at Canyons – This delightful three-bedroom chalet in Canyons Village checks all the boxes, with convenience for dining and shopping as well as some of the best ski trails in the Rockies. The main living area is cozy, comfortable and arrayed with retro-chic-meets-contemporary-class furnishings and a fireplace, while the sleek kitchen, intimate dining space, indulgent hot tub, and access to a community heated pool ensure a right-at-home feel.
For more information and to discover onefinestay's newest chalets as well as more stays from onfinestay's mountain chalets, visit https://www.onefinestay.com/lp/chalet-collection/
Share This Article