New Ski Collection From Decathlon Hits The Shelves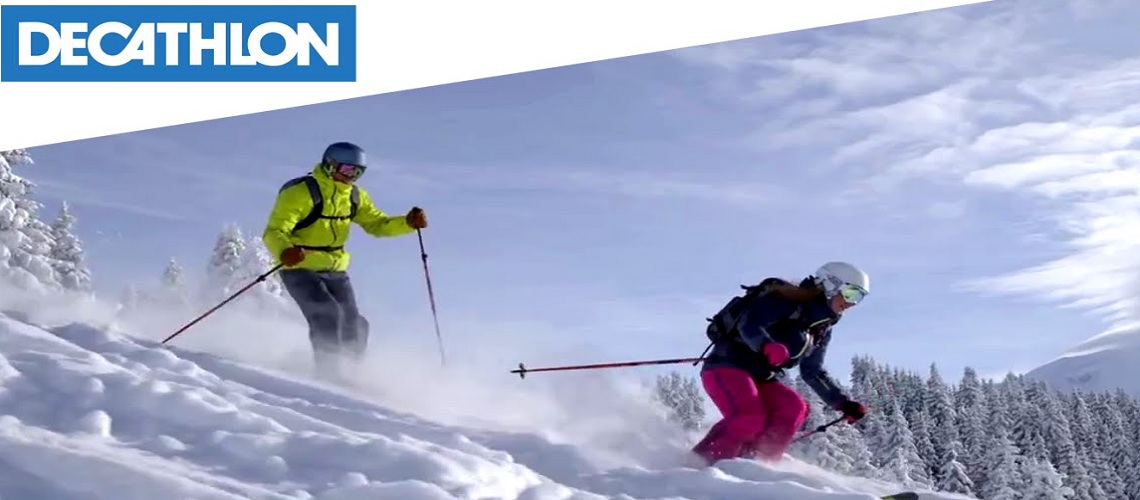 Skiing is a great way to explore beautiful new surroundings, whilst simultaneously doing a form of physical exercise on holiday. In the lead up to the ski season, it has never been more important to be kitted out with the right clothing and equipment for an adventure.
Decathlon innovates, designs and manufactures its own brands for each individual sport. Since its founding in 1976, Decathlon has created over 25 brands and innovative equipment for every sport discipline. With more than 1,400 stores in 42 countries around the world, the company offers sports lovers of all levels affordable, quality gear in over 100 sports, ranging from cycling, running, and snowboarding, to fishing, basketball and golf.
Due to its vertical integration, Decathlon is able to sell its own brands at prices far below that of competing retailers, while still driving innovation based on feedback from its millions of in-store and online customers around the world.
Most Decathlon hardwear is made by established ski manufacturers, but to Decathlon specifications. However the company has its own factory making the Boost 300 Archtec ski, a ski binding combo which skis surprisingly well, despite its being so cheap.
Whether it be for a seasoned skier, those with a couple of trips under their belt or complete beginner, Decathlon has the best products for every kind of mountain adventure. From lightweight clothing to durable ski equipment, each product has been designed and quality tested by Decathlon so that outdoor enthusiasts will be well looked after on the slopes for years to come.
Key products for the upcoming season include:
Ski Boots
Wed'ze Ski Boot Fit 900 Men's On-Piste Ski Boots
These boots are an ideal choice for those who are already confident on the slopes. With four aluminium buckles and a wide power strap, these ski boots are made to fit feet securely.
With a flex index of 110, these rigid boots can increase impact absorption on a day of intense skiing, whilst providing the much-needed support for experienced skiers who spend endless hours on the slopes.
What's more, the thermoformable liners inside will keep feet toasty and means that the liner can be heated to take the shape of feet for optimum comfort.
Wed'ze Fit 900 Women's Downhill Skiing Ski Boots
With a flex index of 85, these women's ski boots offer both comfort and precision on the slopes.
Featuring four micrometric loops and a wide power strap, users can close the boots as tightly as they wish for stability when downhill skiing.
What's more, the insulating liner and sole help both circulation and ensure that feet remain warm.
Skis
Wed'ze Xld500 All Mountain Men's Skis
These skis are made for those at an intermediate level who practice on piste and in unprepared terrain – and are especially useful when snow conditions are unpredictable.
The 78mm width and rocker allows skiers to float over the snow surface easily for greater manoeuvrability when steering. Light under the feet, these skis remain stable, yet playful when accelerating on a downhill slope.
Wed'ze Agl500 All Mountain Women's Skis
Designed for intermediate skiers, these women's purple skis offer versatile skiing on and off the piste.
They have the right amount of stiffness, enabling enthusiasts to move and turn with ease, while the straight edges under the binding means the skis don't catch the edges as easily, so users can enjoy their adventure without worrying about falling.
Ski Poles
Wed'Ze Sturdy Adult Boost 550 Downhill Ski Poles
These sturdy ski poles will prove invaluable for those looking to progress with their downhill skiing.
Featuring an ergonomic grip, the handles of the poles fit comfortably into the user's hand to provide stability when skiing.
The straps on the poles have a wide opening making it easy to fit a glove or mitten through and avoiding the need to take them off in the cold weather conditions.
Ski Clothing
Wed'ze Ski-P 150 Women's Downhill Ski Jacket
This women's downhillski jacket is made from 100% recycled polyester fabric which is not only waterproof, but also acts as an insulator for added warmth while skiing.
The stretch ability of the fabric means that this fleece is extremely comfortable to wear and offers added breathability to wick moisture away, this is especially important for skiing as the cooling effect of sweat can make you feel cold.
What's more, this jacket has four pockets and a ski pass pocket in the sleeve, so skiers can access the slopes with ease.
Wed'ze Ski-P 900 Men's Piste Ski Jacket
This jacket offers the ultimate performance on the slopes for advanced downhill skiers.
It is extremely durable thanks to the hard-wearing polyester fabric and features topstitched seams to prevent any tearing when turning from side to side on the piste.
Meanwhile, the press studs at the bottom of the jacket prevent any unwanted snow or air getting into the base layer, ideal for enthusiasts skiing fast or tackling jumps, where there is greater risk of a fall.
Wed'ze Ski-P PA 900 Men's Downhill Ski Pants
Team these men's ski pants with the piste ski jacket for the ultimate outfit for advanced skiers.
These trousers offer breathability, thanks to the inside leg ventilation zips - perfect for those pushing harder and faster on the slopes.
Meanwhile, the athletic, slim cut of these ski trousers means it is easier to move freely on the mountains than when wearing bulkier clothes.
Wed'ze Women's Piste Skiing Trousers Ski-P Pa 580 Slim
These slim fit women's trousers are ideal for intermediate skiers who want to hit the slopes with confidence.
The polyester and elasthane fabric of the trousers features a fleece lining to keep adventurers warm, whilst offering protection from windy weather conditions. The trousers also wick away perspiration to help skiers maintain a comfortable temperature.
What's more, the zipped ankles mean ski boots can be taken on and off with ease – meaning more time on the slopes.
Ski Helmet
This helmet has been tested to meet the European standards for impact and protection.
It is lightweight, yet stable thanks to the fit adjuster dial, which enables it to fit comfortably and securely to the user's head.
What's more, it features 13 air vents and an inner cap to help skiers maintain a controlled and regulated temperature on the mountain.
The helmet is available in three different colours - white, purple and black to match a variety of outfits and tastes.
Ski Goggles
Wed'ze Ski and Snowboard Goggles Adult G 520
Keep eyes protected on a skiing adventure with these adult goggles. They have UV protected lenses to help filter harsh rays on the slopes and are also ventilated to prevent the glasses from steaming up during exertion and cold temperatures.
These goggles also feature an interchangeable tinted screen, which can be added over the base screen to suit different weather conditions and changes in light.
What's more, the frame features a double density foam for a more comfortable fit.
Ski Gloves
Wed'ze 900 Adult Mi Ski Mittens
These gloves offer comfort and warmth, thanks to the duck down and leather fabric, so there's no need to worry about numb or cold fingers on the slopes.
The adjustable Velcro cuff straps can be tightened to suit the user's hand size to prevent any unwanted snow getting into glove.
These gloves are available in three different colours - white, blue and black to match a variety of outfits and tastes
Ski Socks
Wed'ze Ski Socks, Men's-Women's, Ski Socks 100
These ski socks are ideal for low to high intensity skiers.
Made witha 50% wool mix, these socks help circulation and ensure that feet remain warm. Meanwhile, the socks wick away moisture, perfect to help feet remain dry and prevent any unwanted blisters.
These socks are available in different colours – blue, grey, yellow, green and navy.
Decathlon has 45 stores in the UK and sells a variety of sports equipment, clothing and accessories perfect for those want to get active or maximise their performance.
Share This Article