New Device, Boot Bib, Makes Getting Ski Boots On Easier, Protects Liners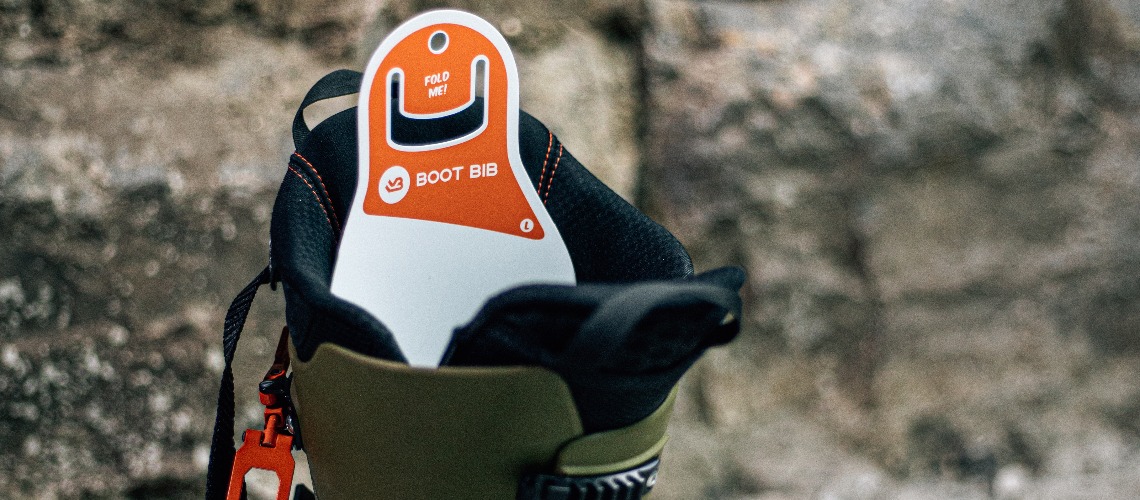 No More Boots, the company that brought the SkiClicker device to ski shops, helping to make the rental experience easier for millions, has launched a new product for the ski consumer.
Smart and effective 'shoehorn' for ski boots launched by young innovative company No More Boots
Helps skiers get boots on, and protects the liners from wear and tear
Made with recycled plastic that can be printed with personalised branding
Will encourage all levels of skiers to protect their boot liners, making their skiing life easier
The Boot Bib performs two key functions – firstly, to make it much easier to slip ski boots on, especially on cold mornings when the plastic is at its hardest.

Secondly, to ensure the liner is protected whilst removing it from the shell after a day on the slopes. The process of this over time can be damaging to the liner, but the Boot Bib fully protects it from wear and tear. The Boot Bib also makes it much easier to both remove and re-insert the liner – which can be a challenge normally, often preventing many skiers from performing this simple task that can significantly prolong the life of ski boots.

Removing the boot liner is the best way to ensure it fully dries out after a day's use, and professional skiers make this a daily habit. But for anyone that owns ski boots, it's something the team from No More Boots know will help protect what's a big investment.


No More Boots markets and sells Boot Bib directly in Sweden, and through distributor partners globally. Customers include Intersport (retail stores and rental), Stadium (online retailer) and Skistar (ski resorts and rental). No More Boots started with the mission statement: 'making access to fun - easier for all' and was founded by Andreas and Oscar, two guys with a passion for skiing and outdoor life. They were then joined by a number of ski loving investors with experience from competitive skiing at a national level to professional boot fitters and rental ski shop owners.
Andreas Persson, co-founder of No More Boots, said: "Competition skiers' ski boots are very tight and hard to get on, especially when the shells are cold. Some riders put the liner on first, and afterwards the shell, and in that process they are wearing a lot of their liners out. I have a background as a ski teacher. To be able to work in dry liners I needed to take the ski boot liners out every day, and it always ends up with me having to use duct tape to keep the liner together after a while. Boot Bib allows all skiers to do this job easily and it's something every ski boot owner should be doing, not just professionals".

Boot Bib has advantages for all levels of skier: beginners, helping to ease getting boots on; kids, they can often struggle with boots and won't need assistance; older skiers, helping them to prevent injury; advanced skiers, protecting their liners; professionals, protecting their liners.

Benefit to ski boot retailers and ski rental departments.

Boot Bib is a great additional sale for ski boots retailers - the staff can use the product in the fitting process when helping customers find the correct ski boots. The staff can show customers how to protect boot liners with Boot Bib, removing/inserting the liner, to help them last longer. In rental shops, skiers can use the Boot Bib when trying on ski boots, and can purchase the Boot Bib in the same payment.

Boot Bib comes in both adult and children's sizes



Share This Article