Three-Time Champions Take Home Cash & Beer At Sunday River's Wife Carrying Championships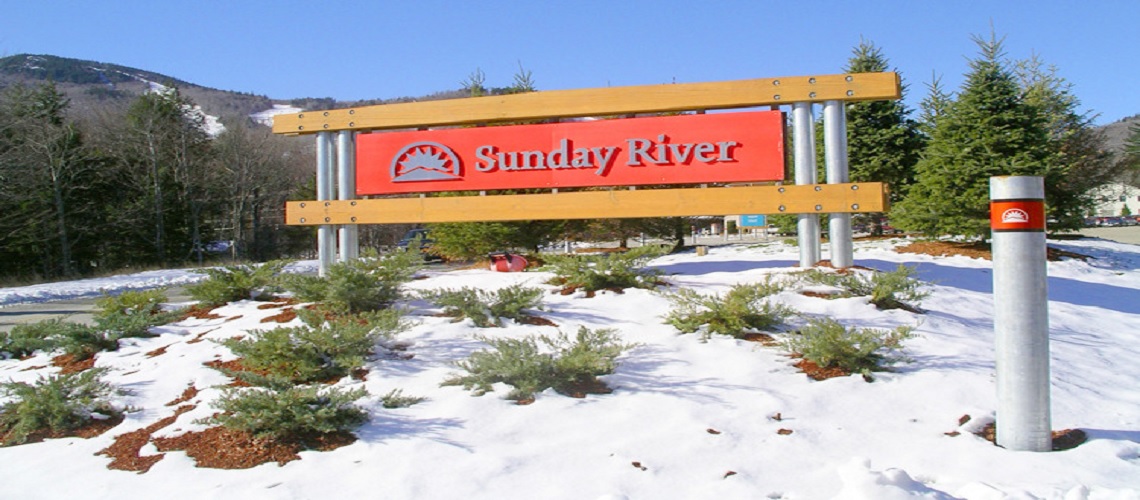 Olivia and Jerome Roehm made history today as the first couple to win the North American Wife Carrying Championship at Sunday River for three years consecutively. The couple from Newark, Delaware, dubbed Team Lovebirds, completed their final heat in 1:04.79.
Team Lovebirds competed against 12 other couples to make it to the final round against competitors Alex Nielsen and Brigid Griffin of Team Honey Buns from Cincinnati, Ohio, who finished with a time of 01:35.97 in the finals. The Roehm's took home $620, six cases of Shipyard Finder IPA beer, and gained entry into the World Wife Carrying Championship in Finland next summer, while Nielsen and Griffin were awarded 10 cases of soda and two cases of beer for second place. Team Honey Buns also scored first prize in the Clydesdale category, awarded to the fastest couple with a combined weight of over 350 pounds.
Third place was awarded to team Bottoms Up, Adam and Liza Drew of Harrisville, New Hampshire, who finished with a time of 01:23.39. The first place in the combined age of over 80 category was awarded to team Chicken Fried Tofu, Chris Smith and Erin Pappal of Portland, Maine, with a time of 01:35.31.
Built to international specifications, the North American Wife Carrying Championship course is 278 yards in length, with one log hurdle, one water obstacle referred to as the "Widow Maker," and a sand hill. Choice of carry is up to each couple, most of whom choose the Estonian Carry where the woman's thighs rest on the man's shoulders in an upside-down piggyback. Helmets are not required but often used. For 2021, couples traveled from as far as California to compete.
The North American race format varies slightly from Finland's World Championship in that there is no minimum weight limit for the wife and the pair must both be 21 years old. Additionally, a head-to-head final race between the top two fastest couples determines the North American Championship couple, rather than a single run-for-time format at the World Championships.
Based on the 19th-century Finnish legend, wife-carrying became a sport as a result of men stealing wives from neighboring villages as means to prove their worth and strength to famed henchman, Herkko Ronkainen, also known as Ronkainen the Robber. Men who were able to carry their stolen wives in the wilderness, over stones, stumps, fences, and springs, were accepted into Ronkainen's privileged group of thieves.
Full Results:
| | | | | |
| --- | --- | --- | --- | --- |
| Bib Number | Team Name | Couple | First Heat | Finals |
| 84 | Lovebirds | Olivia & Jerome Roehm | 01:03.11 | 01:04.79 |
| 81 | Honey Buns | Brigid Griffin & Alex Nielsen | 01:16.68 | 01:35.97 |
| 86 | Bottoms Up | Liza & Alex Drew | 01:23.39 | |
| 83 | Silver Snakes | Casey & David Hunt | 01:25.78 | |
| 95 | Chicken Fried Tofu | Erin Pappal & Chris Smith | 01:35.31 | |
| 96 | Here for the Beer | Grace Tripp & Darrell Van Meter | 01:37.73 | |
| 99 | Moose & Muffin | Alexandria Gabriel & Jonathan Mendez | 01:40.65 | |
| 87 | Team High & Dry | Wendy Hallenbeck & Greg Goodhue | 01:44.28 | |
| 93 | 20 Strong | Susan & Chad Rowley | 01:45.14 | |
| 98 | Wayland Wife Carrying Warriors | Kelley & Ryan Wade | 01:50.37 | |
| 92 | Team Backpack | Erin & John Bates | 02:04.99 | |
| 97 | Flabs & Abs | Laurie Chiodo & Rob Baker | 02:28.54 | |
| 94 | California Dreamin' | Iris Leutenegger & Jeff Richards | 04:09.43 | |
Share This Article