New Cabins For The Matterhorn Express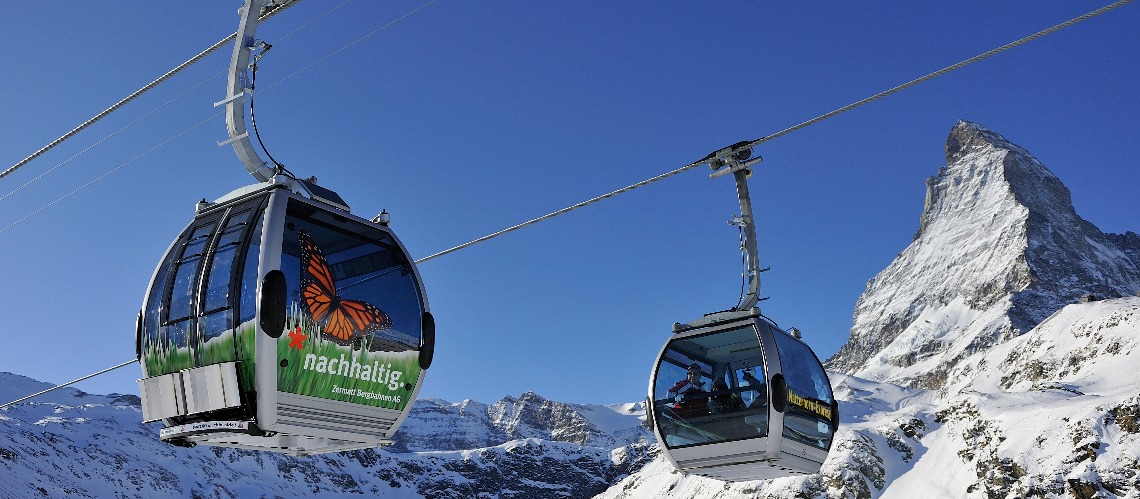 The Matterhorn Express is currently getting new vehicles. 154 cabins of the "Omega 3" type, which are built somewhat lower and have been in use for more than 20 years, are being replaced by elegant "Omega 4" cabins with the latest technology. In this way, all 260 vehicles of the Matterhorn Express on the route Zermatt - Furi - Schwarzsee - Trockener Steg will be standardized on the same cabin type, which will enable guests to travel particularly pleasantly and simplify operations from this summer.
Wrapped in white, the new "Omega 4" cabins from Täsch are transported up to the Furi by truck. Once there, the technical department of Zermatt Bergbahnen accepts the valuable freight and prepares it for hanging on the ropes of the Matterhorn Express. In return, the old "Omega 3" cabins are loaded onto the trucks for the return trip to Täsch, so that there are no empty trips.
Since it is used in the most diverse areas in over 60 countries, for years the OMEGA has been considered as the most popular cable car cabin around the world. Now in its fourth generation, it is still continuously optimised so that it will always be one step ahead of growing demands.
A ride in an OMEGA IV made by the cabin manufacturer CWA is safe, easy and quick. The highest degree of safe- ty and maximum customer benefit are guaranteed by its timeless design, innovative safety features and workman- ship of the highest quality. Functionality, evident quality of workmanship go hand in hand with the fact that it looks great right down to the last detail.
The aluminium sections developed and optimised by CWA, combined with a patented connection technology, result in a high-tech cabin with maximum safety, minimal main-tenance, the best aerodynamics and a long service life.
The OMEGA IV is one of the most popular cabins in the leisure sector. Whether the transport of sports equipment is inside or outside, the passengers are sitting or standing, the OMEGA IV offers all the possible variants. Depending on their size, they can transport 4 to 15 passengers. Winter sports enthusiasts ride through the snow-covered mountains of the most popular ski resorts, the summer tourists also benefit from the best service and even in urban transport projects, the OMEGA IV fits in perfectly with the surroundings.
The panoramic windows mean that passengers can enjoy the unique all-round view, creating a ride that is at one with nature.
Prams, wheelchairs or alternatively winter sports equipment are easy to transport thanks to the boarding platform being level with the floor. In brief, the OMEGA IV repeatedly demonstrates its advantages in so many areas.
An overview of the advantages of the OMEGA IV
Passive ventilation through the floor as standard
Self-supporting structure without visible connecting elements
The greatest travel comfort with additional options such as heated seats, padding for extra comfort, active ventilation
Various options for the transport of sports equipment- both inside and outside the cabin
Quiet
Panoramic view thanks to large panes with safety locks
Easier to get in and out at the stations thanks to boarding platform being level with the floor
Wide range of transport possibilities due to high volume of space e.g. wheelchair, ambulance or euro-pallet
State of the art technical equipment such as infotainment,surveillance camera, indoor and outdoor lighting
Power supply
Share This Article