Mountain Hardwear Helps Fell Top Assessors Reach Their Peak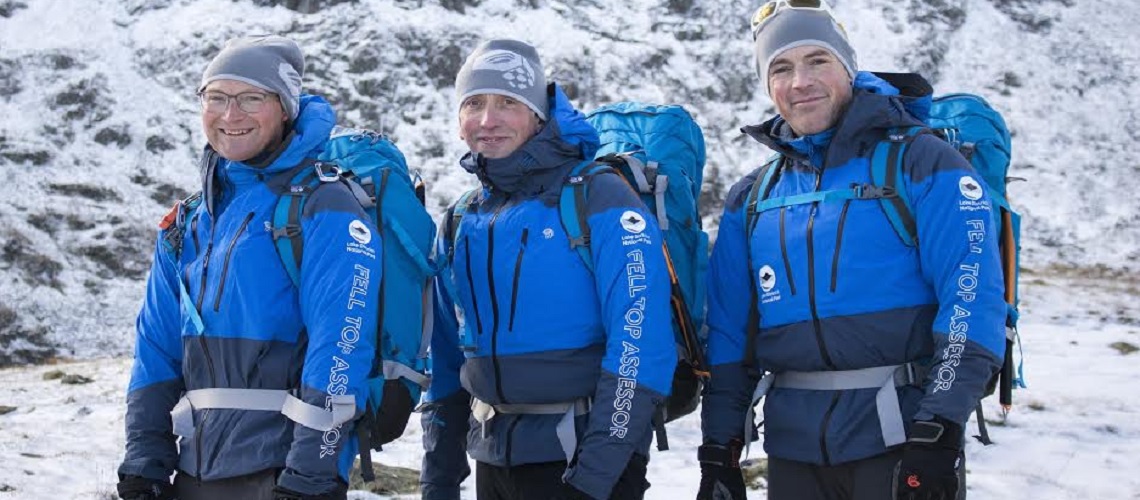 Performance apparel and equipment brand Mountain Hardwear has ensured a safe Winter season for the Lake District Fell Top Assessors and the walkers and climbers they protect, continuing its three year partnership by equipping the experienced team of three with its latest range of clothing, accessories and equipment.
The role of the Fell Top Assessor is a vital one, keeping outdoor adventurers up-to-date on weather conditions on a daily basis via Weatherline, social media and one to one conversations with passing hillwalkers and climbers. The team also offers winter skills training courses to give outdoor enthusiasts better knowledge to enjoy the hills safely and responsibly all year round.
The team of three, who are mountaineers Zac Poulton, Jon Bennett and Graham Uney, rely on the unparalleled extreme weather performance of Mountain Hardwear's no compromise range, to help them reach the summit safely and comfortably.
Although this season has been mild in comparison to 2018, which saw the arrival of the 'Beast from the East', weather conditions can change in an instant on the Lake District fells and mountains, such as Scafell Pike and Helvellyn, and the Fell Top Assessors have to be prepared for any eventuality.
The rain in the Lake District can be a constant, which has been perfect for the team to experience the waterproof and moisture management benefits of Mountain Hardwear's new GORE-TEX range, including Exposure/2 GORE-TEX Pro Jacket and Pant.
Long-time Lake District National Park Fell Top Assessor, Jon Bennett, commented: "During the winter period there's no let up on the number of visitors to the Lake District, who are drawn by the dramatic landscape and unbeatable views. However, the weather and ground conditions can change very quickly on the high fells and we need to communicate these conditions to the public in a timely manner. To do this, we need to be able to safely get to the top of Helvellyn every single day, often in harsh winter weather. We couldn't do this without being fully prepared and equipped in Mountain Hardwear products."
Rhys Henderson, from Mountain Hardwear UK, also commented: "Getting to the top of mountains like Helvellyn and assessing the risk on Striding Edge, often in arduous winter conditions, is what Mountain Hardwear products are made for. Climbers around the world rely on our ranges to achieve their mountaineering goals, from 8000m peaks to Scottish Winter climbing and scrambling in the Lake District. The incredible work the Fell Top Assessors carry out is no exception and we will continue to support the team with our latest garments and equipment, for many winter seasons to come."
Mountain Hardwear was founded in 1993 in California by a small band of outdoor industry iconoclasts. These passionate climbers saw the industry changing, compromising quality and dumbing down products to serve less technical users. Mountain Hardwear was founded to buck this trend in order to stay true to the needs of outdoor athletes.
Share This Article