Lutsen Seeks Approval For Significant Ski Area Expansion - 7 New Chairs Plus Surface Lift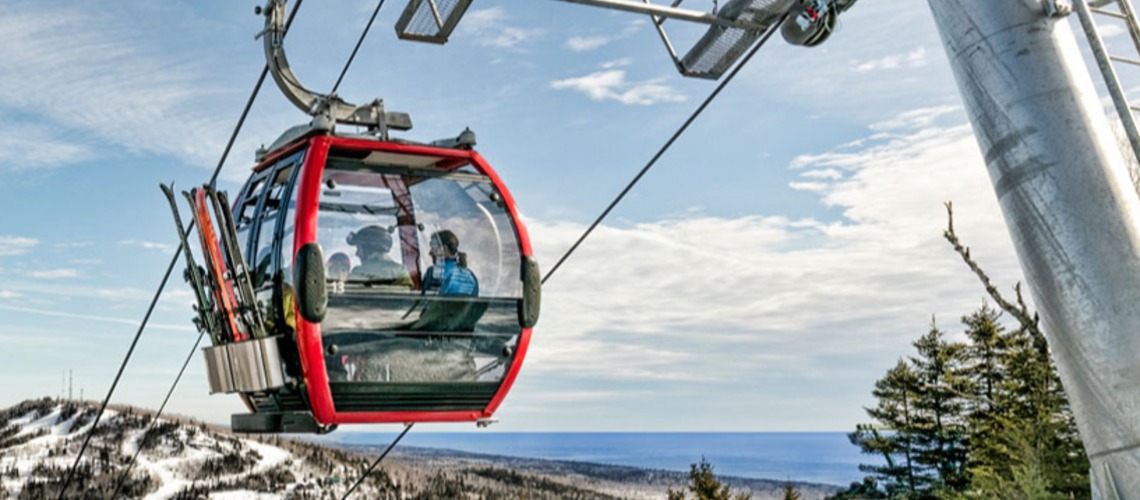 The Forest Service has received a proposal from Lutsen Mountains Resort to implement the Lutsen Mountains Ski Area Expansion Project. The project is located on the Tofte Ranger District of the Superior National Forest, northeast of Duluth, Minnesota.
The Forest Service is preparing an environmental impact statement (EIS) to analyze the anticipated environmental effects of implementing certain projects identified in the Lutsen Mountains 2016 Master Development Plan. The projects include the authorization of a Special Use Permit (SUP) to include skiable terrain in the Moose and Eagle Mountain areas, the addition of lift-served terrain in the Moose Mountain and Eagle Mountain areas, expansion of guest service and maintenance facilities within the SUP areas, additional snowmaking, expansion of ski patrol operations, and development of additional parking adjacent the proposed base areas.
The plan calls for:
-Construction of seven new chairlifts and one surface lift
-Development of 324 acres of additional ski terrain, including 175 acres of developed ski trails and 149 acres of gladed terrain
-Expansion of guest services including two new base facilities, maintenance facilities, a mountain-top chalet, and all associated infrastructure
-Expansion of ski patrol operations and space
-Development of additional parking spaces and a variety of permanent and temporary construction access roads
-And the installation of snowmaking coverage on all 175 acres of developed ski trails and construction of 2 snowmaking reservoirs with a combined capacity of 13 million gallons
According to the 2004 Superior National Forest Land and Resource Management Plan, this proposed SUP would be located in areas identified as Management Area Recreation Use in a Scenic Landscape. The theme of this management area is to provide a scenic landscape for recreational activities in natural-appearing surroundings. The proposal is consistent with the Forest Plan.
LMC's overall purpose of the proposed projects and associated SUP application is to improve the guest experience at Lutsen Mountains Resort, which cannot be accommodated on adjacent private land controlled by LMC. Specifically, LMC has identified the following objectives:
1.) Construct additional traditionally cleared alpine ski trails and undeveloped, minimally maintained lift-served terrain to address the current deficit in beginner and expert terrain and to enhance the existing terrain variety and skiing experiences at Lutsen Mountains Resort.
An analysis comparing Lusten Mountains Resort's existing terrain on private land (approximately 187 acres of traditionally cleared alpine trails (developed terrain) and 23 acres of gladed (undeveloped) terrain) by ability level to the skier market has identified a deficiency in terrain across most skier ability levels but particularly beginner, novice, and expert terrain. Lutsen Mountains Resort's existing private land, however, will not support an increase in the amount of developed or undeveloped terrain. Surrounding private property also does not contain the required terrain to correct these imbalances while meeting visitation demands.
In Ski Magazine's Reader Resort Ratings, "terrain variety" is consistently ranked as the second most important criterion in readers' choice of a ski destination, behind only snow quality. The implication of the importance of terrain variety is that a resort must have a diverse, interesting, and well-designed developed trail system, but also must have a wide variety of alternate-style undeveloped terrain, such as gladed terrain. Lusten Mountains Resort's undeveloped terrain is limited to small non-contiguous tree islands between developed trails.
These conditions equate to inadequate terrain for customers of all ability levels, a lack of appropriate balance of terrain for Lutsen Mountains Resort's customers, and an overall lack of terrain diversity.
2.) Improve skier circulation and reliable snow conditions, particularly on Eagle Mountain and Moose Mountain.
Lutsen Mountains Resort has a deficit of skier circulation space compared to industry norms that results in an uncomfortable or cramped feeling for guests. In addition, some ski trails are currently truncated (Lighthouse) or not directly lift-served (The Plunge). Much of the existing ski terrain has steep headwalls that make the snow on these headwalls more susceptible to becoming undesirably hard or even icy if skier density gets too high.
Minnesota is generally known for its cold weather and adequate snow; however, warm periods during the winter and low snow years do occur and can create poor skiing conditions through minimal snow coverage, hard and/or icy snow, and exposed dirt and rocks. The snow on Lutsen Mountains Resort's current ski trails and gladed terrain can become negatively impacted by below-average natural snowfall, high use, and high wind and/or solar exposure unless augmented by snowmaking operations. The current snowmaking system requires periodic routine maintenance and upgrades to continue operating efficiently and would require additional on-mountain snowmaking water storage to accommodate increases in snowmaking coverage.
3.) Improve base area, guest services, and operational facilities to meet the ever-increasing expectations of the local, regional, and destination skier markets.
Guests to Lutsen Mountains Resort increasingly expect a certain quality of guest services, including food and service venues, as well as parking and transportation options. Perception of the quality of these venues and guest service amenities is strongly influenced by sufficient space being provided and the amount crowding present. Lutsen Mountains Resort currently operates a single base area that contains approximately 200 walk-to parking spaces, ticketing, ski rental and repair, public lockers, retail, ski school/children's programs, ski patrol, first aid, and administrative offices. This lack of base area expansion opportunities on private lands has resulted in an incremental decrease in the quality of and opportunities for a variety of guest services over time, including rental services, parking availability, ski patrol space, and on-mountain food services.
The Forest Service is asking for public comments on these projects as the scoping process begins. Your comments will help identify issues that will be used to focus the analysis of the EIS and develop changes or alternatives to the proposed action, if needed. Please refer to the scoping notice on the project website for additional details. The 30-day scoping period began on April 28, 2020 and will end on May 28, 2020.
Share This Article