Longest Detachable Cable Car In The World To Be Built In Dominica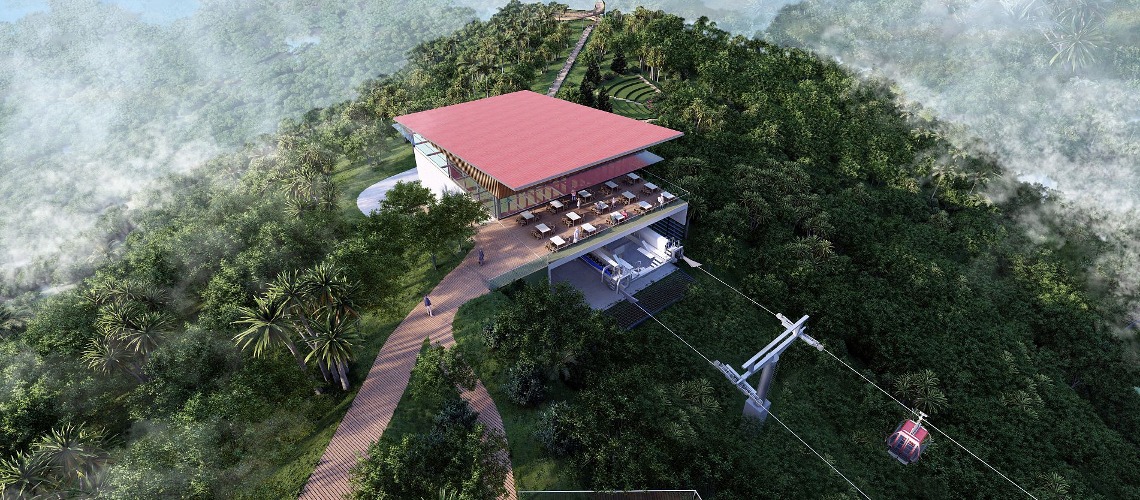 The longest detachable cable car in the world with a length of 6.6km (4.1miles) is to be built in the island state of Dominica. The cable car project will allow safe and fast passage to Boiling Lake. A route that would otherwise take 6 hours by hiking can be covered easily and comfortably in 20 minutes. Thus, visitors can immerse themselves in the heart of the Caribbean rainforest in a very short time and explore the unique nature of the country.
In order to be able to guarantee ecologically and economically sustainable development, the entire customer journey was developed as authentically as possible and adapted to the location. In addition to the basic infrastructure, a retail area and a food court were planned in the area of the valley station, where the local specials of the country can be presented. In the area around the mountain station there is a restaurant with a viewing terrace, viewing platforms and, as a highlight, a 6m high statue of the national bird "Sisserou" at the highest hillpoint. From the top station, visitors can hike along a hiking trail to the stunning Boiling Lake, the second largest hot spring in the world, in minutes.
The need for the lift arises because there is no road leading directly to the lake. It is approximately a 8.1-mile (13 km) return hike to the lake from the nearest road. The hike can be divided into three parts that take about one hour each. Part I starts in Laudat, by Titou Gorge and ends at Breakfast River, where hikers can fill up with fresh water. Part II continues up Morne Nicholls which has an altitude of 3,168 feet (966 m), and ends at the top of the Valley of Desolation. Part III starts with a dangerous descent into the Valley of Desolation, followed by a long hike past sulfur springs and hot pools, until finally reaching a peak overlooking boiling lake.
Two members of a three-man hiking party–a hiker and a Dominican guide–died at the Boiling Lake in 1900 after being asphyxiated by a sudden release of volcanic gases and falling to their deaths.
The Boiling Lake is a flooded fumarole located in Morne Trois Pitons National Park, a World Heritage Site on the island of Dominica. The lake, located 6.5 miles (10.5 km) east of Dominica's capital Roseau, is filled with bubbling greyish-blue water that is usually enveloped in a cloud of vapour. The Boiling Lake is approximately 200 to 250 feet (60 to 75 m) across and is the second-largest hot lake in the world after Frying Pan Lake, located in Waimangu Valley near Rotorua, New Zealand.
Share This Article