Lenzerheide Reinvents Night Sledging, Staging A Multisensory Sledging Challenge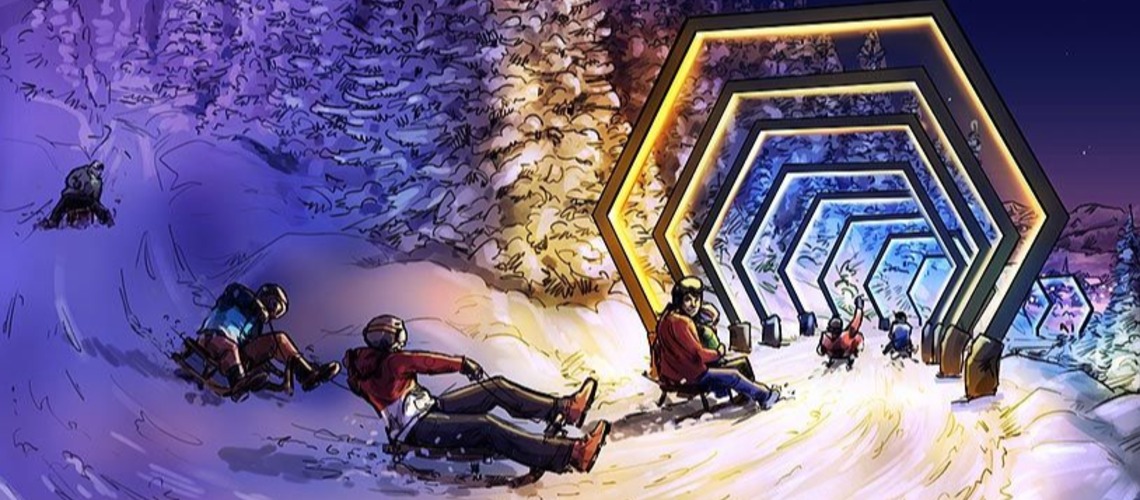 Lenzerheide starts the 2020/21 winter season with a world first. The LIGHT RIDE is a new tobogganing experience for young and old that combines multi-sensory light installations with a toboggan challenge. Behind the new offer are the makers of the Lenzerheide Magic Forest, who have been working on an idea for a combination of light art, play and sledding for a long time. The project was finally implemented together with Lenzerheide Bergbahnen AG and the art and design collective PRIMOCOLLECTIVE.
Measure dexterity, break speed records and pick up speed in the light tunnel - the new LIGHT RIDE in Lenzerheide offers that and much more. Whoever collects the most points is named the "Light Rider". The LIGHT RIDE is located on the Scharmoin-Canols toboggan run and can be reached using the Rothorn 1 gondola lift. It is the first interactive toboggan run in the world. "Up until now we have lacked innovation in the area of ​​sledging, which is why we were open to the idea from the start and are now very proud to be able to present something really new," says Peter Engler, CEO of Lenzerheide Bergbahnen AG (LBB AG).
The LIGHT RIDE combines modern tracking and light technology with a gameplay that is otherwise more familiar from the world of computer games. This creates a unique overall experience that inspires young and old. "You can imagine the ride as a kind of 'Mario Kart on the sledge'", explains Giancarlo Pallioppi, co-initiator of the LIGHT RIDE and president of the Lenzerheide Zauberwald association. At a total of eight stations that adorn the toboggan run from Scharmoin to Canols, the driver collects, for example, virtual objects that are projected onto the snow, knocks obstacles out of the way, sets speed records at marked points and thus achieves as many time credits as possible for the final bill in the target. The whole thing works with the help of a transponder,
Since the toboggan challenge takes place in the evening, the artfully staged lighting is a central element of the overall experience. "After setting up the first light festival in Switzerland eight years ago with the Lenzerheide Magic Forest, we are delighted to be launching another first for the Lenzerheide holiday region with the LIGHT RIDE", says Giancarlo Pallioppi. With their newest "child", the makers of the Lenzerheide Magic Forest want to repeat their success story and have found two competent partners for the implementation in LBB AG and PRIMOCOLLECTIVE.
The LIGHT RIDE is open on Wednesdays and Saturdays between 6:00 p.m. and 10:00 p.m. Operation is expected to run from January 16, 2021 to April 10, 2021. The toboggan ticket required for CHF 29.00 (adults) includes the rental of the transponder that collects and evaluates the data from the Toboggan Challenge. Annual ticket holders can rent the transponder separately.
Share This Article