It's A Spring Thing At Mount Sunapee - 2019 Late-Season Events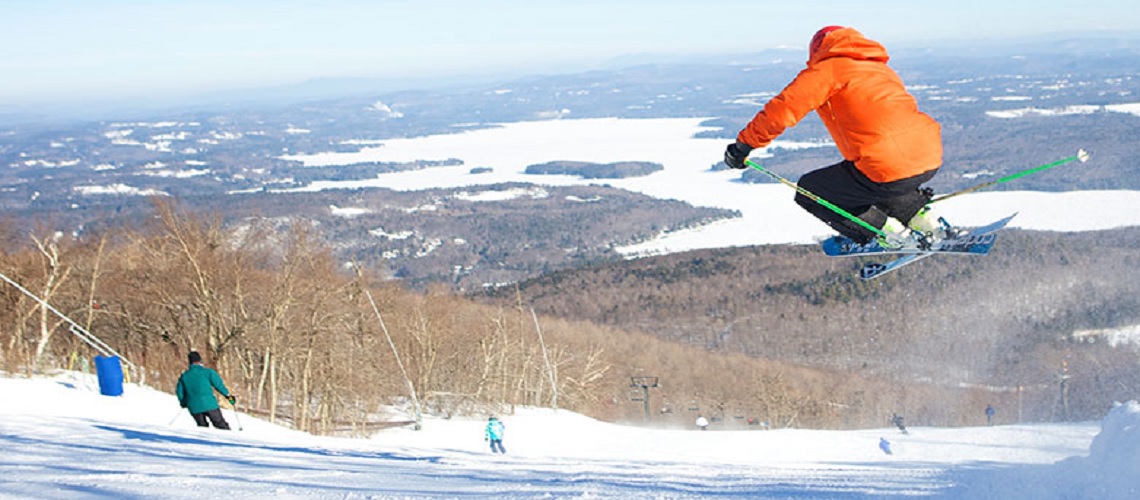 The longer days and warm sunshine of spring contribute to some of the best skiing and snowboarding of the season at Mount Sunapee. It's just another day at The Beach for many, and events, music and après ski make spring a thing to experience at the popular resort.
The Beach
Mount Sunapee skiers and riders are practically professionals when it comes to spring revelry. Where the parking lot abuts the Flyway trail between Spruce Lodge and Sunapee Lodge has become known as The Beach among regulars. It's tailgating-central where cars and trucks back up to the edge of the snow and visitors set up beach chairs, tables and even grills for cooking. Some Beachers fly banners and flags to mark their spot and make it easy for friends and family members to find them. The Beach is about friendships and community. It's a tradition that has been growing since the late 1960s.
Events
March 30: 21st Annual Slush Cup
It's wet and wild! Join in the fun as slushers ski and snowboard across a 90-foot, man-made pond. Prizes go to the winners in various categories. Spectators are welcome to this entertaining rite of spring. Register the morning of the event starting at 8 a.m. in Spruce Lodge near Guest Services. A maximum of 200 registrants will be accepted on a first-come, first-serve basis. Registration is $10 cash. The event kicks off at 11 a.m. and participants will go in bib order. DJ Greg Sowa will play some tunes during the awards ceremony following the competition.
March 31: Mount Sunapee Cares & Shares
Ski or ride the entire day for just $35 with a donation of five non-perishable food items. Food items can be presented to any Mount Sunapee Greeter wearing orange to receive a voucher for a $35 ticket for redemption at the ticket window. Contributions benefit local families and food shelters.
March 31: All Fools Rail Jam
Competitors throw down, from 1 to 3 p.m. in the 603 Terrain Park with their best moves. $2,000 in cash and prizes are at stake. Registration is at Guest Services in Spruce Lodge the morning of the event and the entry fee is $25.
April 6: 28th Annual Intergalactic Cardboard Sled Race
Creators of the most intricate and professionally designed cardboard sleds ever seen vie for bragging rights in one of Mount Sunapee's premiere events. Join the fun for the best racing west of Loudon! Teams build cardboard sleds using only cardboard, glue, and duct tape. No metal (including staples or screws) is allowed, and judges use a metal detector to inspect sleds for rule infractions. Registration is from 9 a.m. to noon in Spruce Lodge and costs $30 to register a team and sled. Teams are limited to three people per sled. All proceeds go to David's House in Lebanon, N.H. Inspection of sleds will begin at 12:30 p.m. and the event kicks off at 1:30 p.m. Prizes will be awarded for fastest sled, team spirit, best crash, and most creative sled. DJ Greg Sowa will spin some tunes and an awards ceremony follows the competition.
Mount Sunapee had an incredible winter with plenty of natural snowfall, and more importantly, great snowmaking weather. Mount Sunapee's snowmaking team was recognized as the winner of the 2018-2019 HKD I AM a Snowmaker Award. The contest showcased six snowmaking-team finalists from resorts across North America. With all that hard work and dedication to making snow, skiers and riders can be sure the superlative surface conditions will continue well into spring.
Share This Article