Graystone To Open The UK's First Action Sports Academy In Manchester In December 2018, Launches Crowdfunding Campaign To Raise £350K In Funds.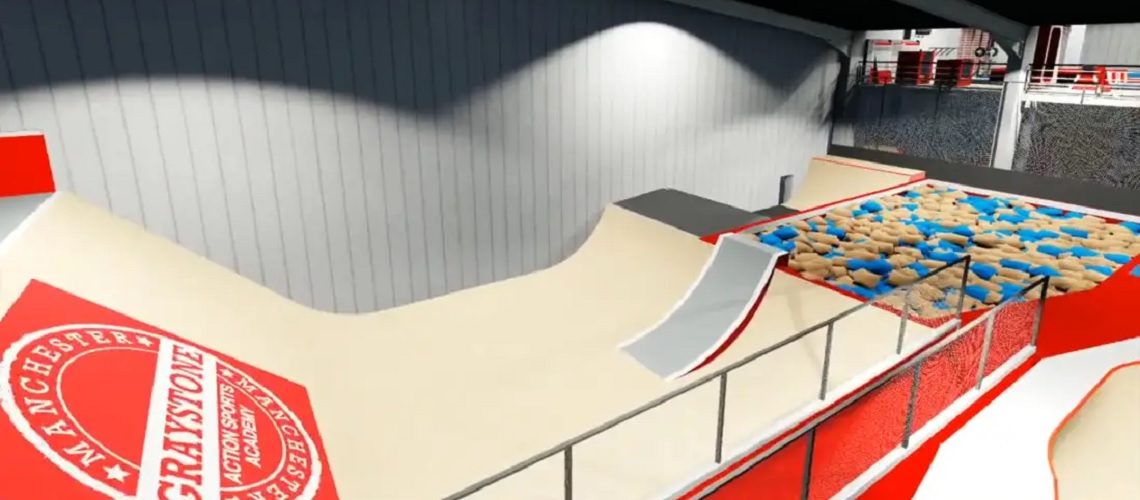 Graystone Action Sports is a leisure concept positioned within the high-growth extreme/action sports sector. The multi-platform offering will include a restaurant, bar, retail, fitness studio, media labs and a 35,000 sqft adrenaline-fuelled action sports paradise.It bears a striking similarity to the US based 'Woodward' concept.
The 35,000 sqft space is located walking distance from Manchester city centre and will have everything you would expect from a facility dedicated to action sports progression and a lot more.
Graystone Action Sports Academy Manchester will be open for hourly pay & play, day camps during school holidays, action and adventure education for school groups, universities, sports clubs & organisations and will be a grassroots, pathway and elite academy for Team GB athletes trying in the new wave of Olympic sports
Graystone will be a game changer for action sports athletes of all levels in the UK. Before now elite level athletes had to travel abroad to use these reduced risk facilities, but now they will have everything they need on home turf. they'll have a skate bowl and plaza as well as ski and snowboard big air to foam pit – which is the first of its kind in the UK – as well as parkour area, ninja warrior, sprung floor and video production facility.
Building work is well underway at the site in Manchester which is scheduled to open in December this year and they have just launched a promo video which is hoped to lead the final fund raise via the Crowdcube platform, which features Billy Morgan, a big advocate for the facility and also Olympic hopeful, Mia Brookes. They're looking to raise funds for an ambitious rollout plan that will see five facilities in five British locations in five years.
Graystone is unique as it will be open to anyone to train from beginner, all the way to pro, creating a truly inspirational environment. And with surf, skate and freestyle BMX debuting at the 2020 Olympics the need for centres such as Graystone in the UK is going to be vital for the training of pro athletes and nurturing the next crop of youngsters. Especially if Team GB is to achieve its goal of being a top 5 medal nation by the 2030 Winter Olympics.
Graystone investors will receive perks, including discounts on Graystone sessions, food and drink in the bar and our onsite store and free admission on your birthday. As well as owning a piece of Graystone, investors will receive invites to exclusive shareholder only pre-opening events giving a chance to ride it first and hang with the pros. An investment in Graystone now will be buying a small piece of a company which may grow very rapidly, as they plan to expand the brand across the UK and potentially into Europe.
Share This Article