Fjallraven USA Launches Online Trekking Event On Fallraven Classic TV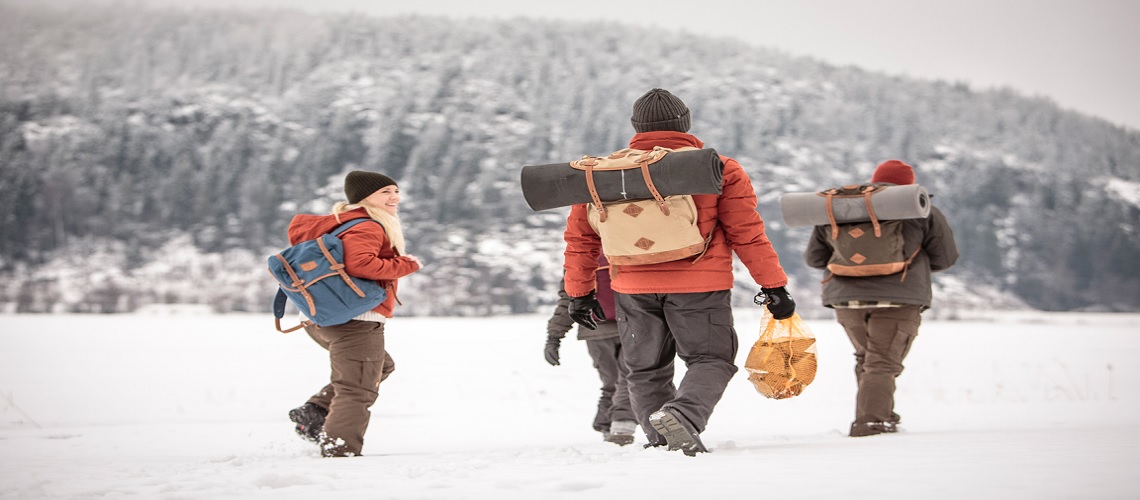 Fjällräven introduces Fjällräven Classic TV USA, an immersive trekking experience from the point of view of a hiker, streamed on their newly launched Fjällräven Classic TV channel via YouTube. Taking the place of the Fjällräven Classic USA trekking event that had been cancelled due to COVID-19, the Classic USA route in the Colorado Rockies will be streamed on YouTube starting September 30, 2020, at 12:00 p.m. MDT. Viewers across the globe will be able to tune into the Fjällräven Classic TV USA episode—without having to purchase a Fjällräven Classic event ticket—on Fjällräven's social channels and on the Fjällräven Classic website. This virtual event gives viewers the chance to access nature from the comfort of their home, something Fjällräven knows everyone is craving right now.
Fjällräven Classic TV USA viewers will be able to tune in for a few minutes, a couple of hours or continuously return to the trek over the course of three days to experience the trail from the hiker's point of view on the Fjällräven Classic website. The trek will last for three consecutive days and span 30 miles of winding trails that pass through wide-open meadows and dense Colorado pine forests, across streams and along ridges with views of Sawtooth Mountain and the Indian Peaks Wilderness in the Colorado Rockies. Fjällräven Classic TV USA includes sweeping panoramic alpine views, mid-trek breaks, filtering water, cooking a meal on the trail and setting up camp.
"Now more than ever, it is important to be spending time with nature in a responsible way," says Fjällräven's CEO of Americas and V.P. of Fenix Outdoor International AG, Nathan Dopp. "We know it has been a challenging year for many people, and while we can't come together in person for the magical moments that Classic creates, we want to remind people of the benefits spending time in nature provides. We know tuning in won't solve every problem or create the same feeling as going on Classic, but we hope this can connect people with nature, meet them where they are and help them get inspired to prepare for next year's Classic."
The original concept of Fjällräven Classic was launched in 2005 with the aim of encouraging more people to trek in the Swedish terrain. Over the years, Fjällräven Classic Sweden has evolved to an event that caters to over 2,000 people every year, from all over the world, trekking the 68-mile (110-kilometer) stretch of the Kungsleden from Nikkaluakta to Abisko with everything on their back. The event has grown rapidly, and so has the concept of Fjällräven Classic.
After nine years, the event expanded from Sweden to Denmark, then to the US in 2016. In 2017, Fjällräven Classic took place in four different locations around the world, when Hong Kong joined the roster of events. In 2020, Fjällräven set out to further expand the Fjällräven Classic trekking series to more countries and continents than ever before with additional events planned for Germany, the UK, China and South Korea
2020 has proven to be a particularly complex year with Fjällräven Classic trekking events cancelled in all eight regions across the globe due to the COVID-19 pandemic. To address this in a creative way, Fjällräven produced an immersive, digital series of online trekking events to bring a semblance of the Fjällräven Classic experience to people wherever they are. Fjällräven Classic TV USA follows virtual trekking events that have aired in Sweden, China, Denmark and Germany
In addition to encouraging people to experience Classic TV USA from the comforts of their home this year while waiting for next year's in-person Classic, Fjällräven brand centers are now beginning to recommend local hikes from Guides and store associates. Available in select key markets and soon-to-be available on the brands Nature Is Waiting site, these routes range from simple day hikes to multi-day treks.
"We are all finding different ways to connect with nature at this time, to recharge, refocus and reconnect," says Fjällräven's VP of Brand Experience, Jean-Marie Shields. "Virtually experiencing Fjällräven Classic allows each person to get inspired in their unique way to plan for Classic next year, experience Colorado fall leaf colors or simply plan a hike in nearby nature. For nearby hikes, our knowledgeable Fjällräven guides at our brand centers can help you choose a suitable hike close to home, get fitted with the right pack or help you pick out the right clothes to wear. We want to remind people that nature is waiting for them—even in their backyard."
Share This Article