FIS Q&A With Andreas Sander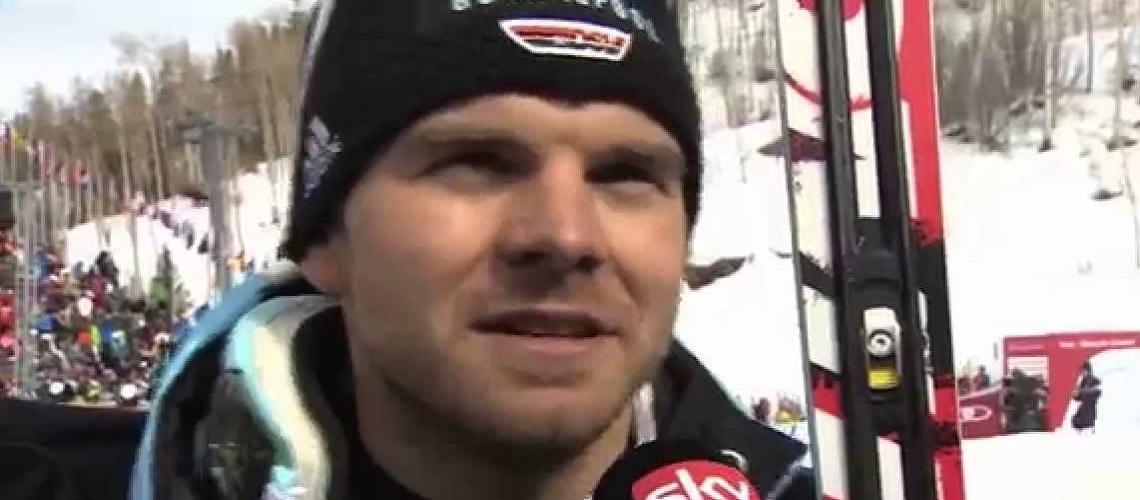 Andreas Sander (born 13 June 1989) is a German alpine ski racer. Sander specializes in the speed events of Downhill and Super-G.
On 13 March 2008 Sander made his World Cup debut in the Bormio Super-G. On 18 December 2010 he scored his first World Cup points in the Val Gardena Downhill, finishing in 28th place. He competed at the 2011 World Championships in Garmisch-Partenkirchen, Germany, in the Super-G and Downhill. He competed at the 2015 World Championships in Beaver Creek, USA, in the Super-G, Downhill and the Super combined. On 29 December 2015 he scored his first Top 10 World Cup result in the Santa Caterina Downhill, finishing in 10th place. He spoke with FIS.
The German speed team has been shining all winter and it's athletes all scored career best performances. One of it's members didn't have the best predispositions to become a ski racer but worked his way to the top: it's Andreas Sander.
You grew up in Westfalen, a region that is not exactly known for its downhill courses. How would you describe your first experiences on snow?
I learned how to ski in Austria as we spent a lot of time in Obergurgl with my family during winter holidays. I started when I was two and a half years old. In the pictures from that time you can clearly see that I loved it from the very beginning.
Were your friends and your family also involved in ski racing?
Yes. Without my family I would never have had access to snow sports. My dad was a ski racer in Westfalen. In my home region, we had a few smaller hills and in good winters with lots of snow, we could even ski at home. My brother, who is six years older than me, was also ski racing and I really wanted to try it myself. We had our own poles gates with us during our skiing holidays. My dad was my first coach.
On your website you say that you wanted to become a Borussia Dortmund football player, but when you were 15 years old you decided to move to the German Alps in Berchtesgaden and then Oberstdorf. What made you chose alpine skiing?
When I was a child, I played football, tennis, and I was skiing. I'm a very big fan of Borussia Dortmund, but I guess I didn't have enough talent to build a career in that sport. I was way more talented in alpine skiing.
Can you describe us this turning point in your life?
Leaving home to settle down 600 kilometers away from my parents was a very tough decision for me. But the ambition to become a ski racer was very strong, so I decided to move to the Alps. I really wanted to find out how far I could go in that sport.
Would you do anything differently when you look back?
For sure not. I don't regret any of the decisions I took in my life. I certainly didn't do everything the right way, but I learned a lot and I am happy that I trusted myself to make that step when I was younger.
In 2008 you claimed the Junior World Champion title in super-g. What did this title mean to you?
The title came as a surprise to me, even if I was in good shape at that time. To be the best in the world once in your life, even if it's on the junior level, means everything to me. The moving, all the hard work I had put down, everything was worth it. It was also a big motivation for the future. It drove me to keep working to make the breakthrough on the World Cup tour.
Your beginnings on the World Cup were immediately followed by your first points in Val Gardena in 2010, but then it took a while to claim your first top-10 result. Can you tell us about those transition years?
When you score points in your first World Cup race, you get the feeling that it's not that complicated. But when you have to confirm that good start with another good result, you realize that it's extremely difficult to break through. Thinking back, I would say that I didn't train enough in details and that I wasn't disciplined enough. Only when I brought more structure in my whole training did I start to get better. And year after year, I became more professional and more successful.
You suffered a severe knee injury in 2012. How did this affect your skiing?
Since the injury, I have become more attentive to what is happening in my body. I realized that my body has to be better prepared for ski racing. Unfortunately, it took some time after the injury until I could trust my skiing skills again. But since the injury I'm even more specific and efficient in my training.
What did it take to become constant on the highest level?
First of all, it took time! In summer 2014 we got a new staff and I felt like there was more trust in the team. Our new coaches were able to persuade us that we can belong to the top 15 in our sport. With a lot of team work, we managed to become more constant in the training and step-by-step we were able advance in the World Cup standings.
You are now established among the best speed skiers of the World, and the 2017/18 season was the best one in your career so far. You finished all six super-G races this season, four of them in the top 10. Can you explain this improvement?
In the last four years I made a lot of changes. Nothing revolutionary, but many details in several areas were optimised. So there isn't one specific thing that changed, but it's the amount of small changes that brought continuity to my training and my results.
You were also able to equal you career-best result with a sixth-place finish in Kitzbuehel. What was special on that day?
It was a very special day. Not only for me, but for Thomas Dressen, our team, and for Germany. I was able to lay down my best performance in my career and Thomas could win the race. It was incredible to hear the German hymn at the prize giving ceremony and to see that a German can win the Kitzbuehel downhill.
Your childhood dream was to have your own gondola at the Hahnenkamm cable car in Kitzbuehel. Why do you like this place/course/race so much?
Having my own gondola was more of a dream than a goal. I would never have thought that I could be so close to a podium on the World Cup and even less in Kitzbuehel. When I was a kid, we skied sections of the Streif with my parents and I was fascinated by the steepness of the course. From then on, I followed this race with a particular attention. This is where the dream comes from. Of course, I will work hard in the next years to get closer and closer to fulfilling that dream.
Your teammate Thomas Dressen earned his gondola last season. Do you feel that your cabin is coming closer as well?
Yes, I think so. It shows that we are on the right way with our team and it gives a lot of motivation. However, I'm not thinking about a particular ranking at the moment, but I'm trying to improve my preparation in order to be stronger and faster this winter. And then we'll see race after race.
What do you think is the key to winning on the Streif?
Especially in Kitzbuehel, it's the perfect mix between courage and tactics. It helps when you have a few years of experience on that course, even if Thomas proved the opposite. And in the end, it also takes a little bit of luck.
"Winter athletes are made in the summer" is a common saying in ski racing. What do you focus on in the summer?
After each season I determine goals that I want to reach. Those objectives come in different areas like fitness, skiing technique and tactics, and equipment. Until July I had a lot of dryland training. In August and September I focus on the skiing. In fall, I try to combine both in order to be ready for the new season.
Do you enjoy gym workouts or is it a painful time for you?
Yes and no. After a short break after the season I usually enjoy the dryland training, but I have to admit that I'm not sad when it's finally time to go back on the snow.
How do you diversify your training?
In addition to the intense strength units in the gym, I love to be outdoors and free my head from the winter stress. At the beginning of summer, endurance is the main focus, so road bike excursions and hiking in the mountains is perfect to stay motivated.
Share This Article