Feuz Takes Beaver Creek Downhill Win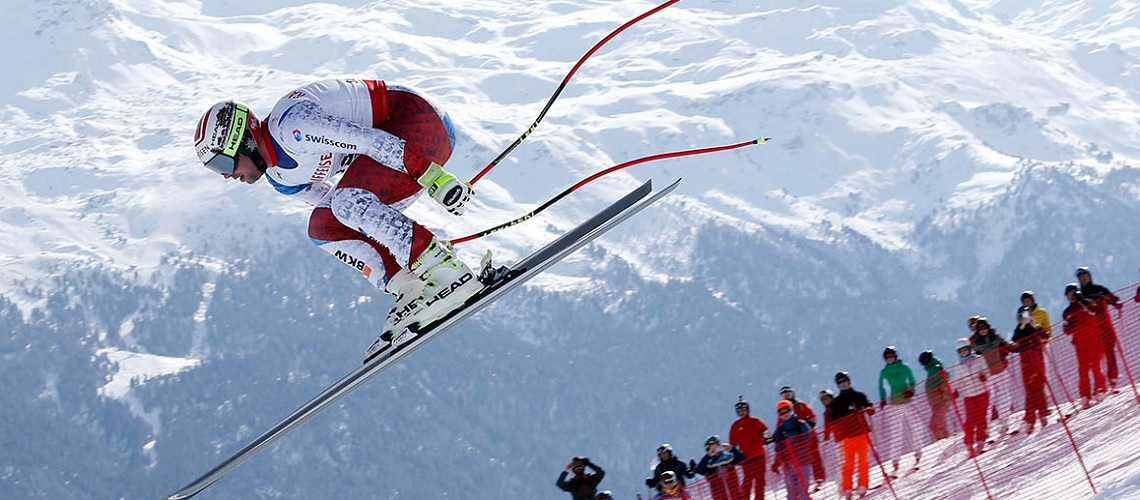 It's been a season full of ties on the men's speed circuit, and today was no exception. It's not a big surprise that Swiss Beat Feuz was the fastest man down the mountain today, as he was also last year's Birds of Prey downhill race victor. What was a surprise, however, was France's Johan Clarey tying Austria's Vincent Kriechmayr, .41 seconds off Beat's pace.
Due to strong wind in the top section, the Beaver Creek downhill start was lowered, resulting in a shorter race like in 2018. Not only the start, but even the winner was the same as last year.
With this victory, Beat Feuz has claimed his 30th downhill World Cup podium and achieved top-three finishes in 13 of the last 15 downhill races.
Clarey, starting with bib 19, surprised everyone, even himself, and closed in second position, matching his career best, achieved in Kitzbühel last season and in Kvitjell in 2014.
Kriechmayr, who was sitting in the leader's corner when Beat Feuz crossed the finish line, shared the second place with Clarey and achieved his best result of the season so far.
It has been a very close start to the speed season, with three out of four races resulting in joint positions on the podium.
For the home team Americans
Anticipation was mounting all week for Ryan Cochran-Siegle, who put down the fastest training time in Wednesday's first and only downhill training run at Xfinity Birds of Prey World Cup. Despite the increased pressure, the 2012 Junior World Downhill Champion held his composure and finished a career-best sixth-place - a blink of an eye (.08 seconds) - off the podium in a shortened downhill.
In a day with the weather a little bit like the east coast with flat light and some gusty winds at the start, Vermonter Ryan laid it down and trusted his skiing. "I was a little emotional...happiness and joy," Ryan said after his run. "You don't get that often, so I'll take it. I wasn't planning on being fast in the first training run and after winning that it felt like there might have been a little bit more of a spotlight, so just trying to handle it and show that I could perform on race day was huge." High winds at the start forced the men to start from the reserve start, so it was a bit more of a sprint.
Ryan made a brilliant recovery, pushing the line and holding his composure all the way down. "That's just skiing. In my training run, I had a couple of turns where one ski got up in the air, but I think just trying to keep moving forward and going with what I have is what makes me fast here. In my head, I thought I was in complete control. I haven't seen it yet - I'm sure it looked cool...but that's skiing, you gotta be on the limit."
Both Steven Nyman and Jared Goldberg put down solid skiing, and finished in the points, in 17th and 22nd respectively. Sam Morse just missed the points by a few hundredths, finishing in 32nd. Bryce Bennett (39th), Travis Ganong (40th), Kyle Negomir (51), Wiley Maple (58), and Tommy Biesemeyer (59) also started but did not finish in the points.
Beat Feuz now is at the top of the downhill ranking, while Matthias Mayer (AUT) continues to lead the overall standing ahead of Vincent Kriechmayr.
Share This Article