Third Win For Schmidhofer In Lake Louise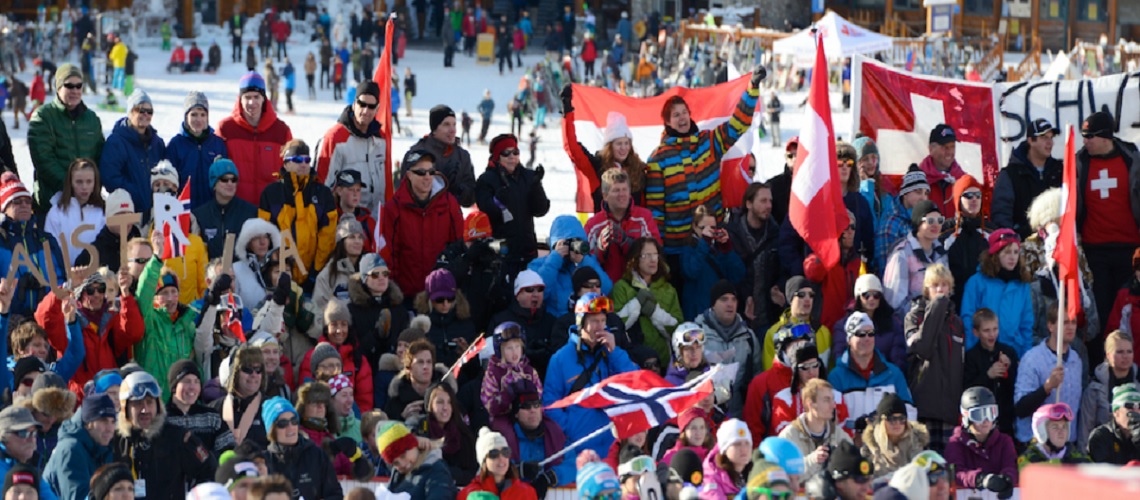 Intense snowfall overnight gave work to the course crew of the Lake Louise World Cup, but nothing the hardworking sleddogs cannot handle and today's second downhill race of the season kicked off from the top of the World as planned.
After a 7th place yesterday, last year Downhill Globe winner Nicole Schmidhofer has been able to pull out a strong run again today and claimed the top spot of the podium. The Austrian ski star won her first World Cup races in Lake Louise last year with two consecutive victories, and with today's race, she can add the third victory to her Palmares.
"Nici" was joined on the podium by Mikaela Shiffrin in second who nearly grabbed her 63rd career world cup win, finishing just 0.13 seconds behind. The American added another podium finish on the course where she won her first downhill race in 2017 and first super-G race in 2018.
Since the beginning of the season, there have been no races without surprises, and today is Francesca Marsaglia's turn. The Italian skier surprised herself a bit by skiing a clean run onto her career-first speed podium.
he Land Rover U.S. Alpine Ski Team women roared back to the top in Lake Louise, Alberta, on Saturday with Mikaela Shiffrin storming onto the downhill podium in second place—just .13 seconds off of first—and Alice McKennis and Alice Merryweather taking 10th and 11th respectively. Mikaela's result also extended her overall World Cup lead to 270 points.
Nicole Schmidhofer of Austria won the downhill with Italy's Francesca Marsaglia in third. Friday's winner Ester Ledecka of the Czech Republic was just two-hundredths off the podium in fourth.
After tough conditions due to snowfall and poor visibility on Friday, the Lake Louise course crew worked hard overnight to get the track into race shape. "All of us are looking for some redemption after yesterday," said Alice Mckennis after the morning inspection. "We're never satisfied unless we're up near the top. Everyone is looking forward to giving it another shot."
And the shot rang true, with three U.S. women finding their redemption in top spots.
Even after a long course hold that kept her waiting in the start gate, Mikaela held her composure to take her first speed podium of the year. "I feel every year I get more experience and I get more comfortable," Mikaela said of racing downhill. "Right now, it's just enjoying it. My goal is to be able to succeed in speed as well, so right now I'm just making a transition and trying to have fun with it."
In only her second race back from injury, Alice Mckennis was happy to snag a spot in the top 10. "I'm pretty stoked on my run," she said. "It was definitely a little loose and a little ragged, but I'm really proud of the way I approached the run. I didn't hesitate at all and I went for it. That's a huge step for me—to feel that race-day confidence and to trust myself and believe in myself again."
Alice Merryweather's 11th place finish was her second-best World Cup result and the second time she has finished in the top 15, showing the world that she's someone to keep an eye on as the speed circuit continues.
"Having a full downhill team here is so nice; it's really fun to have a lot of girls here," said Alice Merryweather, who was a little bit of a lone ranger on the speed team last year with so many teammates sidelined with injury. "We've been bouncing a lot of good energy off of each other. Mikaela on the podium is super exciting, and then to have a full downhill team is so nice. It's awesome to see four of us in the points and to really feel like we have a speed team again."
Rounding out the U.S. women, Jacqueline Wiles finished in the points for the second day in a row, taking 29th. Alix Wilkinson was 33rd, Isabella Wright was 36th and Keely Cashman was 37th.
Mikaela now has seven speed event podiums under her belt—four in downhill and three in super-G—and will be looking for another in Sunday's super-G. "My super-G is pretty good right now, but it's also a little tricky to switch from downhill skis to super-G skis and to change the timing a little bit," said Mikaela, who won last year's super-G in Lake Louise. "I'm going to have fun tomorrow and do my best and see what's possible."
Share This Article