Elemental Offers Heli Skiing With Bode Miller & Chris Davenport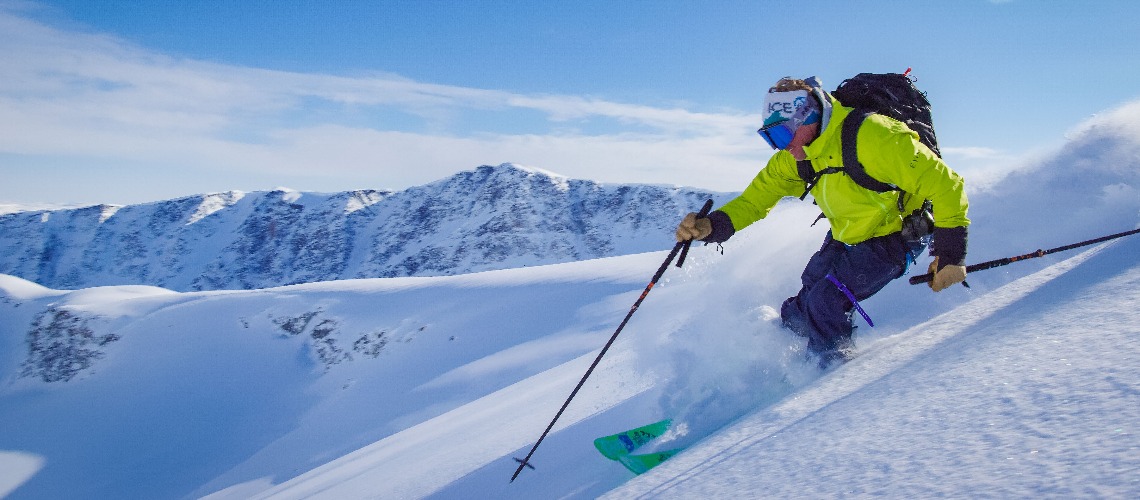 No longer is heli-skiing offered exclusively at prominent ski resorts and backcountry lodges. Now, EYOS is elevating the thrilling sport to new heights by offering heli-skiing expeditions to the farthest reaches of the polar regions—from the towering fjords of Greenland, the unclimbed summits of Antarctica, and the mountains in Crete, Greece. On April 23-30, 2023, US Olympic alpine ski racer Bode Miller will join EYOS on a "slope-to-sea" heli- skiing adventure in Greenland aboard the MV Nansen Explorer
Travellers can book individual cabins on the yacht, making the exclusive voyage more accessible than ever before.
Miller is the most decorated male alpine skier in U.S. history, and the only skier with five or more victories in four different disciplines: giant slalom, combined, super-G, and downhill. He will be joined by ski guide and two-time World Extreme Skiing Champion Chris Davenport and polar guide Doug Stoup, who's skied the seven continents, been to the South Pole 18 times, and pioneered skiing in Antarctica.
Says Ben Lyons, CEO of EYOS: "The opportunity now to have Bode, Chris, and Doug onboard makes for an unbelievable combination." Originally designed as an Arctic research vessel, the 12-guest MV Nansen Explorer is specifically equipped for polar waters, with an ice-strengthened hull and a commercially certified heli deck that makes for the ideal launch pad for heli-skiing adventures. Because of the vessel's ice-breaking power, it's possible to reach Greenland in time for early spring, weeks before other vessels can access this amazing coastline.
"The highlight of our expeditions to Greenland is being in true wilderness so early in the season. The ice has just opened up, the landscape is still white. We're the only yacht up here—and as well as the amazing skiing, snowboarding, and landscapes—we pretty much have the whole place to ourselves," says Tim Soper, co-founder of EYOS.
EYOS_HeliSkiGreenland_2022 from EYOS Expeditions on Vimeo.
The expedition will take adventure lovers to the island of Maniitsoq on the western coast of Greenland, widely considered one of the most remote places in the world to heli-ski, where it's possible to ski from slope to sea. The ship will cover 150 miles beyond the Arctic Circle to Disko Bay, a UNESCO World Heritage Site home to some of the largest icebergs in the world. Days will be filled with deep powder runs—some stretching more than a mile—on the narrow fjords down to the water's edge.
Bode Miller, Chris Davenport, Doug Stoup and EYOS' expert team of internationally certified mountain guides will guide guests as they navigate crevasses and knife-edge ridge tops, helping them find the best runs for their level. When guests aren't skiing the glaciated landscape—80 percent of which has never been skied before— they'll have the chance to interact with the local Greenlanders and fishermen, as well as try their hand at sled dog excursions and visit colourful small towns. "It's one of the best ski experiences on the planet," says Doug Stoup.
Prices will depend on choice of cabin and travel costs but expect to pay about 30,000-60,000 EUROS per guest based on a shared cabin.
Share This Article