Demaclenko & 3con Produce Snow4Ever 200 Machine For Positive Temp Snmowmaking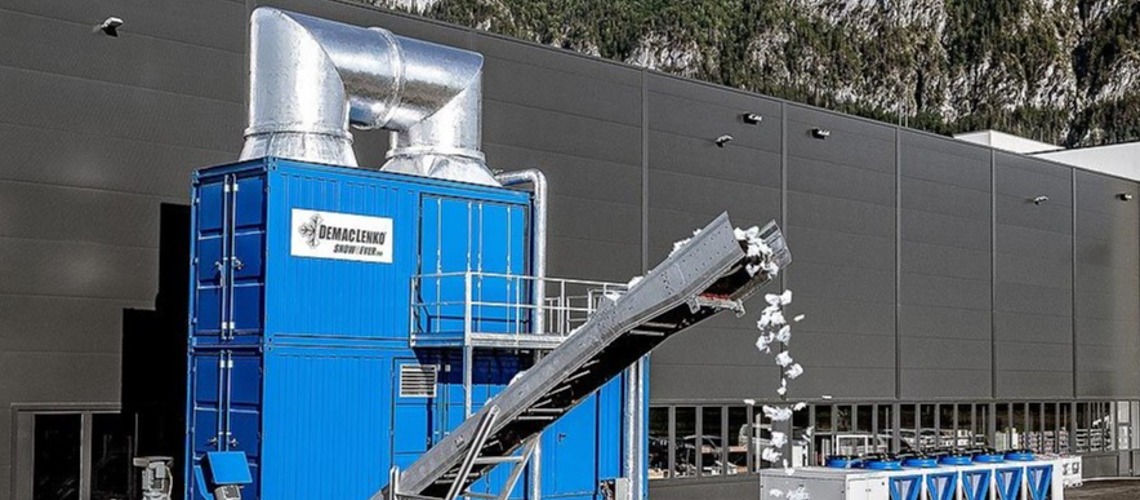 With Snow4Ever 200, DEMACLENKO, in cooperation with the company 3CON, presents an unprecedented solution for efficient and powerful snowmaking at plus degrees.

Snow4Ever 200 is the answer to the demand for perfect snowmaking above the freezing point. The new snow gun from DEMACLENKO guarantees incomparable snow quality 365 days a year. The revolution in DEMACLENKO technology is that inside the system, regardless of the external climatic conditions and with significantly reduced energy consumption, real technical snow and no flake ice can be produced. With a production volume of 200 m³ per day, Snow4Ever 200 is the most powerful, temperature-independent snow gun on the market, and its quality and structure do not differ from that of classic snow-making systems.

Another distinguishing feature: Neither salt nor other chemical additives have to be added to produce the high-quality snow, only water and air are needed. In addition, the snow density and thus the snow quality can be individually adjusted according to requirements. For example, adventure parks and event organizers can produce dry powder snow, while ski resort operators can produce compact piste snow. The snowmaker decides the quality he wants to produce at the touch of a button.

The innovative and patented technology also results in another decisive advantage: Thanks to a mechanical de-icing solution, the machine components do not ice up and can therefore be operated without interruption. This completely eliminates waiting times and time-consuming de-icing operations. Thanks to the modular container design, the product can also be easily transported and used flexibly where it is needed. No special prior knowledge or experience is required to operate the product. Control is via the DEMACLENKO Snowvisual 4.0 software, which guarantees maximum user-friendliness and a clear breakdown of all important operating processes and data.

The Snow4Ever 200 can be used in many different ways. In addition to use in ski areas or winter sports centers, the product is also ideal for winter sports events such as cross-country skiing, biathlon, alpine skiing or ski jumping. The DEMACLENKO technology has proven particularly effective with the latter, because flake ice is not suitable for the steep landing hills due to the lack of adhesion and would slide away. In addition, Snow4Ever is ideal for use in snowmaking on glaciers as well as in indoor snowmaking and much more

The innovation was developed in cooperation with the company 3CON, international technology leader in the manufacture of high-end interior production systems for the automotive industry and their suppliers. With Snow4Ever 200, the company has ventured into new territory, but was able to draw on years of mature, in-house know-how. Together with DEMACLENKO, a solution was created that redefines the quality and efficiency of snowmaking at plus degrees and sets the course for the future.
KEY FACTS
365 DAYS OF SNOWMAKING - Regardless of the climatic conditions, snow can be produced at temperatures above freezing.
NO FLAKE ICE - Real and high-quality technical snow (same production principle as for snow guns).
ALL SNOW QUALITIES - Thanks to the innovative technology, the snow density can be influenced and thus the snow quality over the entire range - very dry powder snow to damp spring snow - individually adjusted at the push of a button.
NO ICING - Thanks to the innovative technology, the machine does not ice up, so it can be operated without interruption. Defrosting cycles can be defined as required and fully automatically.
NO ADDITIONS - Neither salt nor other chemical additives need to be added for snow production, only water and air are needed.
MOBILE SYSTEM - The product is easy to transport and can be used flexibly where it is needed (modular container design).
EASY TO USE - No special knowledge or experience is required to operate the product. User and maintenance training is provided.
NUMEROUS AREAS OF APPLICATION - Ski areas, winter sports centers, winter sports events (cross-country skiing, biathlon, alpine skiing, ski jumping), glacier snowmaking, indoor and much more
Share This Article