Doppelmayr/Garaventa Makes Norway's Only Funicular Barrier Free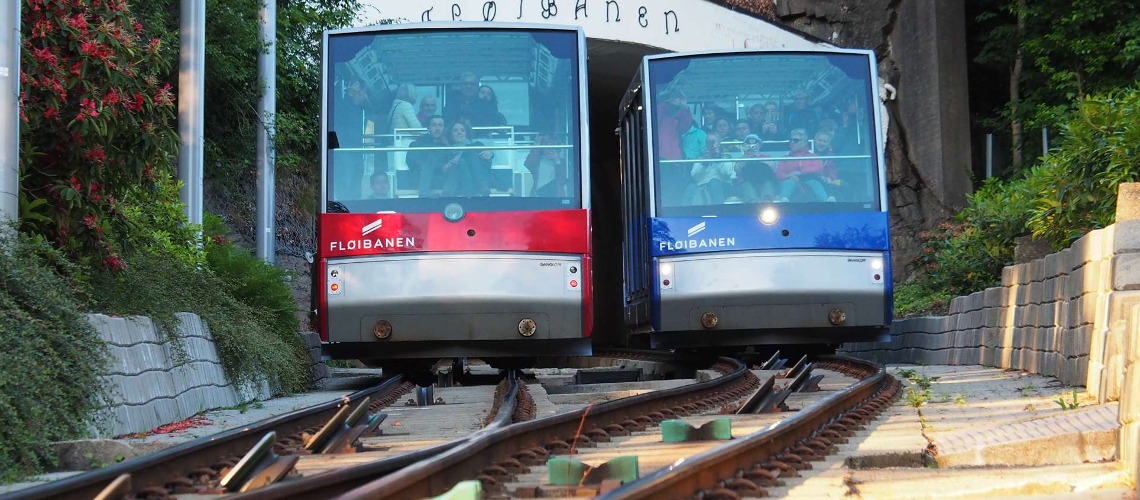 In Norway, the completely renovated Fløibanen funicular takes its guests barrier-free to the 320 meter high local mountain of Bergen. Garaventa upgraded Norway's only funicular to the state-of-the-art in just under seven months.
The Fløibanen funicular in Bergen has been in operation since 1918 and is very popular with locals and tourists alike. In seven minutes, it takes its guests from the valley station in the heart of Bergen to the top of Mount Fløyen. Here, day trippers enjoy a breathtaking view of the port city and the surrounding fjord and mountain landscape. After the renovation work in 1954, 1974 and 2002, another major milestone in the history of the funicular followed this year. The specialists from Garaventa AG have fundamentally modernized the system over the last seven months.
Comfortable ride for all guests
During the modernization, Fløyen AS attached great importance to accessibility. All entrances are barrier-free and enable comfortable access for all guests, even with prams or wheelchairs. So that the viewing platform at the mountain station can be reached without climbing stairs, the route of the funicular has been extended by five metres.
Capacity increase and panoramic windows
On the route between Bergen and Fløyen, the funicular makes three intermediate stops. This makes it a popular means of public transport for commuters. Due to the boom in cruise tourism, the number of passengers has increased steadily in recent years. To avoid waiting times, Fløyen AS decided to increase the capacity of the funicular. The new vehicles offer space for 120 instead of the previous 100 passengers. The at CWA Constructions SA/Corp. The wagons manufactured are traditionally red and blue. Thanks to the glass roof, passengers can already enjoy the view of Bergen's surroundings during the journey. The driving speed was also increased from six to seven meters per second. This means that the funicular can travel from Bergen to Fløyen in 173 seconds without stopping if necessary. Thanks to these measures, the Fløibanen is one of the most modern and efficient funiculars in Europe.
120-FUL Floibanen, Bergen, Norway
Customer: Fløybanen AS
Inclined length: 847 m
Altitude difference: 302 m
Delivery rate: 1,530 pph
Driving speed: 7 m/s
Number of stations: 5
Opening: April 2022
Share This Article