Decathlon Sets Up For Spring In The Outdoors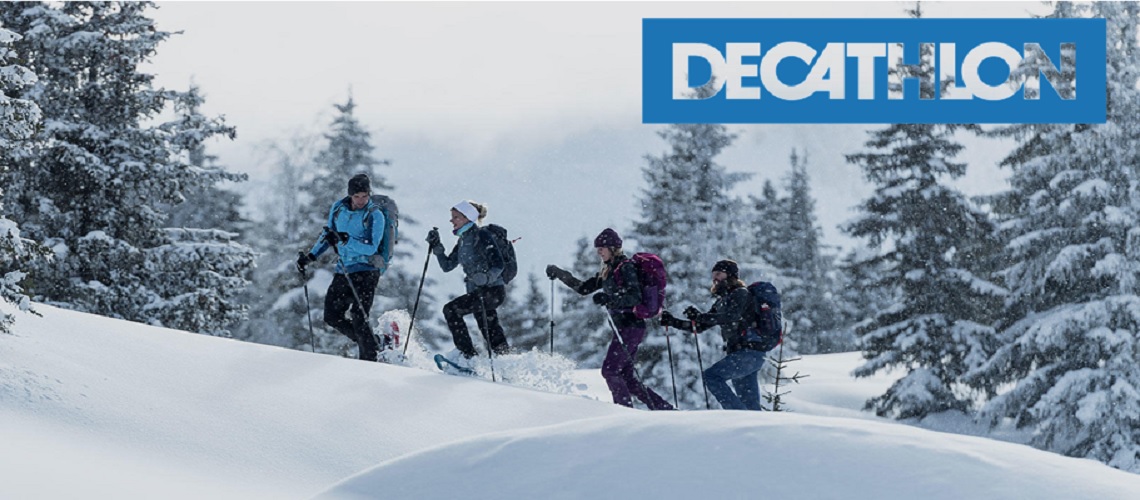 As ski resorts gently wam up Decathlon has launched it's outdoor spring collection. Perfect for late season skiing, apres ski or spring walks
Whether it's hiking through the Val D'Isere just a simple stroll through the country, Decathlon has the best products for every kind of expedition. From lightweight jackets to walking boots, each product has been designed and tested to make sure spring skiers will be looked after.
Walking Jackets
Quechua NH500 Men's Hybrid Jumper – Price £19.99
Warm and light, this hiking fleece is the perfect ally against the cold whilst enjoying an apres ski beer.
Meanwhile, the quilted body and protective tab under the chin means it's extremely comfortable to wear for those on longer walks.
What's more, the two zipped pockets provide avid country walkers with the peace of mind that their belongings are safe as they venture home.
Quechua MH120 Women's Fleece Jacke
This fleeced jacket is ideal for spring skiers looking to hike for longer periods of time.
It is lightweight, yet breathable, allowing water vapour to escape. Meanwhile, warmth is key thanks to the high collar which insulates from the cold and the two secure hand warmer pockets.
Forclaz Travel 100 3-In-1 Men's Waterproof Jacket
This jacket is the ideal travel companion for walkers who want the protection that a heavy-duty jacket offers.
This 3-in-1 jacket will keep wearers dry and comfortable thanks to the removable and waterproof coated fabric, which can protect from downpours lasting two hours.
What's more, there are a number of large discreet pockets to keep belongings secure, making this jacket a solid all-rounder choice.
Quechua Mh100 Women's Waterproof Jacket - Heather/Pink
This jacket is ideal for those wanting to enjoy a peaceful walk in the resort without getting cold.
This jacket is also waterproof thanks to the water-repellent surface coating on the outside protecting walkers from all-weather elements.
It is easy to wear and with under arm ventilation, this jacket helps walkers maintain a regulated temperature, perfect for those on a longer walk.
This stylish walking coat also comes in a range of colours including grey, purple, black and blue to suit all tastes!
Quechua NH500 Women's Waterproof Jacket
This waterproof jacket offers unrivalled protection from any weather condition, be it heavy rain or wind for those spring evenings
Taking great care to respect the environment, this jacket has been designed with the environment in mind with its colour, dye and fibre to improve water and CO2 impact.
What's more, it is easy to store and can be easily converted into a shoulder bag when not in use.
This walking gilet is a great choice as winter turns into spring, due its lightweight and sleeveless design.
It has a down and feather filling so that skiers can keep warm thanks to the thermal insulation, whilst ensuring that wearers won't overheat or feel restricted.
What's more, the gilet can be rolled up into its left-hand pocket if the sun does start to make an appearance on a walk.
Walking Boots
Quechua MH500 Men's Waterproof Walking Shoes
These walking boots have been designed with comfort in mind thanks to the EVOFIT concept and double cushioning, meaning no walk is too far.
They are also lightweight and waterproof, so they can be easily worn come rain or shine. Meanwhile, the gripping sole means they can be worn on even slippy terrain, whilst the rubber stone guard protects from impact to the foot.
Quechua MH500 Women's Walking Shoes
After skiing you need to prioritise supportive footwear, especially with late season ice on resort pavements.
These women's walking shoes are the perfect choice, not only are they light and comfortable due to the cushioning sole technology, but they are effective on all surfaces so that you can enjoy all of the great apres ski your resort has to offer.
Share This Article