Coffee Table Book, The Man Behind The Maps: Legendary Ski Artist James Niehues Book Now Available To UK Readers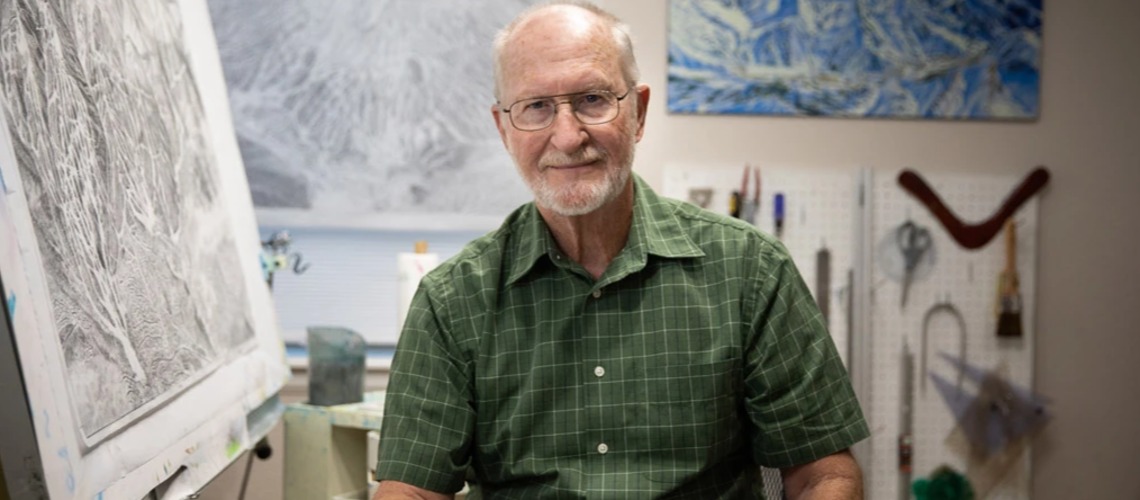 The Iconic Coffee Table Book called "The Man Behind The Maps" about James Niehues is now available to UK purchasers. The book retails for £80.49 and it is certain to be a cherished, timeless gift for avid skiers and snowboarders this holiday season. To learn more about James Niehues' story, or to purchase his new book The Man Behind The Maps: Legendary Ski Artist James Niehues. Buy here on: Amazon.
In a nutshell Niehues is an artist who has dedicated his life to painting ski resorts. In fact a lot of his maps have been used in resorts so if you've skied in the States chances are you've used one of his hand-painted maps. Every little tree gets his bespoke treatment and the book is all about the artist, why he does what he does and how he does it as well as lots and lots of beautiful maps of the pistes around the world. It has a big American slant but also features Canada, Australia, Chile, New Zealand and Serbia. Almost anyone that's a serious skier has probably been to the US or Canada to ski so I think this will make a great Xmas present for that special person. Especially in the current time when we don't even know if we're going to get our fix of snow this year!
The culmination of his lifelong work and passion for the mountains, this art-quality book is a compilation of more than 200 individual resort trail maps, each hand-painted by Niehues. With eight geographically themed chapters, this hardcover coffee table book is the first and definitive collection of the art created by Niehues during his 30-year career.
Niehues' impact on the ski and snowboard industry is immeasurable. Throughout the years, he has helped countless skiers and snowboarders navigate down the snow-covered slopes of resorts across North America, South America, Europe, Asia and Australia. Recently nominated to the U.S. Ski and Snowboard Hall of Fame, Niehues may be the most established mountain guide in winter sports history, along with one of the most widely viewed artists of the 21st century, as his maps have been printed hundreds of millions of times.
In a modern digital age, Niehues may very well be the last of the great mapmakers. The nearly 300-page book showcases his exacting process in which he first captures aerial shots and then explores the mountain himself before pain-stakingly illustrating every run, chairlift, tree and cliff band by hand. There's a reason why most trail maps in use today have a similar look and feel; James has painted over 200 of them during the course of his lifetime.
"I have always enjoyed the challenge of fitting an entire mountain on a single page. Mountains are wonderful puzzles, and I knew if I painted with the right amount of detail and care, they would last," said Niehues. "A good design is relevant for a few years, maybe even a decade. But a well-made map is used for generations."
With Big Sky Resort chosen to grace its cover and a foreword penned by pioneering big-mountain skier Chris Davenport, the visually-stunning compilation includes trail maps from iconic destinations such as Jackson Hole, Squaw Valley, Alta, Snowbird, Aspen Highlands and Vail. The book is 29.21 cm tall and opens to a spread of 60.96 cm wide, the perfect size to showcase the biggest ski mountains in the world. Every detail was taken into consideration during the printing production process: Italian art-quality printing, heavier weight matte coated paper, lay-flat binding and a beautifully debossed title on both the cover and spine.
Last year the book received rave reviews in the US when it was first launched from ski/snowboard industry veterans and influential athletes as it triggers powerful memories of past ski trips and fun-filled family holidays - simply put, the book is a guaranteed conversation starter.
"Jim has played such a huge role in the development of our sport and there are so many, like me, who have been deeply influenced by Jim and his art," said Chris Davenport, two-time World Champion professional skier. "His maps are important, even vital, for everyone whose heart and soul revolves around the sport of skiing."
Stemming from the number one Art-Illustration Kickstarter campaign of all time, The Man Behind the Maps had over 10,000 pre-orders. With the official launch of the book, the collective vision of Niehues' and his fans will soon be in the hands of skiers and snowboards all over the world.
Share This Article