Climate-Neutral Skiing: Skihalle Neuss Is Planning A Flagship Project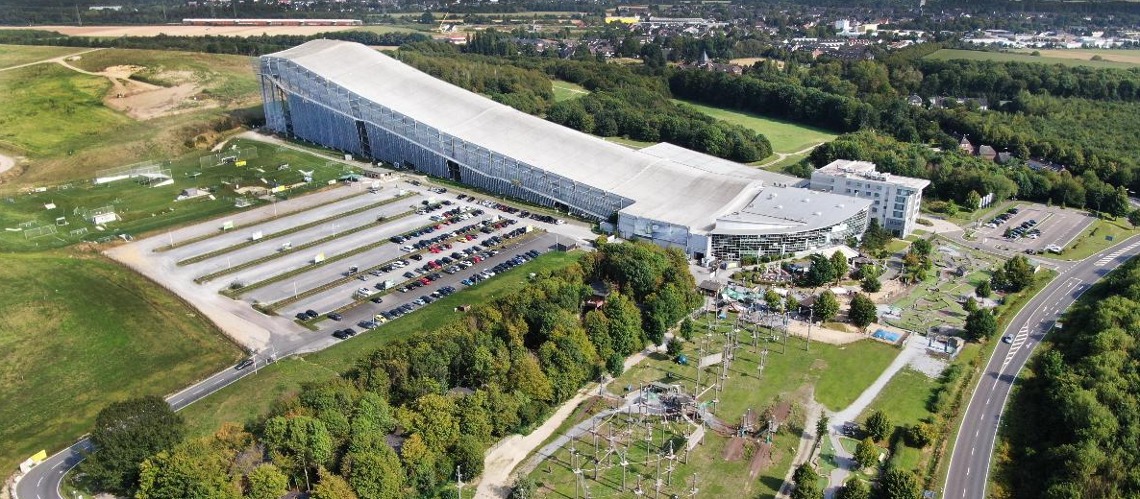 It's an ambitious goal: by the summer of 2023, the Alpenpark Neuss wants to operate its well-known ski hall in a climate-neutral manner - and at the same time become a major supplier of solar power for the public grid. A system of photovoltaic systems and a combined heat and power plant should make it possible. The project sounds spectacular and overly ambitious, but it is a logical step for the Alpenpark. After all, sustainability in all matters has always been a major issue for the company.
"We've actually always been concerned with the topic of energy and sustainability, if only for economic reasons," says Patryk Lamich, Chief Operation Officer of the Alpenpark and who has been with the company for over ten years. Because the ski hall is an energy-hungry building, every two to three years we looked at the new technical possibilities for savings and which ones could also be implemented economically for the ski hall. "Everything that was there was implemented. Everything that was not yet technically mature, as we needed it, was shelved," reports Lamich. "Whenever the time was right to establish the existing technology, we did it." As a result, the energy requirement has already been significantly reduced in the past. "Hardly anyone knows
ELECTRICITY AND HEAT FROM OUR OWN REGENERATIVE PRODUCTION
However, the latest project aims to take the ski hall to a whole new level. Self-produced regenerative solar power and a combined heat and power plant should enable CO2-neutral operation and that in a timely manner. Preferably right away, says Lamich, but unfortunately that's not possible due to supply bottlenecks. By August next year at the latest, however, it should be ready.
The major project has been in the planning for two and a half years. In August of this year, construction of the first of currently two planned photovoltaic systems is to start, which will supply 100 percent of the electricity required in the future. In reality, it will be even more, so that surpluses can be fed into the local power grid and used for the large wallbox park, which is also planned, to charge guests' electric cars. In addition, excess energy from the photovoltaic system and from the block-type thermal power station is to flow into an extinguishing pond under the Hotel Fire & Ice, which is part of the Alpenpark, which is used as a storage tank. If electricity or heat is required again later, they can be recovered from the warm water. But Lamich is particularly proud of another temporary storage facility: the ski slope. The snow there should be extremely cooled down in summer when too much electricity is being produced. If no electricity is produced, the energy can be withdrawn from the slope again. "This is a flagship project," says Lamich.
The bottom line is that the ingenious system not only covers the electricity but also the heat requirements of the building completely self-sufficiently - an important step for ecological reasons, but also for economic reasons. Because the currently high electricity and gas prices are also being felt by the Skihalle Neuss and the uncertain development makes serious business planning more difficult.
MANY MEASURES FOR MORE SUSTAINABILITY
The climate neutrality and self-sufficiency of the ski hall is the largest sustainability project in the Alpine Park to date, but by far not the first. "Waste separation, handling food, recycling, that is a matter of course for us, simply to work economically. Therefore, they are permanent issues that have been lived for a long time," says Lamich. The same applies to cooperation with regional service providers. "It always felt like that. We didn't always communicate it and tell all the stories because it's a matter of course for us, but there's always a lot going on in the background," says the COO.
Various areas on the Alpenpark website offer a small insight into what is already happening. For example, on the careers page you can read what the Alpenpark Neuss is doing in relation to a sustainable energy and water supply or to avoiding packaging waste. Lamich believes that this is an important point, especially when it comes to recruiting young people. Because young people in particular are very concerned with sustainability. "In the young target group it is definitely an issue. And that is also important for us, because of course we need the junior staff. The topic is sensational."
But not only recruiting staff, but also the retention of employees is one of the main challenges for the Alpenpark - which are apparently being mastered well. "There is a very large base of long-standing employees," says Lamich. Many have been there for 10 or 15 years, some since the opening of the ski hall a good 20 years ago. In order to further increase the satisfaction of the employees and thus the willingness to stay, various offers are made, such as flexible working hours. "We are currently also discussing the four-day model," says Lamich, and other services are always being checked to see which additional services could add value. "These are ongoing issues and are currently more burning than ever," he says, referring to the widespread shortage of skilled workers.
Sustainability is also always an issue in other areas of the company. Whether room cleaning only on guest request, bicycle rental in the hotel to explore the area, LEDs throughout the house or extensive barrier-free access - the Alpenpark team sets many parameters. The individual departments are responsible for considering and implementing new measures in their areas. For example, gastronomy is responsible for supplier management and relies, among other things, on short distances being maintained and deliveries only being made once a week. When it comes to large technical projects, the management is on board, if only because it involves large investment sums, as is the case with the current climate neutrality project.
TIPS FOR COMPANIES THAT WANT TO BECOME MORE SUSTAINABLE
Lamich advises other companies that also want to become more sustainable not to start with large-scale projects right away. "If you were to start with such a photovoltaic project, it would be quite demotivating and tiring because it is simply very time-consuming," he reports from experience. It is better to start with smaller things in individual departments. With visible successes, a momentum of its own develops very quickly and also a new perspective on things. And that is also the most important thing: an open mindset, open discussions and the will to look at things differently and to touch them again and again - even if the efforts sometimes come to nothing. The Alpenpark thinks the same way: "It's always been like this, we've never had it before. Whenever we're done with something, we break it open again."
With great will and perseverance, the current major project can also be tackled - which also meets with approval in politics. "We have full support. Both the city of Neuss and the district are pleased that we, as a model company, not only speak, but also really touch," reports the Alpenpark COO.
On the other hand, Lamich sees room for improvement in the positive reactions from guests in the form of increased bookings. "We have the feeling that decisions are not always in favor of sustainability, but that location and pricing are still a bigger issue," says Lamich. The great commitment to more sustainability in order acquisition, for example in the business sector, does not feel like it is an advantage for the ski hall. The topic is currently not decisive in the choice of location. Corona has changed the view of many things, however. Perhaps, so Lamich hopes, this will also be noticed in future bookings. One way or another, the Alpenpark wants to stick to the efforts for more sustainability - out of conviction and for economic reasons.
Share This Article