Greek Peak unveils more Resort Amenities and announces the completion of two major projects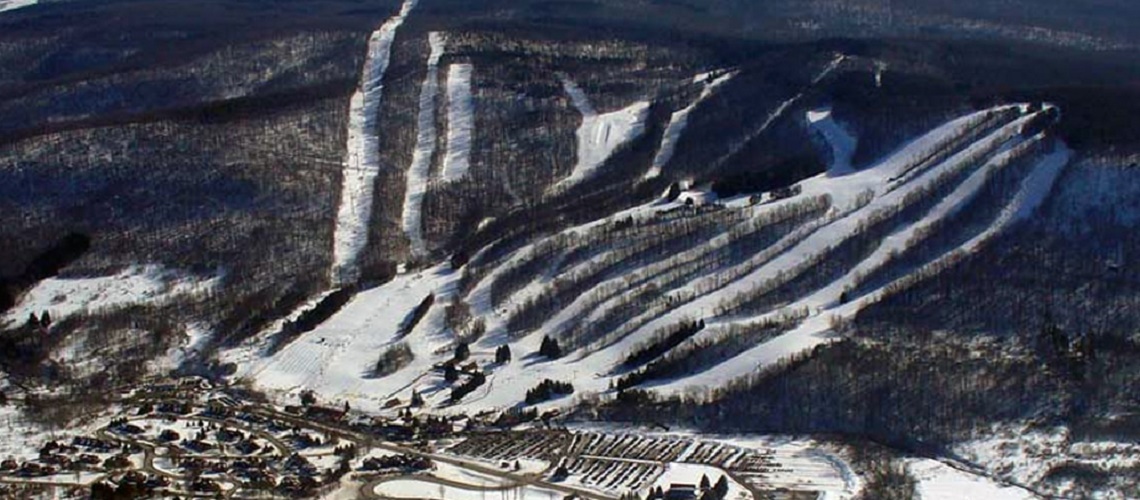 Greek Peak Mountain Resort announced the completion of two more capital projects with a combined investment total of over $3 million: The Lookout at Hope Lake and the Campground at Hope Lake.
The Lookout at Hope Lake is a 4,500 square foot wedding and corporate event venue that entertains up to 310 guests. "The Lookout is a multi-million-dollar project that always delivers a million-dollar view for your special event," said Wes Kryger, President of Greek Peak Mountain Resort. Kryger was referencing firsthand experience from his daughter's wedding at The Lookout and the beautiful mountain view overlooking Hope Lake in the Town of Virgil.
"The completion of The Lookout falls right in line with all the amenities we offer our guests because it enhances the mountain of memories we offer year-round here at Greek Peak," Kryger added. Interior Photo of The Lookout at Hope LakeThe venue offers a combination of elegance with a rustic, farmhouse appeal nestled in a countryside setting. Inside, guests gather around wooden tables and chairs underneath wrought iron chandeliers and await the full catering services available on site. The venue features a 25-foot, full-service bar plus several portable bars to accommodate your event, as well as bridal suites with a salon.
There are also honeymoon suite and block room accommodations through Hope Lake Lodge with shuttle services available. Waterfalls Spa also awaits bridal and corporate party members at Hope Lake Lodge, and Cascades Indoor Waterpark is a great way to cap off any day. Those interested in booking an event at The Lookout should call 800-955-2754 or e-mail your inquiry to events@thelookout.net. You can also visit The Lookout's website, www.thelookout.net for more information. The Campground at Hope Lake will officially open late-summer this year with 26 RV sites and over a dozen Junior-RV/Camper sites.
The larger RV sites are equipped with sewer, water, and electric, while the Junior-RV sites have water and electric access. There is also a 1,500 square foot bath house available on site with two showers, bathrooms, and laundry. "We have invested over $500,000 toward phase one of our campground project, with phase two looking to add up to another 120 sites in the near future," said Wes Kryger, President of Greek Peak Mountain Resort.
"We are really excited to add this destination to Greek Peak because we believe it complements many of the offerings we already have on site." With access to the Adventure Center with its ziplines, ropes course, and mountain coaster, and an exceptional mountain bike park with trails, campers have built-in activities and entertainment right out of the gate to ensure great memories with family and friends. Chair lift rides and hiking trails abound for all campers and adventurers to take advantage of during their stay at the Campground at Hope Lake. In addition to that, they have great dining options like Carvers Steakhouse and Trax Pub and Grill on site when a change in the regular camping fare is needed. "The Campground at Hope Lake brings a whole new group of people to the resort, and they bring that same affinity for the outdoors and adventure that so many of our guests have. Now everyone can see what we have to offer year-round as a four-season, family resort," Kryger said.
Reservations for the Campground at Hope Lake will be able to be made through Greek Peak Mountain Resort's website once an official open date is announced, which will be coming soon.
Share This Article