CimAlp Promotes Nordic Walking Business In UK Market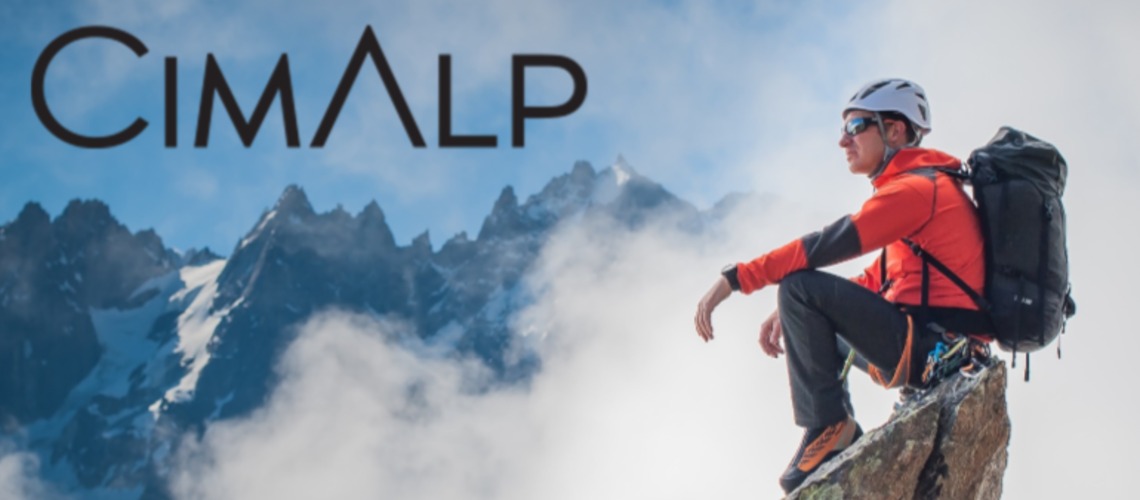 Created in 1964 by a passionate and visionary mountaineer, with the aim of producing very technical products but accessible to as many mountain lovers as possible, French company CimAlp develops and offers clothing and equipment for all mountain activities: skiing, hiking, trekking, Nordic walking, climbing, trail running and so on. All products are available online only and delivered throughout the UK in a minimum of 24 hours. Assistance is provided by English-speaking customer service.
CIMALP is a French brand, created in 1964 by a passionate mountaineer and visionary, deeply committed to manufacturing technical products, accessible to the largest possible number of mountain enthusiasts.
50 years later, still established at the foot of the Alps between Vercors and Monts d'Ardèche, CIMALP now develops clothing and equipment for all mountain activities: skiing, hiking, trekking, and above all Trail Running, its No. 1 market. Having switched to an online business model for almost 10 years, CIMALP 's ability to propose highly technical products at outstanding prices is now widely known. Some of those products being now essentials for the most demanding athletes, like the STORM 2 jacket, or the 864s, the first Trail Running shoes with progressive drop.
Always aiming at offering improved comfort and thermal protection, CIMALP is also engaged in the development of fabrics and high-tech fibres. A winning bet, as shown by the success of the patented Cyclone technology that allows up to 10 times faster moisture transfer (French Outdoor Award in the TRAIL category in Friedrichshafen) or the ULTRASHELL membrane, 8 times more breathable than a regular hard-shell membrane, and at the same time 20'000 Schmerber water resistan
In addition to this economic and technical dynamism, CIMALP also claims a strong environmental commitment, as an expression of its owners', teams' & customers' philosophy. By limiting the impact of its manufacturing processes (materials selection, toxic waste suppression) but also of its products, making every effort to engineer sustainable clothing able to mix pleasure and conscious consumption. Doing more and better with less.
Key Events
1964 : Creation of CIMALP by a passionate mountaineer, looking for reliable technical products available for all nature lovers.
1970 - 2000 : CIMALP is only available in specialized sport shops. The brand becomes worldwide famous for its iconic stretch velvet knicker, as well as for being partner of some extreme sport challenge
2000-2010 : Progressive switch to a new business model. Becoming an Online pure player, CIMALP cuts out middlemen and offers customers high quality products at highly competitive prices.
Since 2010 : CIMALP invests time and money in comprehensive R&D programs, raising the company production at the forefront of innovation, and improving anyone's mountain experience thanks to many patented technology.
2014 : Historically a Hiking and Trekking brand, CIMALP brakes in Trail Running, immediately becoming a reference player in France with products such as the STORM waterproof-breathable jacket featuring the inborn Ultrashell technology.
Since 2015 : CIMALP is deeply committed to limiting the environmental impact of its activities. The brand fights against planned obsolescence and makes every possible effort to design sustainable clothing. CIMALP also supports the Mountain Wilderness association, donating 100% of some products' sales.
2018: € 4 million TO with 40% annual growth over the last three years.
2019 : First inborn Trail Running shoes, the 864 feature a progressive drop, making it possible for anyone to switch to a better, more efficient and less traumatic, running movement. CIMALP counts more than 100,000 customers, 97% of whom recommend the brand.
As spring arrives, many sport enthusiasts are considering resuming outdoor activities. As a full-body exercise, Nordic walking may well be one of the most effective, beneficial fitness programs to do so! Originally a summer training regime for cross-country skiers, it is based on using specially designed walking poles in a way that harnesses the power of the upper body, while, of course, improving cardiorespiratory capacities. All you need is a pair of Nordic walking poles, walking shoes and appropriate clothing. Guess what, at CIMALP, they have got the relevant products to do so!
First thing first … BERGEN trousers, SPECIAL NORDIC WALKING PANTS
Stretch, breathable, waterproof and windbreaker, these trousers with a slim fitting are the ideal companion for Nordic walks and hikes! Designed and tested with Nordic Walking guides, they feature:
- CIMAFLEX Power fabric on the thighs, windbreaker and waterproof up to 10,000 schmerber.
- 3D-FLEX Power fabric on the back, breathable and highly stretchable, for unrestricted movements.
- Knees vents for better moisture transfer
- 2 side pockets
- 1 zipped back pocket
- Weight 310g in size M
- Sun protection - 50 UPF
- Bluesign label
What's better than Merino Wool… ASPRES & CHARVIN base layers
MERINO WOOL LONG SLEEVES BASELAYERS
Made in CimaWool, Cimalp in-house fabric, featuring 47% merino wool, those T-shirts are at the same time incredibly soft, warm and breathable. They dry quickly and are odour-resistant. A feeling like no other and a must have for NORDIC WALKING as a base layer or as a t-shirt.
For pleasant weather … WARMIT & ORBA polar jackets, SPANDEX POLAR JACKETS
Warm, windproof, and compressible, these polar jackets combine a fleeced inner for warmth and next-to-skin softness, and a knitted acrylic outer for wind protection.
- CIMAFLEX Power FABRIC.
- YKK front zip and chin protection
- 2 zippered hand rest pockets with invisible YKK zips
- Flat stitching to avoid frictions
- Bluesign label.
Or more unfriendly conditions … STORM PRO waterproof jacket
WATERPROOF & BREATHABLE JACKET
Optimal protection for this lightweight jacket (185g is size M), featuring the in-house Ultrashell Slim 2.5-layer technology, at the same time Waterproof to 10,000mm of water and breathable with 12,500 MVP
- Taped Seams

- Adjustable cuffs and hood for a great fit

-1 chest pocket with zipper flap

- 2 side pockets

-Passage for headphones

-Multiple reflective markings for safety at night

- Wind protective

- Sun protective (50 UPF)
Last but not least … DISTANCE poles
EASY-LOCK FOLDING POLES
This pair of hiking poles features the Easy-lock fast-tightening system: they are easier and faster to set up, adjust and store, they resist corrosion and withstand 100 kg of pressure.
Other Key products
STORM 2 JACKET
Specially designed for trail running, compatible with all Ultra Distance type races, like the UTMB or the Diagonale des fous®. It features CIMALP Ultrashell Slim 2.5 layer technology which offers 10'000mm water resistance and 12'500 MVP breathability. The fabric is light and stretchy to adapt to movements. Ultra light weight 215g
864 DROP CONTROL TRAIL RUNNING
The first ever Trail Running shoes to feature a customizable drop in order to move gradually to a midfoot attack and restore the body's natural movements damping. The 864 are the perfect health & performance partner.
MERINO BASELAYERS
These extra-warm baselayers combine the natural thermal power of Merino wool, with the technical qualities of the best synthetic thermal fibres. Using the IONIC® SILVER technology, they prevent permanently the growth of bacteria and mould, and feature premium finish and a modern design. Last but not least, they are certified by the Bluesign label for the use of organic and ecological dyes.
TRANSALPIN SOFTSHELL TROUSERS
These stylish trousers were specially designed for ski touring but are actually very versatile. Featuring a windproof, water repellent and breathable 2-layer softshell, integrating super stretchy 3D-Flex fabric, Kevlar pads for maximum resistance to rips and abrasions, they are ready for the mountain in all seasons. As a PREMIUM product backed by over 40 years of experience, they offer a lifetime guarantee against manufacturing defects.
Share This Article