Capital Improvements For Winter 2019/2020 Underway At Okemo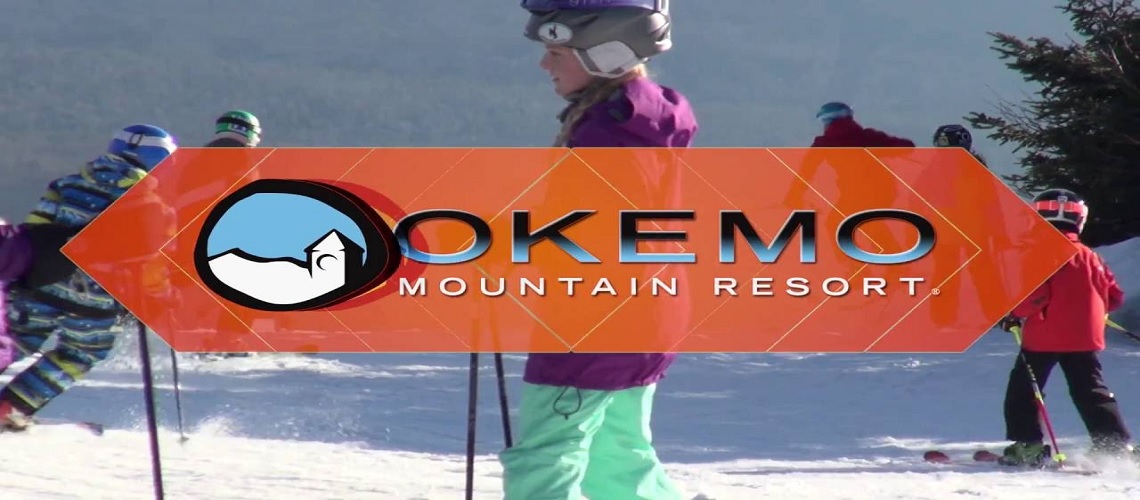 While guests visiting Okemo Mountain Resort are mountain biking, golfing, hiking, swimming and exploring the resort's Adventure Zone, Okemo's mountain operations team is hard at work preparing for the 2019/2020 ski and snowboard season.
On-Mountain Lodge Makeovers
Skiers and riders visiting Okemo's Summit Lodge and mid-mountain Sugar House Lodge won't notice big differences from the outside, but they will see improvements on the inside of both lodges this winter. The Summit Lodge, located beside the top terminal of the Sunburst Six Bubble Chair, will feature an open floorplan with a décor that pays homage to the iconic Vermont barn. Wooden beams, exposed stone and sliding barn doors are just some of the features of this rustic redux. On the lower level, a new bar with a stone-façade will mirror the stone of the nearby fireplace surround, where families and friends will find comfortable fireside sofas and high-top tables and chairs where they can gather to refuel and refresh. New culinary concepts for the Summit Lodge include what Okemo's Food and Beverage Director Jason Palmer calls a "food truck experience" along with healthy, alternative and delicious grab-and-go menu options. On the lower level of the Summit Lodge, guests can experience Carolina-style barbecue with a Vermont twist – accents of traditional Vermont flavors like apple and maple among others. The bar will feature a curated beer program that offers a revolving selection of craft and boutique brews. Additionally, signature craft cocktails will be made with house-made syrups and other unique ingredients. At Okemo's mid-mountain Sugar House Lodge, the traditions of Vermont's maple history and culture will be celebrated through the decor with updates to flooring, re-faced surfaces and a reimagining of the overall space. On the lower level, the focus will be on a welcoming, kid-friendly experience with an area for kicking back with friends, plus tables and chairs, and walkup counter service. An elevated kid-food menu will feature favorites with flair.
Snowmaking Upgrades
Okemo continues its reputation for consistent and reliable snow quality and surface conditions through maintenance and upgrades to its snowmaking system. Installation of 5,000 feet of pipe this season completes a five-year project to replace all main feeds leading through the Clock Tower base area – a huge task with all the existing infrastructure, including underground communication lines and power. These feeds supply all the water to Okemo's snowmaking system across the entire mountain. Under optimal conditions, Okemo can pump 7,000 to 9,000 gallons of water per minute through its vast system, and transform that water into snow. It is this snowmaking prowess that allows Okemo to open for the season with top-to-bottom terrain, and recover quickly following a weather event.
New Employee Center
The little mid-century ranch house located near the entrance of Okemo's Jackson Gore Inn and base area has been known for years as the Cole House. In recent times, the building has housed the offices of resort planning and permitting. Now the building is being transformed into an employee center. In keeping with tradition, and with a nod to local history, the Cole House name will remain, but following a complete makeover, the building will serve as a place where employees can feel at home, welcoming all to connect, learn and develop, and relax. With human resources offices located upstairs and the resort's uniforms department located on the lower level, the Cole House will provide one-stop onboarding for new hires. The redesigned space includes a small kitchen and open gathering space with a fireplace. Meeting rooms and a training space will allow the resort to provide a wide range of programming for managers and employees.
Ski & Snowboard School
Okemo is introducing a new menu of Ski & Snowboard School options this season Okemo's ski and snowboard instructors specialize in patience, skill-building and instilling confidence in skiers and riders of every age and ability level. In addition to redesigning entry-level lesson programs, Okemo will also offer a new half-day and full-day family lesson.
EpicMix
Starting this winter season, Okemo launches EpicMix. Skiers and riders can download the free iPhone or Android app and access a variety of features from their mobile phones. They can check snow conditions, view web cams and trail maps, track vert, earn pins, and even track Ski & Snowboard School progress and accomplishments – and share those achievements with friends and family on Facebook and Twitter. Four of Okemo's major lifts will be connected with a special feature called Epic Mix Time. Skiers and riders will be able to check on lift-line wait times and plot their course around the mountain accordingly.
Share This Article