Camelback 60th Anniversary Celebration Starts On Saturday, February 25, 2023,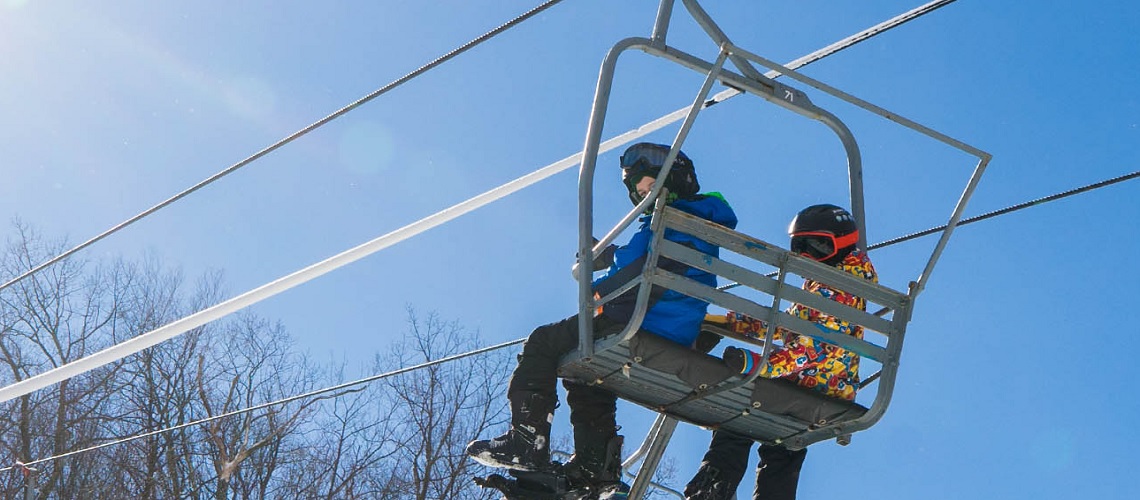 Camelback Resort, an award-winning, year-round, 560-acre Pocono resort, known for its top-notch skiing, snowboarding, snowtubing, indoor and outdoor waterparks and much more, is turning 60 on December 14 and has never looked and been better! To start off the 60th season celebration, Early Bird 2023/2024 Snow Season Passes are going on sale on Saturday, February 25.
The new season passes include Unlimited, Value and Senior (for 65 and older) options. All include complimentary midweek snowtubing (Monday through Thursday); free parking in specified lots; access to pass holder lift line; discounts for lodging, food and beverages; and tickets to Aquatopia Indoor Waterpark, consistently voted USA Today's #1 Indoor Waterpark and Camelbeach Mountain Waterpark, the state's largest waterpark. New this year is a discount for Blue Mountain Resort lift tickets and complimentary tickets for Camelback Mountain Adventures (Mountain Coaster, summer tubing and ziplining). For those renewing existing passes, skiers will receive a $60 savings. Early Bird passes are available through March 19 and start at $369 for Value; $649 for Unlimited; and $75 for seniors. Student passes are also available. Passes can be purchased online at camelbackresort.com.
"Camelback Resort opened December 14, 1963, and in addition to kicking off the celebration with the sale of Early Bird Season Passes this weekend, we have exciting plans for the days to come before the official grand celebration in December," said David Makarsky, managing director for the resort. "We will be announcing thrilling activities for local, regional and destination multi-generational visitors, including lift ticket giveaways, an anniversary gala and winter village, partnerships with Monroe County organizations, sweepstakes and prizes for children and adults – all to salute 60 years of skiing."
The team at Camelback knows the fond memories and thrilling mountain experiences of the last 60 years are what make Camelback so special, so they are requesting past visitors share their stories on social media for other fans to view and enjoy. Favorite mountain memories are shared at hashtag #60yearsofcamelback.
The Newer Camelback
Making the Camelback experience so memorable and satisfying are all the improvements, enhancements, new attractions and services that have been implemented in its most recent years. And, Camelback is especially proud of its Camelback Cares program, which contributes so much to its Pocono community, especially during the recent pandemic.
Recent reinvestments into the 60-year-old resort include snow sports innovative upgrades and new activity additions such as Black Bear 6, the new high-speed lift that rises 667 vertical feet with an uphill capacity of 3,000 passengers per hour; a redesigned Sunbowl Trail with its quad lift; an expansion of the terrain park, a pipeline replacement and installation of fully automated state-of-the-art snowmaking system; lift operator house upgrades; the addition of SkiLynx added to the resort's app for guest ski information and viewing activity in real time; extending usage for the 40 snowtubing trails to offer an all-lit nighttime experience; and its partnership with Pennsylvania Adapted Sports for people with disabilities.
Other recently new and improved offerings are the addition of 100 games, tests of skill and fun challenges for all ages; the installation of an immersive water slide adventure at award-winning Aquatopia Indoor Waterpark; and the opening of new food venues for hungry snow adventurers, including Big Pocono Family Eatery, Thirsty Camel Bar & Grille, Tacos & Beer Truck, Graffiti Pizza, Sugar Shack and others. In addition, at Camelback Mountain Adventures, there are two new Sky Flyer 4,000-foot ziplines – Pennsylvania's longest. Also, to please all guests, the 453 guest suites have been modernized with mountain sky-inspired colors, fabrics, rich woods, rustic furnishings and nature-centric artwork by local photographers.
Camelback Resort also launched a modernized website, logo, signature signage and messaging throughout, as well as a new user-friendly app to allow guests to connect, recharge and explore all there is to enjoy.
More celebrating to come: Camelbeach opened in 1998 and will be celebrating its 25th season this summer.
Share This Article