Bob Salerno RIP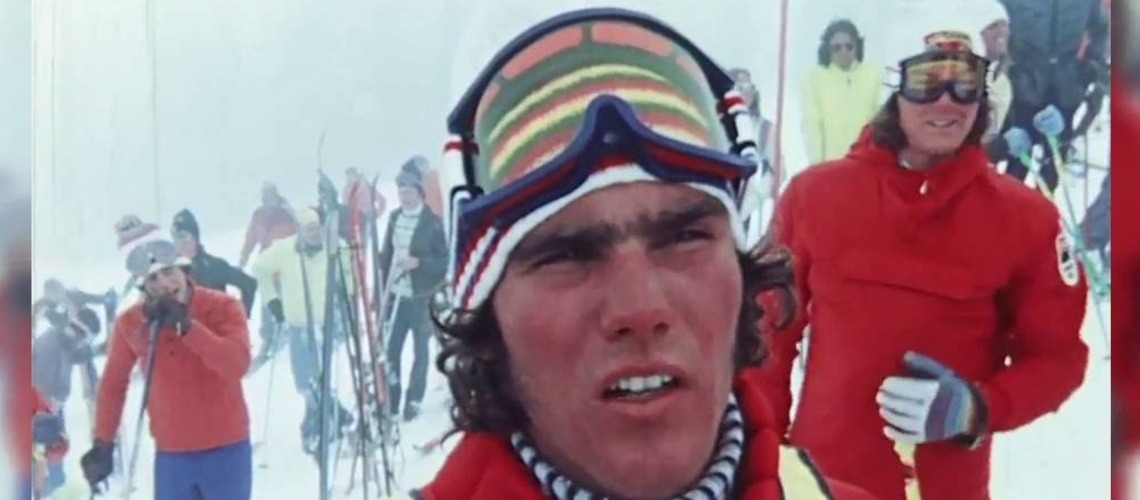 SIN reports with sadness the death of Bob Salerno, freestyle skiing pioneer, ski deck operator and spokesman for scientology.
In his lifelong quest for "more air, more money," Bob Salerno was a dominant competitor, a consistent overall champion and a founding father of freestyle.
In the lead-up to the 1974 season, "Bad Bob" Salerno sold his 1960 Triumph TR3 and borrowed $600 to join the tour as the classic dark horse at the season-opening Eastern Freestyle Championships in Waterville Valley, N.H., where he would go up against established pros like Wayne Wong, John Clendenin and Scott Brooksbank.
He flew home in a private charter—with a large check as the event's combined champion.
For that breakout season, he would collect $18,000 in prize money plus two cars, a total payout worth $135,000 in today's dollars. He would win three of the five combined titles to become the Grand Prix Champion.
Bob's timing was perfect, as was his mantra of "More air, more money." Though soft-spoken and laid back, Bob became one of freestyle skiing's biggest heroes, just as this American-born, music-fueled, make-it-up-as-you-go sport was soaring in popularity and drawing huge crowds, TV coverage and corporate sponsors.
A native of Ogden, Utah, Bob's athletic foundation came from his late uncle Ted Salerno, who introduced him to water skiing competition. From there his focus turned to the mountains above Ogden and to Snowbasin, where he was a student and then an instructor in the acclaimed Earl Miller Ski School.
Bob built his resume in those glorious 1970s, regularly placing on the podium and winning big events, including the combined title in the 1977 Professional Freestyle Championships at Heavenly Valley. He appeared in national ad campaigns for Bogner, McDonald's and Right Guard, and in seven Warren Miller films. Though he accumulated almost two dozen podium results in major events during his career, he cites two achievements as his personal highlights: Skiing for Willy Bogner's camera in his feature films "Ski Fantasy" and "Fire & Ice," and twice winning the John Clendenin World Ski Enduro, a five-hour marathon race through moguls, gates and jumps, where he completed 21 runs and threw 36 helicopters.
Bob's later contributions to the sport were equally impressive.In the late '70s the professional freestyle tour, screeched to a stop. Ski areas all over the country posted signs that said: "Inverted Aerials Prohibited." In response to this Bob got permission from Nordic Valley Ski Resort, which he had a part ownership in, to build the largest water ramp in the world and an on snow aerial hill for winter jumping. Bob, Frank Bare, Hans Ribi and Jeff Chumas built it. Bob made it available for aerialists from all over the US and Canada to train. The worlds first triple twisting triples were accomplished there. The water ramp, which was 28' off the water, also enabled the quad somersault by Jeff Chumas, and the lay-full-full, and full-full-full by Frank Bare, which were literally years ahead of the sport.
This training resource was the largest in history at the time. As part owner of Nordic Valley and Director of Skiing, Bob produced several summer festivals involving his world champion friends. Salerno, along with Frank Bare, produced an NBC televised aerial event and a CBS televised aerial event, allowing competitors to have a playground for aerial acrobatic jumping in the summer and winter. It was almost ten years later that the next water ramp was built for Lake Placid aerial summer training, just before aerials became an Olympic sport.
As an athlete looking to improve his ballet, Bob traveled to Los Angeles as a 19-year-old to train on a rotating carpet ski deck. Seizing on the concept that indoor training could help non-skiers become proficient before they even hit the snow, he founded Virtual Snow LA and developed a video training program that would transform thousands of "never-evers" into skiers. Virtual Snow now has locations nationwide, and Bob logged more than 10,000 hours teaching all ages.
Career Highlights:
1974: Season-long Grand Prix Champion; PFA World Aerial Champion; World Super Hot Dog Champion; Western National Freestyle Champion; Midas U.S. Freestyle Open Champion
1975: Midas Championships, 3rd place aerials, 2nd place combined
1976: Colgate Freestyle Championships, 2nd place combined
1977: Professional Freestyle Championships Champion
1979, 1980: JC World Ski Enduro Champion
1997- Virtual Snow Ski and Snowboard Training, founder
Share This Article