Blue Mountain Resort Under New Management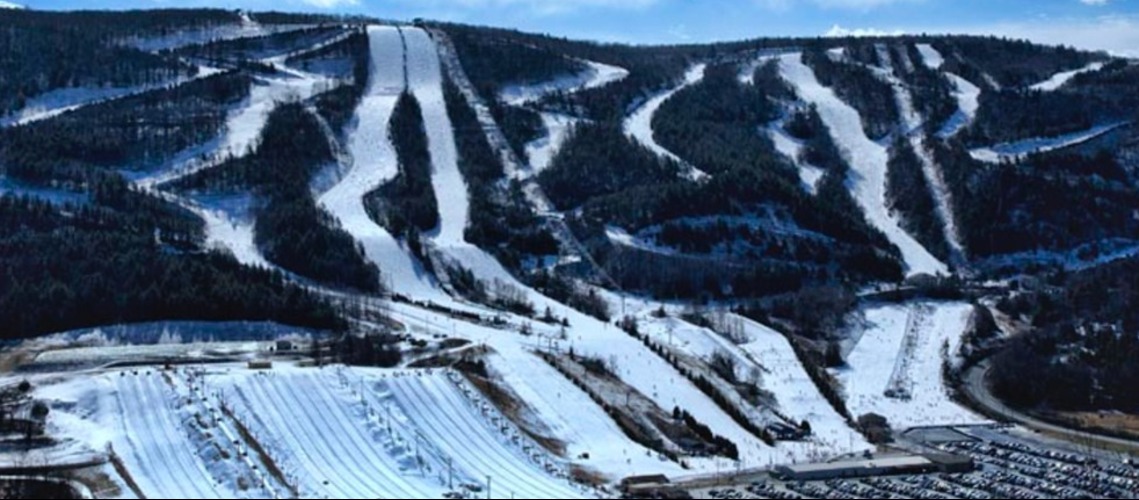 KSL Resorts, which owns Camelback Resort, is now managing Blue Mountain Resort.
"KSL Resorts is excited to manage Blue Mountain Resort as it's located in one of the Poconos' most spectacular settings and is the ideal complement to Camelback's numerous indoor and outdoor adventures – especially with its close proximity," said Shawn Hauver, vice president of asset performance for KSL Resorts and managing director for Camelback Resort.
Blue Mountain has a summit elevation of 1,407 feet (429 m) and a vertical drop of 1,087 ft (331 m), the biggest vertical drop of any ski resort in Pennsylvania.The summit is accessed by a high-speed quad, a six-person lift, or three double chairs. A beginner trail and an intermediate trail run down the outer, eastern side of the north-facing slope. Four expert runs follow the chairlifts to the bottom, and an access trail connects the summit to the western half of the resort.
Three double chairlifts rise up the western side of the resort, accessing mixed novice, intermediate, and expert terrain. The main resort lodge, located at the top of the mountain, is accessible by road. A dedicated beginner section adjacent to the lodge is served by a double chair and one surface lift. A beginner trail, Burma Road, connects to the beginner section at the bottom of the hill. A second lodge and the resort's snow tubing facility are also located at the bottom of the mountain near the Valley Lodge.
The resort has a total of 39 slopes. Blue Mountain has glade trails, beginner through expert, various terrain park installations, and training slopes. Blue Mountain uses RFID ticket scanners at every lift. The mountain offers 39 snow tubing trails, each over 1,000 feet (300 m) long.
They are the only mountain in PA that offers family-size tubes as well as single tubes, with both day and night snow tubing.There are five terrain parks, which include Terrain Run, Lower Sidewinder, Come Around Park, and Central Park. The longest trail is 6,400 feet (2,000 m) in length; the mountain has 164 acres (0.3 sq mi; 0.7 km2) of skiable terrain. Although it receives an average of only 33 inches (840 mm) of natural snowfall per year, natural snow is supplemented with 100% snowmaking coverage.
The resort hosts an alpine ski race team consisting of more than 125 USSA competitors and 75 developmental competitors. Its ski patrol is featured in the reality series Ski Patrol. which aired on truTV in the 2008-2009 season.
In addition to a substantial ski race team, the mountain also boasts a large staff of ski and snowboard instructors. Ski and Snowboard lessons are broken into four different categories: Family and Friends Beginner Lessons, Private Lessons, Explorers Children's Lessons, and 4 Week Children's Winter Adventure Camp.
Share This Article