Billy Morgan Wins Men's Boardercross For Second Time In Three Years. Greenway And Clayton Rule The Skies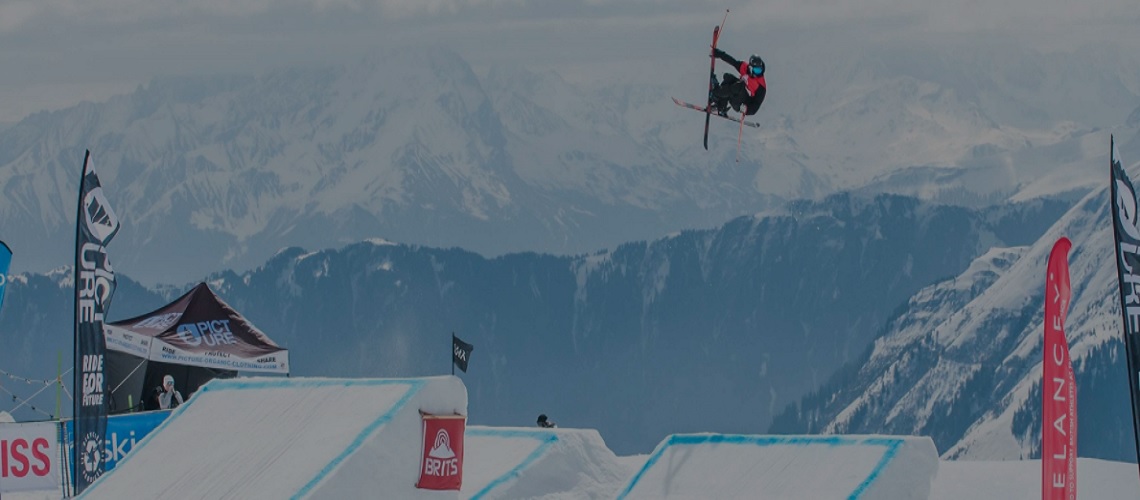 Winter Olympic big air bronze medallist Billy Morgan has celebrated his 30th birthday in style at The BRITS today by taking out the men's boardercross for the second time in three years.
Qualifying with the second-fastest time, the 2017 champion won through to the final and was up against competitors specialising in the discipline.
However Morgan showed that his class in the air can be replicated on ground level, powering to victory ahead of Liam Dobson and Rory Ewart.
"It was pretty good fun – I had a great time," said Morgan. "I was really disappointed I didn't make it last year but I genuinely didn't think I'd have what it takes to cut it this year.
"The final was pretty intense – I didn't want to look back! I knew if I looked back I'd scrub a bit of speed of and be taken over so I had to stay 100% concentrated to the end.
"I could hear them coming up behind me and I got a little bit rumbled in the last corner, took a board to the shin but somehow managed to make it out alive and across the finish line."
In the ladies' final, Maisie Hill replicated her form from 2018 by defending her BRITS boardercross crown.
Another athlete who specialises in the freestyle disciplines and was a repeat visitor to the 2018 BRITS podium, Hill qualified almost six seconds faster than her nearest competitor and went on to easily win the final ahead of Cerys Allen and Natalie Good.
Speaking after the race, Hill was happy to defend her title and has her sights set on more glory later in the week.
"It was actually a great course, you needed a lot of skill to get over it – I really liked it," said Hill. "I just pulled out of the gate and went fast! It's always good, you never know who's behind you so you just go as fast as you can.
"I'm really looking forward to slopestyle on the last day – that's what I'm here for."
Some up-and-comers and experienced campaigners featured strongly in some of the age competitions: young gun Mia Brookes took out the female under-12s, GB Park & Pipe programme manager Lesley McKenna won the ladies masters, while snowboarding legend Ed Leigh ended up on the men's masters podium alongside GB Park & Pipe snowboard coach Jack Shackleton.
In the Big Air just one big trick was all that stood between each skier and the national title, but once the dust settled it was Tom Greenway and Amy Clayton who walked away with the day's golds.
With three perfectly groomed kickers to choose from and near-perfect weather, a two-run qualification kicked off. Each rider had two chances to impress the judges and Kirsty Muir wasted no time in putting her name to the top of the list for the final with a switch misty 900.
The small but strong women's field all followed her into the superfinal and its promise of two more chances to throw a hammer.
In the men's field, it was 17-year-old Greenway who led a 12-strong contingent of skiers into the superfinal, and with representatives from the under 16, under 18, open and masters categories it would be a battle for the age groups as well as the overall title.
As the superfinal came around, the wind arrived and conditions became a little more testing and treacherous for the competitors. Even as the skiers practiced before their last runs, fan favourite and second-place qualifier Justin Taylor-Tipton took a spill that ruled him out of the rest of the contest – a blow after a thrilling qualification performance.
But taming the conditions with seeming ease it was the number one seed Greenway whose switch double 1260 wowed the crowds and the judges to take the win. Jasper Klein's 1260 Japan may have earned him a silver medal, but it was his enormous double backflip that earned his place in the hearts of onlookers. Grabbing bronze was Harris Booth with another 12, this time with a safety grab.
Greenway is looking forward to the rest of the week and obviously happy to start of The BRITS with a win.
"I was super happy with it, obviously the conditions weren't great, it was super windy today and everyone was being a bit cagey because of it," he said. "I had an idea of something more to send, but I played it a bit safe.
"But it's my first overall British title and I'm pretty happy with that."
In the women's superfinal, it was a battle against nerves and the wind, a battle that Kirsty Muir lost as although she was the only woman hitting the biggest kicker, she could only manage a 360 and she lost out to Amy Clayton's much cleaner and grabbed full rotation over the smaller kicker. Kirsty had to settle for the silver and Lara Shaw picked up the bronze with a 720 to close out the podium.
"It's my first overall championship win and I'm so stoked with it," said Clayton. "I had a massive crash in Livigno a while back and to come back on the jumps is a massive thing for me.
"Conditions were good; got slightly windy for the finals, but I'm super happy I landed the backflip in qually and I landed everything I wanted to."
A firm favourite of the judges and crowds alike were the father-son duos competing alongside each other. Neil and Luke Burke dropped in within minutes of each other, as did Dan and Simon Abra. Simon – today's oldest competitor – stunned even his own son when he stepped into skis for the first time in a decade and threw a backflip over the sizeable medium kicker. Dan then channelled some of his father's bravery to get back up and try an enormous double after crashing in his first run nastily, only failing to land it due to his outrageous amplitude.
Share This Article