Bartholet Installs Unique Panorama Gondola Lift On Gstaad's Local Mountain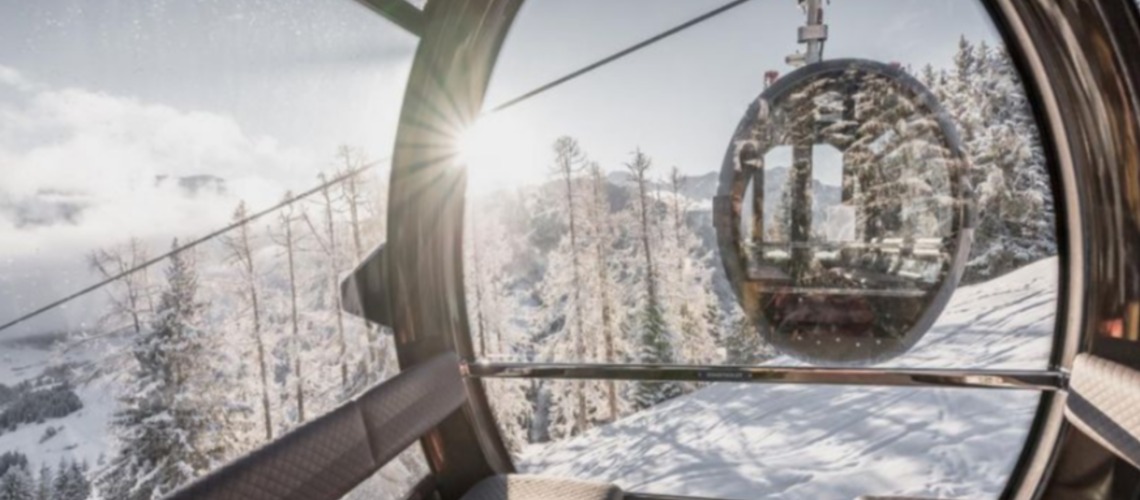 State-of-the-art technology combined with a high-quality "Design by Porsche Design Studio" give the new 10-passenger gondola lift in Gstaad a special character. The exclusive equipment of the gondolas offers an unforgettable ride experience.
First Bartholet 10-seater gondola lift in Switzerland
Since 21st December, the new 1,500-metre-long ropeway system to the Eggli has been successfully in operation. Starting from Gstaad, the replacement lift overcomes 500 metres in altitude and passes eleven towers with a gauge of 6.45 metres. This is Bartholet's first 10-seater gondola lift in Switzerland. This attractive ropeway transports 1,200 persons per hour. Thanks to the ideal combination of innovation and comfort, the 20 luxurious panorama gondolas offer a unique travel experience. The cabin is equipped with safety laminated glass and a generous interior design including a voice communication system, WLAN and interior lighting. Even at night, the colour-programmable exterior lighting ensures that the gondolas look special. The required battery is positioned in the bottom of the gondola.
Also noteworthy are the very wide 490mm seats and the drainage of the interior through slots in the floor. Thanks to the new gondola lift, the Eggli is also accessible without barriers and without complications for people with special needs. The construction of the facility on the "Mountain for bon vivants" was generously supported by, among others, "Gstaad Société pour la Préservation de l'Eggli" and "Club de Luge".
Bartholet as innovation leader
"We are convinced that without Bartholet, far fewer innovations would have been made in the ropeway industry," says Thomas Spiegelberg, member of the Board of Directors of Bartholet Maschinenbau AG. The optimised cabin damping system allows for a particularly smooth station entrance. The ventilation concept guarantees optimum air circulation even at hot temperatures. The Bartholet clamp convinces with its proven robust and maintenance-friendly design, which also leads to an even more significant reduction in inspection and maintenance costs. A special challenge in Gstaad was the fully automatic garage concept adapted to the customer. Due to limited space and a predetermined difference in floor level, Bartholet designed a unique lift. Competent employees are a central precondition for such innovations. Bartholet is constantly expanding the Flums site, as Thomas Spiegelberg mentions: "Within 15 years, more than 300 qualified employees have joined the company. In the same period we trained 101 apprentices, of which about 50 are now integrated in our company. We would like to thank all our customers who take a long-term view of the industry and actively support local entrepreneurship."
Technical data GLD10 Gstaad-Eggli
Type of lift: detachable 10-seater gondola lift
Valley station: 1,046 m.a.s.l.
Top station: 1,562 m.a.s.l.
Altitude difference: 515 m
Inclined length: 1,463 m
Number of towers: 11
Number of vehicles: 20
Driving speed: 5 m/s
Driving time: 4 min 53 sec.
Capacity: 1,200 Pers/h
Drive: 418 kW
Rope: 52 mm
Share This Article