Barbara Cochran To Release Book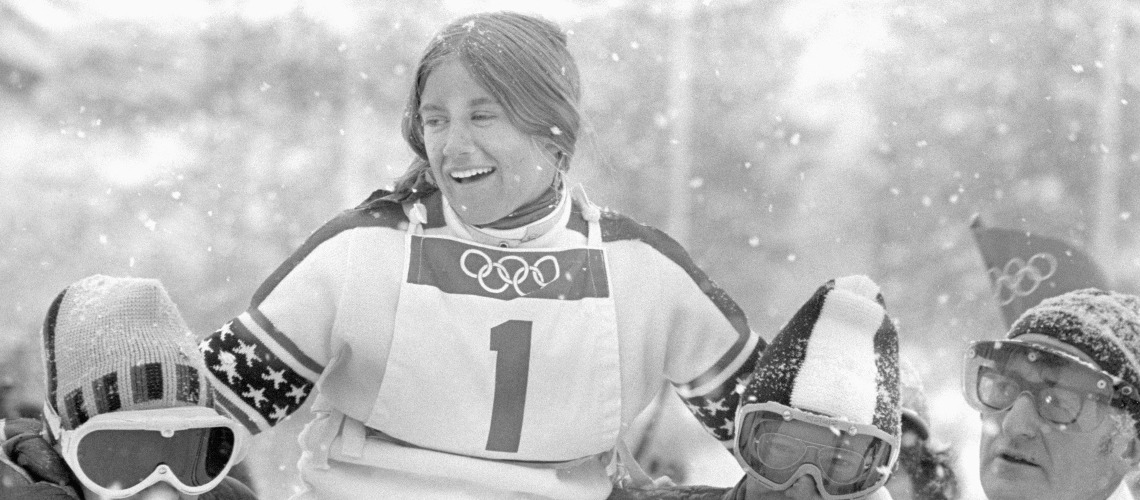 Barbara Ann Cochran is an Olympic gold medalist, a highly sought after performance coach, and a former World Cup alpine skier. Cochran comes from the notorious Cochran family of Richmond, Vermont who are famously known as the "First Family of Skiing." The Cochran's live up to this title as nine family members have competed in World Championships and six have competed in the Olympics. Hike the Course is Barbara Ann Cochran's story.
Gold medal in slalom at the 1972 Winter Olympics in Sapporo, Japan won by 0.02 seconds, the smallest winning margin in Olympic history.
Silver medal in slalom at the 1970 World Championships in Val Gardena, Italy
Three World Cup victories, 18 podiums, 45 top tens [3][4]
Two-time U.S. national champion.
Born in Claremont, New Hampshire, Cochran was the second of four siblings of the famous "Skiing Cochrans" family of Richmond, Vermont, which has operated a small ski area in their backyard since 1961. Her father, Gordon "Mickey" Cochran, was a longtime coach, coaching youngsters of the Smuggler's Notch Ski Club, the University of Vermont Ski Team, and the U.S. Ski Team. The family has placed several generations of athletes on the U.S Ski Team: three-time national champion sister Marilyn, Barbara Ann, nine-time national champion brother Bob, and two-time national champion sister Lindy. The family's next generation includes niece Jessica Kelley, nephews Jimmy Cochran, Roger Brown, Tim Kelley, Robby Kelley, and son, Ryan Cochran-Siegle.
After retiring from competitions, Cochran graduated from college in Vermont, married Ron Williams, and published her book Skiing for Women. She eventually became a writer for The Washington Post.
In this book readers get to know Cochran on her journey to winning the 1972 gold medal. Hike the Course is a compilation of the "First Family of Skiing" and Cochran's successful training and mindset techniques. With vulnerability and heart, Cochran chronicles the highs and lows throughout her skiing journey. Hike the Course is both a motivational and informational read that is complete with worksheets and guides for athletes.

Stephanie Young of the 251 Club of Vermont says, "Barbara Ann is a wonderful storyteller who brings her audience along for adventures in skiing and in life! We know she won Olympic gold, but it is her heart of gold that shines through as she tells about how she went from skiing her family's backyard slope, to competing and winning at the highest level, to helping create a non-profit in Vermont that makes skiing accessible to all. She is an Olympic champion and a Vermont treasure!"

McKinley Aspen, best selling author, says, "Engaging, intimate and moving, this is the life story of an exceptional athlete, coach, and woman. In Hike the Course, Cochran recounts her personal experiences growing up in the "first family of skiing." She has witnessed firsthand the highs and lows of competitive sports, while showcasing her own accomplishments on the slopes including being a three-time World Cup Winner and Olympic Gold Medalist."

Kourtney Levens, business coach and spiritual advisor, says, "The real gift of this book is the divine inspiration Barbara Cochran pours onto the page, showcasing motivational nuggets passed on to her Olympic-hopeful athletes. The 'athlete's whisperer' as she's known by her clients, succinctly pinpoints the deepest underlying beliefs, setting free the true winner in all of us."

Cochran's story is a must read for any athlete, as well as a wonderful history for Olympic fans and ski lovers of all ages.

Excerpt from the book:

"The important thing was that I didn't have a clue how anyone else had done. I just did my very best and accepted that all I could ask of myself was to put my best effort into the run. That's all it took! Once I put my best effort into it, that was enough. The lesson I learned that day? Doing your best is all that counts, and that is good enough!"

Hike the Course: A Journey of Family, Passion and Olympic Success for Inspiring and Transforming Athletes of all Ages by Barbara Ann Cochran is published by Muse Literary and was eleased on Saturday November 4, 2023.
Share This Article