Axess Launches Ticket Lounge, The Digitial Cable Car Station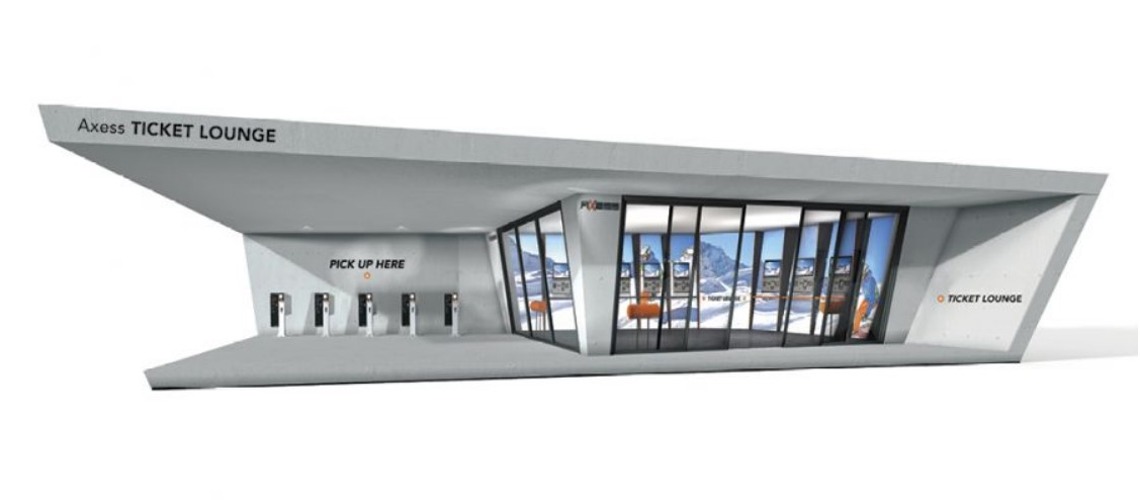 Buying lift tickets at the counter is old news. In the future, tickets will be purchased online and with self-service options. Pairing Axess TICKET FRAME 600 with Axess PICK UP BOX 600 transforms any valley station into a ticket lounge for self-service lift ticket purchase and issue. With one touch, all the services a customer has purchased are added to their account and can be used immediately. You won't have to wait to hit the slopes – meaning your day on the pistes will be that much longer.
Axess TICKET FRAME 600 The self-service ticket machine
The Axess TICKET FRAME 600 sets new standards. The design is reminiscent of a picture frame perfectly hung on the wall. When in standby mode, a photo or other image can be displayed on the screen that hides an incredible range of functions. Top up an entry ticket, day ticket or other ticket at this new machine in just seconds. The ticket is activated by entering the unique WTP ID number of an existing card and paying by credit card, giving the customer immediate access to the event location, site or train. Don't have your ticket at hand? A voucher with a QR code can be printed out that customers can use at the Axess PICK UP BOX 600 to obtain a duplicate ticket. Both of these processes are contactless, helping minimize corona risks. By the way, this is absolutely the fastest way to get a ticket on-site – 24 hours a day.
Axess PICK UP BOX 600 Pre-paid ticket collection
Getting your ticket has never been so easy. In just seconds, Axess PICK UP BOX 600 issues tickets purchased from the Axess WEBSHOP or the ski resort's online ticket shop. Scan the barcode on a paper Print@Home voucher or an electronic voucher on your phone. The ticket is instantly issued by the PICK UP BOX – making long waits in line at the register a thing of the past. Its space-saving, sturdy design makes for easy installation and set-up on-site, and enables reliable operation no matter the weather. Thanks to its modular construction, our PICK UP BOX is also easy to maintain and can be upgraded with the latest technical innovations. Multiple tickets for groups can be issued and printed all at once, simply by scanning the QR code. The side panel can be fitted to suit the desired layout, and information or promotional messages can be displayed on the scanner's touchscreen.
Share This Article