Audi Quattro Winter Games NZ Team Gearing Up For The First Annual Event This August And September.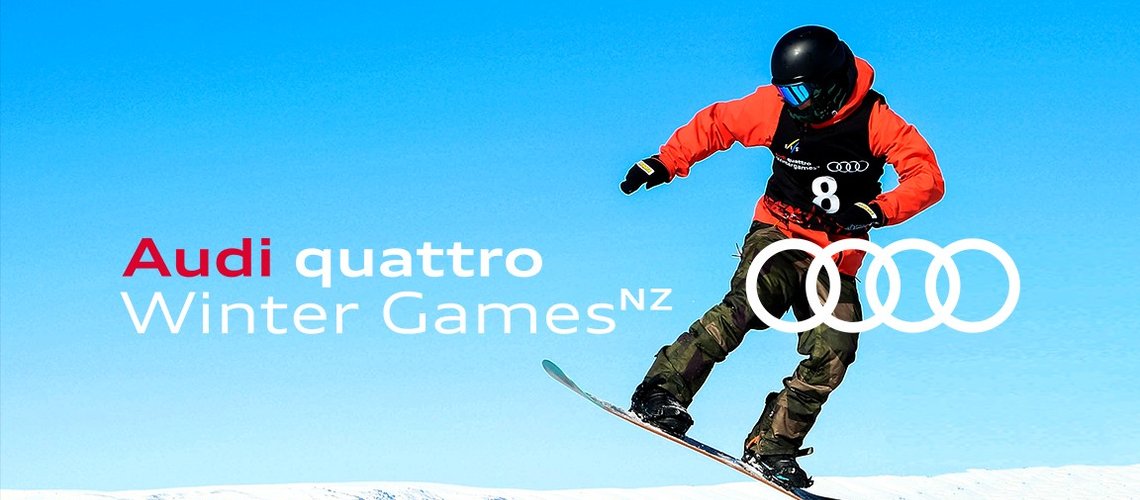 As the snow starts to fall over Queenstown, Wanaka and Naseby the Audi quattro Winter Games NZ team is gearing up for the first annual event this August and September. The centrepiece of the 2018 edition is the FIS Junior Freestyle Ski and Snowboard World Championships 2018, a prestigious competition within the Games framework.
"The cream of the world's young talent will compete along with our leading junior freeskiers and snowboarders," says Marty Toomey, CEO, Audi quattro Winter Games NZ, "and we will undoubtedly see many on the podium in 2022 at the Beijing Olympic Winter Games."
Alongside the junior competition, the Winter Games NZ programme features FIS World Cup Big Air competitions in freeskiing and snowboarding at Cardrona Alpine Resort, while Coronet Peak will host the FIS Australia New Zealand Cup (ANC) giant slalom and slalom races. The FIS ANC cross country events will be held at the Snow Farm and The North Face Frontier at The Remarkables is a Freeride World Cup Tour Qualifier with both 2* and 4* events providing top athletes with the opportunity to gain valuable FWT points.
International mixed doubles curling will be competed for at the Maniototo International Curling Rink in Naseby and the Queenstown Ice Arena hosts a three series international competition between the NZ Ice Blacks and the Australian Mighty Roos.
This exciting line up gives this year's event the greatest breadth and depth of any Winter Games NZ to date and as it draws close the team is growing with the appointment of key event staff across all departments and the volunteer portal is now live for keen people to register online.
Did you Know?
The Audi quattro Winter Games NZ is one of the world's top five international winter sports events. That means we have the privilege of seeing many of the world's best athletes competing right here in our own backyard. We are proud to attract 6 out of the top 10 athletes in each World Cup discipline we feature at the Games. The Winter Games NZ has played an important part in the build-up to the 2018 Olympic and Paralympic Winter Games. Check out these stats:
25 out of 30 Olympic Park and Pipe medals went to athletes who competed at the 2017 Winter Games NZ
2 out of 3 Olympic Curling Mixed Doubles medals went to athletes who competed at the 2017 Winter Games NZ
19 out of 33 Olympic Alpine medals went to athletes who competed at the 2017 Winter Games NZ and/or trained in NZ in the past 4-year cycle
Cross country skier Jesse Diggins (USA) who competed at the 2017 Winter Games NZ won Olympic gold in the Ladies' Team Sprint
13 out of 30 Paralympic Winter Games Snowboard medals went to athletes who competed at the 2017 Winter Games NZ
Share This Article