ARENA Presents Piste Rescue App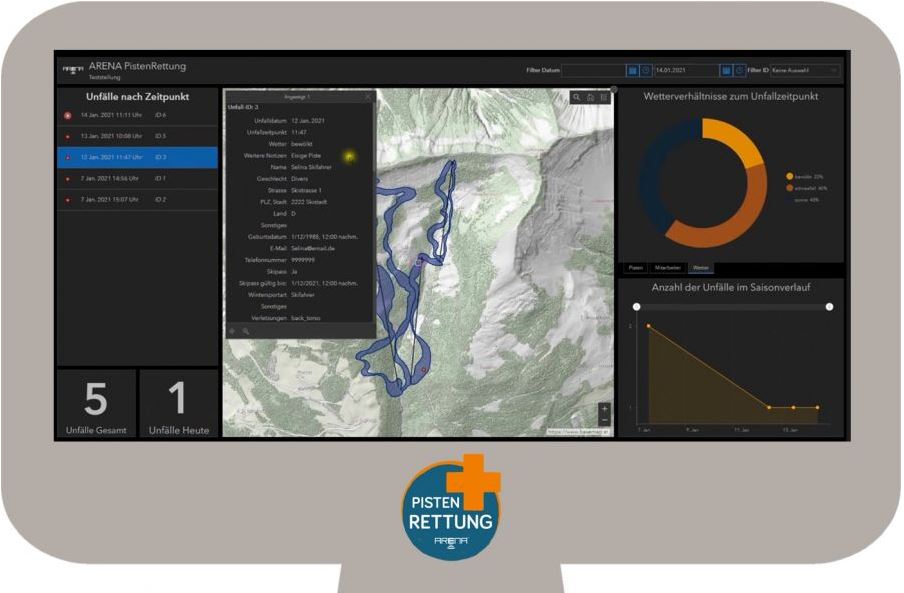 Salzburg slope management expert ARENA has created a practical app with a browser-based overview platform.
The piste rescuers are ski areas' guardian angels. Of course, they cannot prevent accidents, but they determine their outcome decisively. Piste rescuers are on the spot in no time, assess the severity of the situation and take important first aid measures. They stabilize critical injuries, organize removal and calm frightened patients and relatives. They are generally well equipped for all of these processes - with the exception of one area: data recording and accident documentation. Because this is often done by pen and paper. And so stumbling blocks such as wet paper, inconsistent notes and incomplete processes complicate work in many places. But that need not be.
ARENA PistenRettung as an app for the smartphone
The Salzburg geodata and slope management experts have now developed their own cloud-based solution that makes use of today's technical possibilities: the ARENA PistenRettung as an app. Whether for iOS, Android or Windows - the application can be used on any modern smartphone. And this is how it works: Arriving at the scene of the accident, the piste rescuer pulls out his mobile phone and opens the ARENA PistenRettungsapp. A standardized questionnaire guides him through the collection of the most important patient data. Name, address, symptoms and injured parts of the body are recorded. Everything that is to be documented can be customized. Whether the type of removal, departure route or first aid material used - each team can determine the data to be collected in advance.
The dashboard: all data at a glance in real time
The data sent by the piste rescuer appear in real time on a browser-based overview platform. Here the operations manager can immediately see what has happened and generate printable accident reports with just one click and have an invoice drawn up for the operation. He can also find important overview data here, such as the number and details of today's accidents. But informative statistics and evaluation options such as the analysis of the accident sites are also available here. They offer the opportunity to identify potential hazard hotspots and thus prevent future accidents if necessary.
Become a cooperation partner now & test it for free
Are you curious? Then become a cooperation partner and help put the finishing touches to the PistenRettungsapp with your feedback. ARENA will make its prototype available free of charge to anyone who wants to take part in the test until the end of the winter season. Would you like to find out more about the test partnership? Your contact: Karl Pfisterer, Head of Piste Management: +43 (0) 660 38 37 362 |
karl.pfisterer@powergis.at
Stay tuned for more
Another module on the subject of slope safety is already in the works at the Salzburg innovation forge: the ARENA slope control - an app for the simple documentation of safety measures. Stay tuned and follow us on Instagram: @arena_pistenmanagement
ARENA PistenRettung: the most important advantages at a glance
App for all modern smartphones
Simple and clear operation
Digital, standardized data acquisition
Customizable content
Automated map location
Voice memo option and photo documentation
Signature function to support legal security
Cloud-based data management
Real-time synchronization
Automated invoicing
Analysis function for the identification of accident or hazard hotspots
Easy installation and licensing
Share This Article