Arc'teryx Freeride Academy – Back In February 2023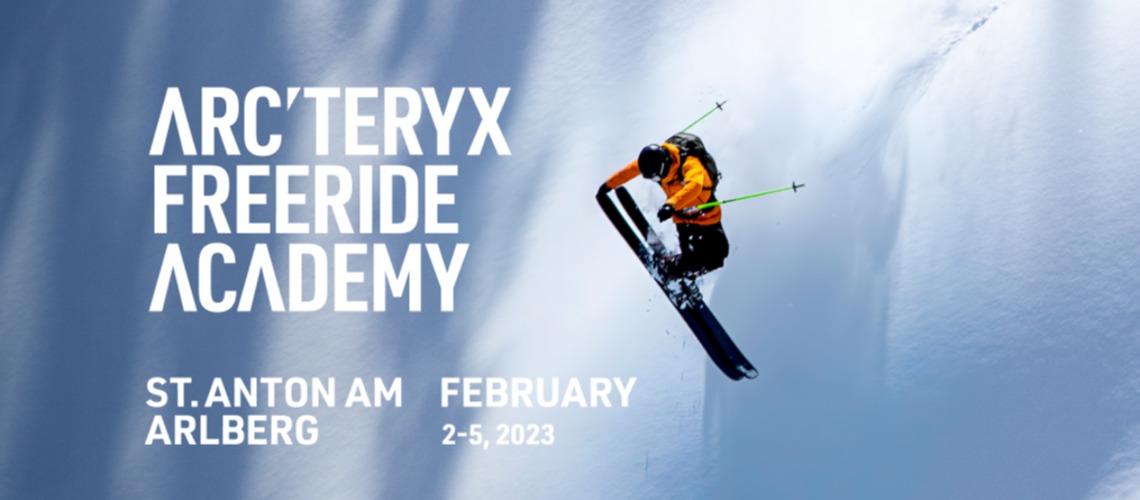 The 2nd edition returns to St. Anton am Arlberg, Austria and promises to GO ALL IN with four action-packed days of fresh tracks, top-notch clinics, awesome community, epic movies, party-feeling, and much more.
Following the success of the first edition in February 2022, the Arc'teryx Freeride Academy returns to St. Anton am Arlberg with a bigger all-round experience to further cement its place in the St. Anton community and Freeride calendars. Over the course of four days, St. Anton will be rocking with this event which brings together the ski and snowboard community in an environment where they can enhance and elevate their freeride skills, get inspired and connect with like-minded people. The Arc'teryx Freeride Academy website goes live on November 18 with a first glance at the program, and tickets for clinics will go on general sale on November 22.
Arc'teryx Academies are skills-focused, guide-led clinics that enable and inspire participants to engage in the sports Arc'teryx designs products for. The brand has hosted over 1,000 people annually at the Arc'teryx Academies, which have been running since 2012.
This year at the Arc'teryx Freeride Academy has an expanded offering which promises not only to deliver a wider range of top-notch clinics but also builds on the previous year with the involvement of a greater number of world class freeriders, such as Eric "Hoji" Hjorleifson (CAN) and Sam Kuch (CAN) and Silvia Moser (ITA) and Max Kroneck (GER), who'll join participants on the clinics. Other additions to the Arc'teryx Freeride Academy are the new Freeride Village, the great community meet-up space right in the heart of St. Anton, the inclusion of the location as a stop on the Arc'teryx Films On Tour "For the Love Of Winter", and the chance to keep the stoke and vibes going at the After Party.
"The support and passion from St. Anton town and local community has always been amazing and it's awesome to be heading back for the 2023 Arc'teryx Freeride Academy. We're stoked to be able to really build on last year with a refreshed clinic offering, a stacked off-mountain program and an even greater number of world-class freeriders. With all we have on offer, we're sure that everyone can find the inspiration to push their ski and snowboard experiences to the next level" says Stéphane Tenailleau, Director, EMEA Marketing at Arc'teryx
ON-SNOW CLINICS FOR EVERY INTEREST AND SKILL LEVEL
The program of 40 clinics covering the topics of freeriding, touring, safety, and photography, including highlights such as Big Mountain Freeride, Women's only: Freeride with Pros and Ski Touring Arlberg Style,will ensure that participants of all levels will be able to find what they need to build their perfect on-snow adventure. And with instruction provided by some of the world's best guides and freeriders, the Arc'teryx Freeride Academy will be the perfect opportunity for participants to elevate their skills and experience.
Full details on the Arc'teryx Freeride Academy and the complete clinic program will be announced on November 22.For more information, visit:
freeride-stanton.arcteryxacademy.com
Watch the trailer here.
PARTNERS:
The Arc'teryx Freeride Academy is made possible with the support of our partners Gore-Tex, Camp, Recco, Atomic, Oakley, Mc2Alpin, Protect Our Winters, TVB St. Anton am Arlberg, Sport Alberg, Sport Pete and Arlberger Bergbahnen.
Share This Article