Blackcrows Debuts Skis For FW 2023/24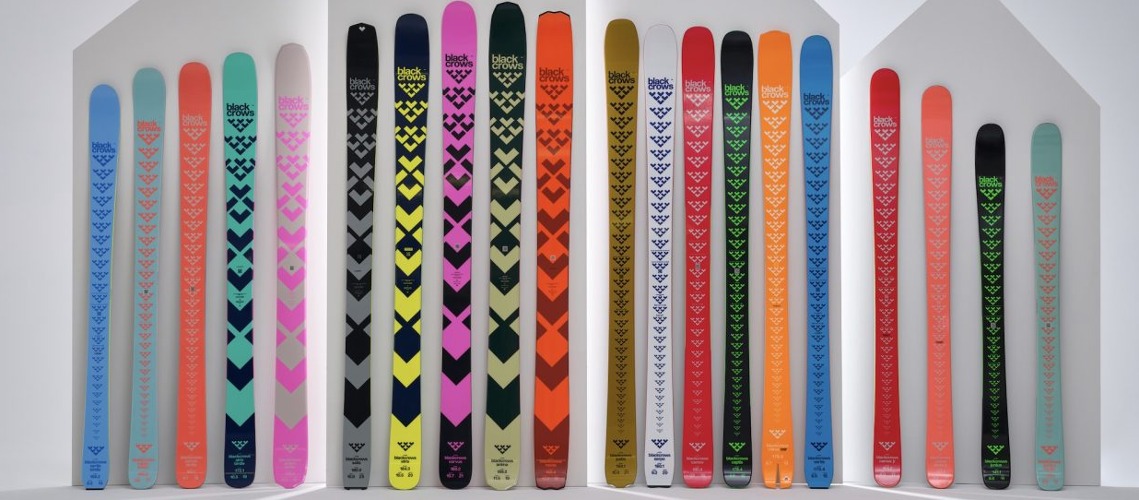 Blackcrows, the French ski products and apparel manufacturer introduced its Fall/Winter 2023/24 ski collection, featuring an updated powder ski, mirus cor and revamped graphics.
"This collection is more than just skis, it's a celebration of the vibrant community that forms the core of blackcrows," said Giorgio Saviane, chief marketing officer. The central motif of this year's collection is a celebration of the blackcrows community which is perfectly encapsulated by the new graphics. Crafted from six chevrons soaring in harmonious flight formation, the designs symbolize the unity of skiers coming together on the slopes, skiing as a synchronized squadron. From the tips to the tails of the skis, the logo is displayed, a testament to the shared spirit that defines our skiing culture. The logo on the all-terrain skis is sleek and gets increasingly more precise and refined throughout the ski and the big mountain range is represented by big bold logos magnified until they are almost unrecognizable.
"What you see most while you're skiing is the front of your boot," said Yorgo Tloupas, Paris-based designer behind blackcrows skis. "We wanted the skis to be highly identifiable even while you're skiing so that the skier is carried along, inspired by the design. The philosophy behind our new collection is to make our skis not only perform at their best but also be an extension of the skier's identity and passion."
A staple of the All-Terrain collection is the Mirus Cor, shown top right, fuses performance and design, bridging freestyle and contemporary carving. with a rocker tip and tail. Its construction features a semi-cap design and ABS sidewalls, combined with a poplar/fiberglass core and single titanal plate. The Mirus Cor offers grip, reactivity and top performance.
The Big Mountain collection is for those who live by the creed "go big or go home," and embodies this brand's DNA. The logo "defies the untrained eye, magnified to the point of near obscurity, yet retaining its graceful geometry and proportions … a testament to the dynamic harmony between boldness and grace in the heart of every blackcrows skier," said the brand.
This year, blackcrows is introducing the third generation of its Nocta powder ski, shown left, for "aficionados of the deep." This ski boasts a "balance between camber and playfulness, setting the stage for an exhilarating but sturdy ride." The design is made for skiers who "revel in thick blankets of snow."
For more product information, go here.
Share This Article