Kilde Wins Kitzbuehel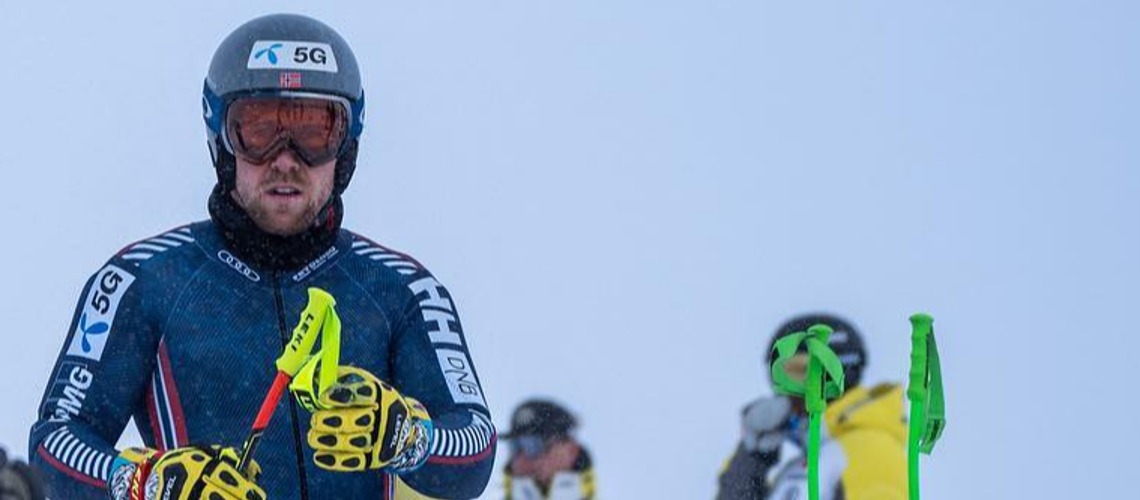 Aleksander Aamodt Kilde (NOR) faced the most feared course in downhill skiing amidst the falling snow and came out victorious once again. Fresh powder littered the track at the most prestigious downhill stop on the Audi FIS World Cup tour, setting a beautiful scene for the racers.
Kilde put together a confident, nearly flawless run to outpace the field by 0.67 seconds. It was a huge bounce-back performance after a disappointing 16th place finish in the first downhill race on Friday.
"I feel incredible. It was a really tough day yesterday with my run and a painful hand. It was a tough day for Team Norway yesterday. So, we had to dig deep to get it going today. I am really happy with my run," said Kilde.
It is the seventh win of the season for the Viking and the second time he has topped the podium at the famed Kitzbuehel downhill. Kilde extends his lead in the downhill standings and now has 38 career world cup podiums to his name. Coming behind Kilde was the 42-year-old Johan Clarey (FRA).
"What an incredible skier. What he did today is also really cool and inspiring to be at that age and ski here like that," said Kilde about the Frenchman.
It is the fifth time Clarey has reached the podium here at Kitzbuehel and the second time he has finished runner-up to Kilde this season.
"I pushed more than yesterday. I knew I made a good run, but you never know if you are fast or not. When I crossed the finish line and saw the green light, it was the best feeling ever. Whatever happens at the end, it was a super day for me. I am so happy to be on the podium today," said Clarey.
U.S. Alpine Ski Team athlete Travis Ganong scored a podium finish at the hardest downhill on the World Cup circuit, taking third place at the Hahnenkammrennan in Kitzbuehel, Austria in front of a roaring international crowd. It was the first American podium in Kitzbuehel since Bode Miller in 2014.
There was some snowfall at the Austrian venue, but that didn't slow down the men, who threw themselves down the intimidatingly steep Streif track. Ganong started fourth and grabbed the lead to hang on while racer after racer crossed the finish line.
"My goal this season was to push it and I'm happy with what I did and I can walk away being satisfied on what Kitzbuehel gave me," said Ganong, who was seventh in Friday's downhill. "It was a pleasure to ski here—I love this place."
Ganong, now 34 years old, started his first Hahnenkamm in 2011 and has raced on the track almost every year since. He has had some of his shining moments in his career at the historic venue, including six top 10 finishes, but this is his first podium at the "Super Bowl of ski racing."
"The goal is always to win," said Ganong. "But I'm stoked with how I skied and it was a fun time being here as a racer."
Ryan Cochran-Siegle also scored points, finishing in 20th place, along with Bryce Bennett in 22nd. Erik Arvidsson was 39th and Kyle Negomir 44th. Sam Morse and Jared Goldberg did not finish, but are OK.
Ganong raced out to grab the early lead with an impressive run and hung on to maintain the third-place finish as the challengers took the course after him.
"It was really tough conditions today with the snow fall. It was a good run, a great run down the Streif. If that was my last run down it, I am pretty happy. I love this hill. My goal is always to win here but to podium would be pretty good too," said Ganong.
Elsewhere on the mountain, Mattia Casse (ITA) skied a solid run for fourth place. The 40,000 fans gathered in the grandstands cheered hard for the hometown favourite Vincent Kriechmayr (AUT), but it was not enough to propel him to victory. The winner of Friday's downhill could not complete the double and finished fifth.
Getting an ovation of his own was Beat Feuz (SUI) who wrapped his legendary career with his final competitive race. The Swiss star finished 16th and celebrated his last run with his family at the bottom of the hill.
Fellow Swiss superstar Marco Odermatt (SUI) did not start after injuring his knee in a crash in Friday's run.
Share This Article