Stuhec Wins 2nd Cortina downhill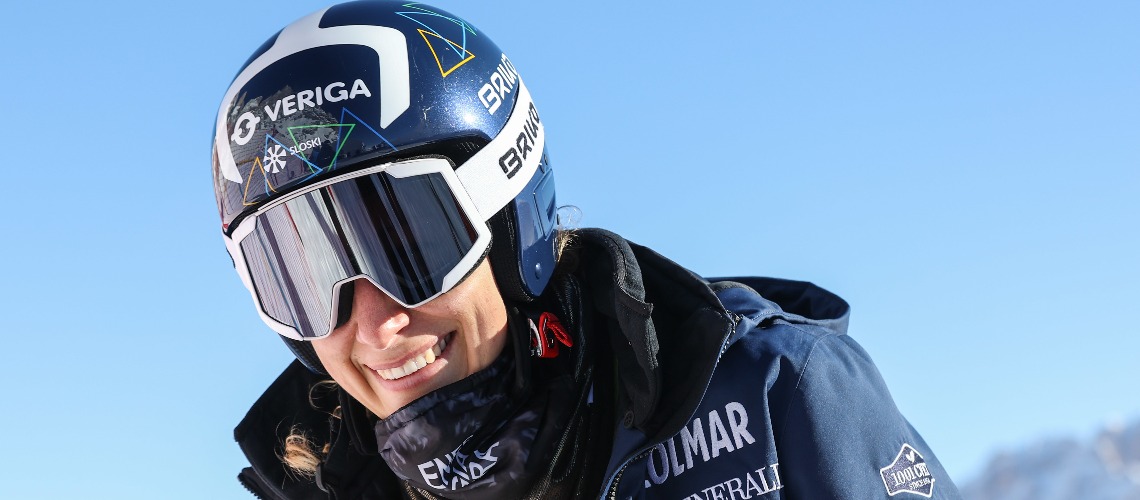 It was a windy day, which forced the start to be lowered and took off nearly 30 seconds from Friday's downhill, which left no room for skiers to make mistakes. Only .05 seconds separated Shiffrin from the podium, with less than a half second separating second place from 15th. Ilka Stuhec of Slovenia took her first victory in four years. Norway's Kajsa Vickhoff Lie came from bib 30 to second place and Elena Curtoni of Italy was third..
"It's been many years, it hasn't been easy," said the 32-year-old Stuhec, who had contemplated retirement after suffering a series of knee injuries, including two torn ACLs. "So many things happened in between that it's just crazy, actually. There were some moments when I thought, 'Why am I still doing this?' But I'm really happy that I kept going, that I trusted my inner feelings to fight on. And now I'm having fun again, and winning is really fun."
Strong winds forced the start gate to be moved below the Tofana Schuss, and Stuhec backed up Friday's second-place finish to master a sprint race nearly 30 seconds shorter.
She held her nerve after the two skiers before her — Austria's Nina Ortlieb and Italian favourite Sofia Goggia — both crashed out.
Friday's winner Goggia lost control of her right ski in flight three-quarters of the way down the course to continue her pattern of either winning or failing to finish in Cortina that now encompasses her last seven races in the Italian resort.
"It was really a mistake," said Goggia, who said she was uninjured. "It's fine, maybe something small but nothing major."
On a course of just over a minute, there was no room for errors even much smaller than the one Goggia made, but Stuhec couldn't say whether she had the perfect run or not.
"I don't know, at the moment I don't really care," she laughed.
As the top-seeded skiers after her failed to beat her time and Stuhec began to believe the victory was hers, Lie threatened to take it away with a stunning run with bib No. 30 on her own comeback from a devastating leg injury suffered in Val di Fassa nearly two years ago.
The Norwegian was ahead of Stuhec's pace on the top section and stayed in touch throughout the race, finishing on the podium for the second time in her World Cup career and the first time in downhill.
"Meraviglioso!" said a delighted Lie in Italian. "I also don't have any words actually. I'm really happy about being patient and trusting the process the whole time."
After crossing the line, Lie was mobbed in the finish area by teammate Ragnhild Mowinckel, even though she was pushed off the podium by Lie's performance.
Mowinckel had to settle for equal fourth with Switzerland's Lara Gut-Behrami, one one-hundredth of a second behind third-placed Curtoni.
The Italian veteran, who won a sprint downhill in St. Moritz in December, again showed her affinity for the shortened format by finishing third.
"I knew what to do even though it was shorter, I knew (where) I had to be better," said Curtoni, who came eighth in Friday's full-length downhill.
"Yesterday I was having some mistakes in the bottom part. Today I was faster so I'm happy about my skiing."
Mikaela Shiffrin led the way for the U.S. Alpine Ski Team in the second Cortina d'Ampezzo FIS World Cup downhill in two days, taking seventh place. Breezy Johnson was just behind her in 10th.
Shiffrin is still in pursuit of her 83rd win to become the winningest woman alpine skier of all time, currently sitting at 82 wins. "I am enjoying each race and the process is like an opportunity," said Shiffrin. "I'm just here trying to figure out the track like all the other racers on the course and see if I can do my best and if it's good enough to be close to the top. …When I look forward, I see opportunity, but I don't see pressure."
Bella Wright also had another great day, skiing to 16th place after her 11th place finish in Friday's downhill. Keely Cashman skied into the points in 27th. Tricia Mangan was 39th.
Share This Article