2023 Polartec Apex Award Winners Announced - Celebrating Winners Going Beyond To Uncover Unexpected & Original.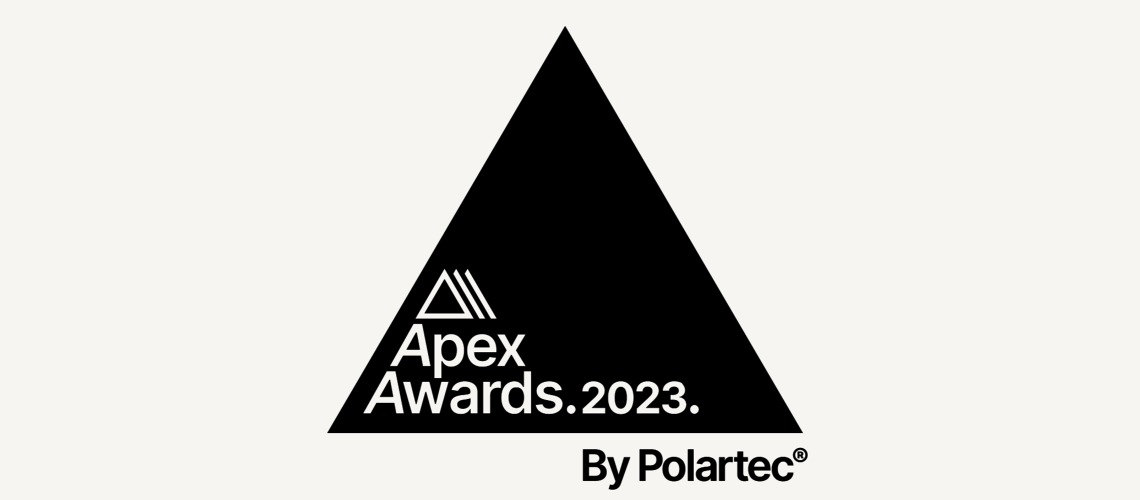 Polartec is excited to announce the winners of the 2023 Polartec Apex Awards. The annual design awards celebrate the brands and designers who embody the ethos, Made To Go Beyond. The winning garments ­‒ selected from hundreds of entries designed to enhance the lives of those who wear them ‒ exemplify the pinnacle of durability and functionality across sport, lifestyle, and performance categories.
The Polartec Apex Awards spotlight innovative designs that look beyond the existing and create authentic products. The 2023 winners are:
Indyeva Satu Polartec Isothermal Skirt– With its sleek style and Polartec® Thermal Pro™ fabric, the Satu Isothermal Skirt makes a fashionable yet functional travel companion for outdoor adventures. The technical skirt fabric offers exceptional durability, pill resistance, and warmth without weight. The Thermal Pro™ innovative insulation material makes this skirt an ideal choice for chilly conditions while maintaining a lightweight, stylish look.

Judges' Verdict: Indyeva's Satu Isothermal Skirt shows creative use of technical fabrics, expanding choices for the female outdoor enthusiast without renouncing style.
Santini Cycling Adapt Multi – Santini is the first cycling brand in the market to introduce the recently upgraded Polartec Power Shield with Biolon Nylon plant-based membrane. The Adapt Multi Jacket is a versatile, weatherproof cycling jacket that provides a jersey-like fit and feel, offering thermal balance in diverse climates thanks to the Power ShieldT breathable and waterproof fabric. The full inventory of Adapt Multi Jackets made from plant-based Power ShieldT will be available starting in Fall 2024. Judges' Verdict: Santini's iconic Adapt Multi couples intelligent design and next-generation plant-based, weather protection fabric with no compromise.
Spoonflower Polartec Fleece – Spoonflower offers Polartec® 200 Series Fleece fabric by the yard, digitally printed on-demand in the USA using water-based inks. This high-loft, pill-resistant, durable fleece can be printed with the customer's own surface design or one selected from over 1 million designs by Independent Artists available in Spoonflower's Marketplace. Spoonflower requires no minimum purchase, allowing customers to order only the quantity necessary for an at-home sewing project or business needs. Polartec's 200 Series Fleece is easy to sew, which makes it an optimal choice for both DIY and business customers. Judges' Verdict: We love the Print-on-demand aspect of Spoonflower. No over-production, just creative, bespoke fabric offering responsibly sourced, cozy comfort.
Nike ACG Wolf Lichen Caps– Just the ticket for cool weather, this lightweight Polartec Alpha mid-layer delivers the versatility needed for wherever the day may go. Roomy enough to fit over a base layer, but still comfortable under a jacket or vest, its stretchy knit Polartec Alpha fabric feels ultra-soft and airy, helping regulate body heat and drying quickly. Judges' Verdict: Nike ACG produces sport-specific products with appeal and this hoodie ticks all the wearability boxes, plus it uses recycled content.
Trangoworld TRX2 Hybrid LT Pro Jacket– A technical mid-layer jacket designed for demanding outdoor and mountain activities, the Trangoworld TRX2 Hybrid LT Pro Jacket uses Polartec Alpha, a superior insulation system for extreme temperature variations, combined with Polartec Power Ai revolutionary knit construction that encapsulates air to retain warmth, while reducing microfiber shedding to produce a technical garment for high-performance activities. Judges' Verdict: Trangoworld used multiple sustainable Polartec® fabrics cleverly placed for an enhanced mountain experience.
Millet Trilogy MXP Power Wool Suit– This full suit made of Polartec Power Wool blend has been developed together with Millet's top athletes to offer an insulating first layer for use when ascending the highest peaks and exploring extreme cold destinations. Polartec® Power Wool utilizes a hybrid design with a soft, odour-reducing, merino wool base and a highly durable synthetic exterior. The advanced knit construction places each distinct fiber where it maximizes its highest potential, making it a perfect base layer for outdoor excursions. Judges' Verdict: All-in-ones are trending for a reason – no cold spots. A sport-specific base layer offering continuous protection for high altitude activities where reliable warmth is crucial.
Senchi Designs Alpha 60 Hoodie – The Alpha 60 Hoodie is the lightest, most breathable, and packable active insulation fleece on the market. A go-to minimalist fleece that offers a simple and efficient design without bulk or unnecessary additions. The essential mid-layer offers everything an adventurer needs and nothing they don't. Optimal for high-output activities in warmer conditions, or a perfect supplemental piece for added warmth for cooler temps. The Polartec Alpha fabric provides an ultralight, high warmth-to-weight ratio with natural moisture resistance for incredibly fast drying. Judges' Verdict: A hoodie that's thought of everything: made from recycled content fabric, it's light, warm, and packable. We loved this unique multipurpose jacket.
Acronym J117-HL– J117-HL hoodie sets new standards in physical comfort, support, and adaptability. Key to this approach is the equal parts technical and sensual Polartec® High Loft fabric, a semi-mesh fleece with remarkable thermal properties. It is cozy and elastic, yet also lightweight and compressible, featuring the greatest warmth-to-weight ratio of all Polartec fleece fabric technologies, ideal for use both when stationary and in transition. Judges' Verdict: Acronym's J117 strikes a great balance between style and function. We loved this very wearable approach to keeping the wearer cozy whether in the city or up a mountain.
rabbit Fuel n' Fly 4"— Stay incredibly dry in rabbit's Fuel n' Fly 4" shorts made with Polartec Power Dry and Fresh Fac technology. Incorporating two Polartec innovations, the impressive moisture-wicking fabric features a metal-free, mint-based deodorizing solution in the liner for comfort and odor control. The bluesign certified mint extract oil used in Fresh Face is easily renewable, highly sustainable, and biodegradable. The performance-style liner is built with an elastic waistband maintaining comfort on long runs. Judges' Verdict: Performance-lined shorts have a place in any discerning runner's closet. Using the latest Polartec technologies, this is an outside-the-box solution to an age-old issue.
Mountain Martial Arts, MMA Polartec Power Grid Zip Hoodie 2— Crafted with Polartec Power Grid fabric, this cozy full-zip hoodie delivers exceptional warmth, making it an ideal companion for various outdoor pursuits. The innovative Power Grid pattern not only enhances breathability but also provides superior flexibility, ensuring freedom of movement during intense activities. Designed with the needs of outdoor enthusiasts in mind, the hoodie's Polartec Power Grid fabric effectively wicks moisture away, keeping you dry and comfortable even during the most demanding physical endeavors. Judges' Verdict: We loved this Mountain Martial Arts hoodie for its technical attributes and stylish appeal. A likely staple in the discerning outdoor/urban warrior's closet.
Ciesse Piumini Race Jacket— The Ciesse Piumini Race Jacket, an anorak-style windbreaker designed for adaptability in diverse climates, stands as a pinnacle of performance and sustainability. Constructed of Polartec Power Shield fabric featuring a certified plant-based membrane derived from 48% non-food and non-GMO vegetable biomaterials, ensures both breathability and water-repellency while reducing the impacts on the environment. With laser-cut Ciesse Piumini logos and internal heat-taping accentuating the advanced capabilities of Polartec Power Shield, this limited-edition jacket exemplifies a perfect synthesis of cutting-edge technology, functionality, and environmental consciousness in outerwear. Judges' Verdict: We loved the modern aesthetic of this race jacket that uses the latest Power Shield weather protection fabric with plant-based contents.
Arc'teryx Kyanite Crew Neck Pullover Women's— Versatile, comfortable, efficient. The Kyanite is the layer you grab for chilly climbs, snowy ski days, cool hikes, and to cut the cold when you roll out of your sleeping bag after a night under the stars. This award-winning product, crafted with Polartec Power Stretch Pro, is designed to provide a comfortable, relaxed fit with unrestricted freedom of movement, thanks to its four-way stretch fabric and abrasion-resistant nylon face. Inside, the garment is brushed for thermal efficiency and outstanding softness. Worn as a mid-layer or standalone piece, the Kyanite is an easy choice for any mountain adventure. Judges' Verdict: In the quest to keep our gear going for longer, Arc'Teryx has employed an iconic Polartec fabric and incorporated it into a well-loved design for apparel that you'll want to last.
Each 2023 Apex Awards winner is recognized as a forward-thinking product partner who embodies Polartec's innovation and inspires others to go beyond through each brand's designs. Each winner receives a coveted Malden Wizard trophy in celebration of their winning designs, in addition to joint marketing support. The Apex Awards also feature a "People's Choice" contender - voted on by the public via Polartec social media platforms - and will be announced in the coming weeks.
Share This Article