Salomon Unveils New logo & Brand Signature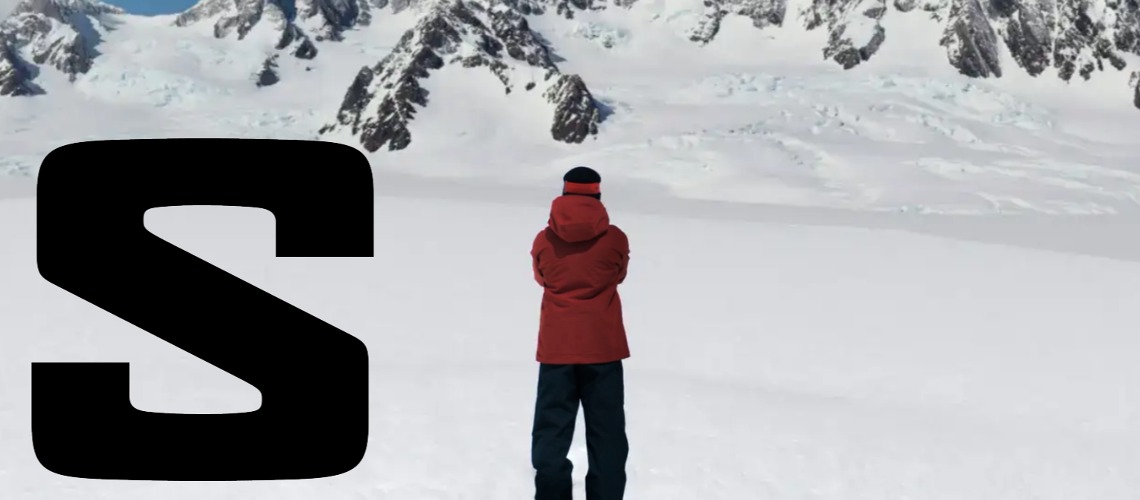 Salomon, the leading global outdoor sports brand based in the French Alps, today unveiled a new brand signature, updated logo, and brand campaign video as part of the company's objective to inspire a new, younger audience of outdoor enthusiasts and athletes to unleash the best version of themselves.
The new"Tomorrow is Yours" Salomon brand signature and campaign video are based on the belief that by tapping into the inventor that lives within all of us, and by daring to reach our full personal potential, each of us can play a role in shaping the positive future we imagine.
"At Salomon, we believe that forging a deeper connection with nature and the outdoors can improve peoples' lives and make us all better," said Salomon President and CEO Franco Fogliato.
"The company has a proud heritage of inventing the future of sports by imagining and then creating high performance sports products. Our legacy has been built by people who approachevery day with a brave, curious mindset and a belief that we all have the power to make animpact. We believe this new brand direction appeals to a growing audience of young outdoor enthusiasts who believe they can do the same."
Brand Video Inspires Community Members to Share New Outside Experiences and Will Appear on TV in Select Regions
To kick off the new "Tomorrow is Yours" brand campaign, Salomon worked with DDB Paris andParis-based directors Valentin Petit and Gabriel Duguev on a new brand anthem video that encourages viewers to connect with the inventive mindset that has guided Salomon for 75 years and to discover it within themselves. As part of the "Tomorrow is Yours" kickoff, a shortened version of the video will air as a TV commercial in select markets in the coming months.
The video is a celebration of Salomon's thrill-seeking heritage and fuses familiar Salomon outdoor sports clips with imagined tricks as the viewer travels from city streets and nightclubs to high mountain running trails and backcountry ski terrain. It features dancers, artists, and 10 Salomon international athletes—snowboarder Tess Coady, freeskiers Nico Vuignier and Alexi Godbout, ultra-runners Courtney Dauwalter and Francois D'haene, Nordic skier Jessie Diggins, Alpine ski racer Marta Bassino, and trail runners Anaïs Quemener and Maximilian Zeus.
It will also act as an inspirational call for the Salomon community to share social media videos and photos of their own experiences trying something they've never done before using the hashtag #TomorrowIsYours. Whether it's a new trick in their favorite sport, picking up trash during a run, or taking someone on a new outdoor experience for the first time, Salomon is asking its community members to dare to step beyond their comfort zone and share their experience.
Salomon Nordic skier and three-time Olympic medalist Jessie Diggins set an example by venturing into the high mountains above Chamonix for a ridge walk with fellow Salomon athlete and mountain guide Michel Lanne. This summer, Salomon employees also took up the challenge when the entire company was given a day off work to try a new outside activity. Some took handicap athletes on their first mountain bike ride while others cleaned rivers or wentparagliding for the first time. Videos of these adventures will be shared on social media in the weeks ahead.
Salomon gets logo and monogram update from design team that includes former Salomon Snowboard icon David Benedek
Salomon's familiar "S" monogram and brand logo have both evolved over the company's 75-year history as they adorned the brand's iconic winter sports equipment, footwear, technical apparel and gear. As part of the "Tomorrow is Yours" brand relaunch, a new version of the "S" and a new logo font were designed by a group that included an internal design team, as well as two external teams—one led by former Salomon Snowboard icon David Benedek and Ricardo Ferrol, a Swiss typographist; the other by Hugo Hoppman, a German creative director.
"This new visual identity is a great manifestation of our brand relaunch and true to our brandhistory and personality," said David Farcot, Creative Director for Salomon Snow Sports, who led the visual identity project. "The final design feels so natural and obvious that it may not be extremely noticeable to some people, but that is actually the best result the design team could hope for.
The new "S" monogram and "Salomon" logo appear on Salomon products starting this FW 22-23 season.
The new logo is a subtle tribute to the brand history, but with contemporary updates. To begin the project, Salomon identified what it felt were its strongest heritage markers among several logo iterations from its 75-year history—a "homemade" version from the 1970s (as Salomon became a global brand) and another from 1996 by star designer Neville Brody as Salomon explored "Freedom Action Sports" arena.
Share This Article