French Slalom Stars Get Their Hahnenkamm Gondolas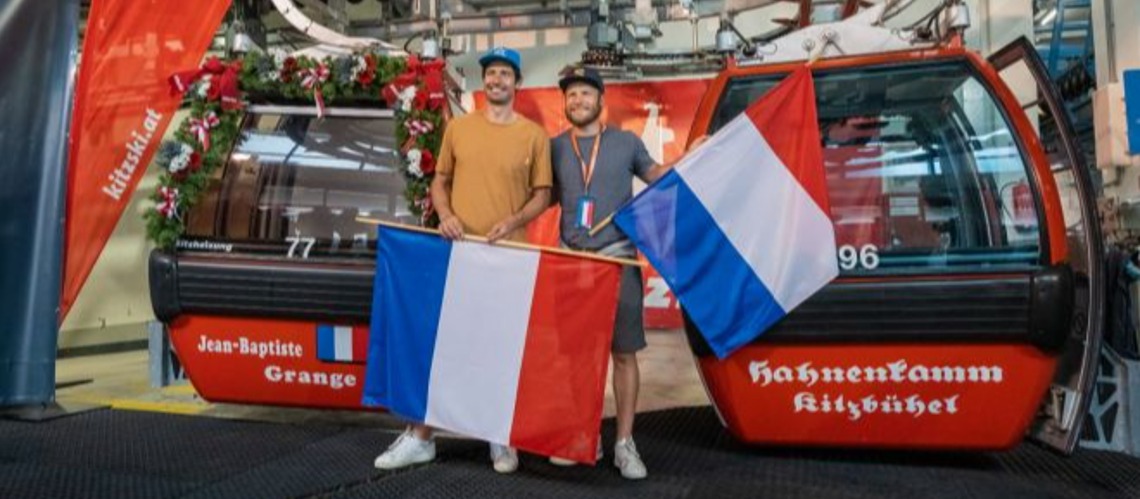 Two outstanding French athletes, three triumphs on Ganslern Hill. Jean-Baptiste Grange and Julien Lizeroux received their Hahnenkamm gondolas on Friday.
Their names have been emblazoned on the gondolas for several years now, as they weave their way around the Hahnenkamm lift system. But the time finally came on Friday for Jean-Baptiste Grange and Julien Lizeroux to "receive" their gondolas in person – an honour that is not bestowed on every Hahnenkamm winner. Both French athletes have since ended their sporting careers, but memories of their three triumphs in total will never diminish: ""Kitzbühel is everything, for us racers from France too. If you win here, you win for eternity", said a delighted Jean-Baptiste Grange, who took the Slalom title in 2008 and 2011. The 37-year-old is the only athlete in the history of the Hahnenkamm Races to have won the Slalom on both the course set on Vorderganslern Hill and finishing straight of the Streif (2008) and the classic course in (2011). He remembers 2008 particularly well: "I went to the course inspection together with Luc Alphand and saw all the names on the gondolas. I thought to myself: 'If you want to see your own name up there too, then today is the day." Jean-Baptiste Grange, who retired in 2021, was proven right.
Kitzbühel has always been a magical place for his friend, Julien Lizeroux, who also ended his World Cup career in 2021: "I competed for the first time here in 2000. I celebrated my first podium finish here on the Ganslern Slope in 2009 and competed on the Streif in 2010 – where I may not have been the fastest, but it was a childhood dream come true." The 42-year-old was particularly delighted to receive a smaller and much more manageable model version of his gondola to take home: "Maybe I'll build a little lift at home and watch it go up and down every day", he said with a smile, whilst admitting he would require lots of help from his friends in terms of technical know-how, to make that happen.
Jan Überall, General Secretary of Kitzbühel Ski Club, emphasised the historic triumphs delivered by French athletes on the Streif and Ganslern slopes: "In the history of the Hahnenkamm Races, 14 athletes have accomplished 35 victories for France. This puts La Grande Nation in second place in the Nations Rankings, on a par with Switzerland."
Host Christian Wörister, CEO of Bergbahn AG Kitzbühel Cable Car Co., was most impressed by the French athletes' friendly attitude. "It is an honour for us to welcome two such great skiers to Kitzbühel and a great pleasure to see how relaxed you are here with us : You take time for photos, small talk and to 'Golf the Streif'." Not only did Julien Lizeroux and Jean-Baptiste Grange complete the golf tournament over the racecourse the day before, but also Tessa Worley, one of the best giant slalom skiers in the world (and Julien Lizeroux's long-term partner): "It was my first time on the Streif and I would love to ski it once in winter, but not at race pace," said the 32-year-old. A giant slalom down the Streif, however, would certainly appeal to the four-time World Champion: "The course is very challenging, but why not?"
Kitzbühel Ski Club had also invited triple Combined winner, Alexis Pinturault, and the last French athlete to win the Slalom, Clément Noël, to the "French" gondola presentation ceremony, but the two (still active) racers had to cancel unfortunately prior to the event.
Share This Article