Sit Back On Sitpack Zen: The World's Lightest And Most Compact, Foldable Resting Device Just Got Better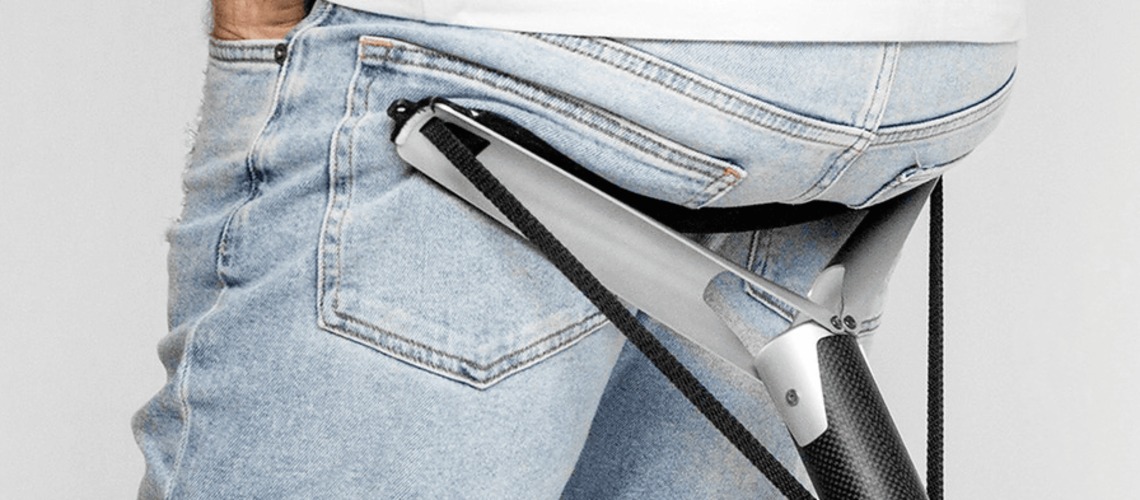 Sitpack Zen is the world's lightest and most compact portable seat and is ideal for taking the weight off your feet at festivals, waiting for public transport, for outdoor pursuits such as golfing, skiing, fishing and shooting and for avid photographers. Basically any activity where you want to rest your legs! It's the perfect coach's chair.SIN can see it at the edge of a trail as a coach or examiner watches their skiers go by.
Following the hugely successful launch of the original Danish designed one-legged Sitpack chair in 2014, and now its new Sitpack Zen - where 11,616 backers' crowdfunded the device on Kickstarter, Indiegogo and Makuake (JP) with over $1.3M funding raised, the company is back with a smaller, lighter and more comfortable design. Sitpack listened to its customers' feedback from all over the world and, inspired by nature, designed a new futuristic edition called Sitpack ZEN. The ZEN is available from the Sitpack website
The Sitpack ZEN is the next generation of innovative and portable seating and is made of the world's strongest and lightest materials—carbon fibre and aluminium. The Sitpack ZEN is both slimmer and lighter than its predecessor with a weight of only 455 grams, making it easy to put it in a back pocket or bag.
The real magic of Sitpack ZEN happens when users unfold the cylinder wings of the carry strap made of ballistic nylon which instantly turns into a 15-inch wide seat. The next step is pulling out the 38-inch telescopic leg, which, with its patented closing mechanism, can be adjusted to the user's height whether they are 5ft 1 or 6ft 6. Within a matter of seconds, the seat is ready, letting them stay relaxed leaning in at eye level with their friends.
Sitpack is not all about portability though – it's about convenience and health as it is designed to ensure users rest with the right posture. Correct resting increases blood circulation and therefore your focus. It soothes a tired back and leaves only 30% of the body weight on the coccyx. The Sitpack will keep energy levels higher throughout the day, while stimulating muscles and balance.
Jonas Lind-Bendixen, CEO and inventor of Sitpack, commented "Many people are excluded from participating in social activities because they cannot stand or walk for a long time or because they suffer from back pain, so Sitpack can actually help to include people. After launching the original Sitpack in 2014 we know that this type of chair is needed, as a new way to provide relief for both leg and back restraints in a standing position.
Lind-Bendixen continued, "The original idea of the Sitpack was to remedy the standing position, be this at concerts, when standing in line or waiting for public transport or someone for a long time. The new Sitpack ZEN is based on feedback from thousands of Sitpack users from around the world, informing us that comfort and product weight are key when designing a new product. Together with design inspirations from nature such as nocturnal moths, and on our very basic principles of sustainability, minimalism, functionality and intuition."
The Sitpack ZEN is more sustainable and cost effective alternative to "festival chairs" which are frequently thrown away after the festivals whereas Sitpack users can be used over and over again. It is also ideal for a range of outdoor pursuits such as camping, photography, hunting, fishing or hiking to name but a few.
Share This Article