20 Years Of Alturos Destinations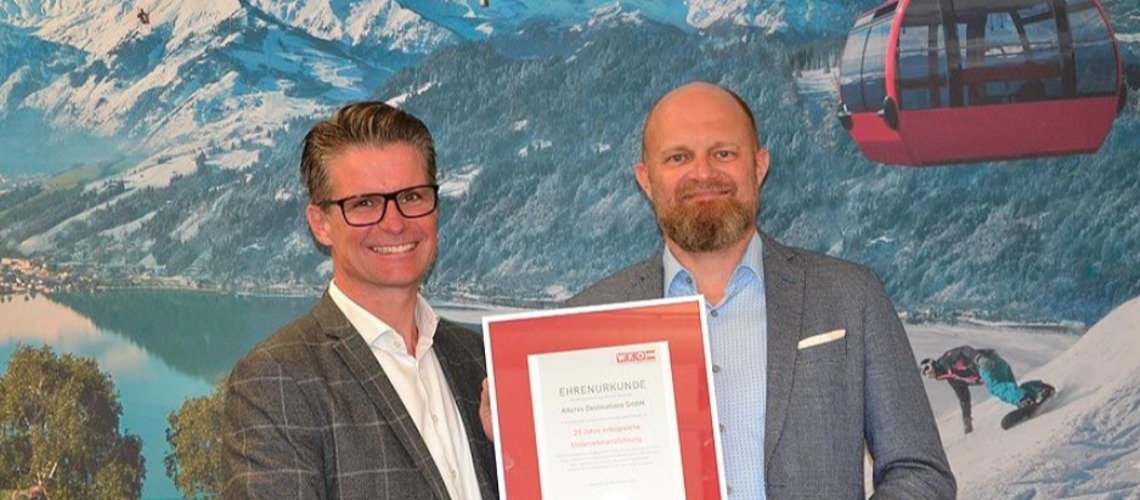 Whether in summer or winter, with Alturos Destinations there has been action for 20 years - unforgettable experiences with photo point, photo trap, ski movie, speed check and Co.
Since the start of the Skiline altimeter service, many innovative products have been added over the years: Skiline, Peaksolution, JAMES, EMMA, MyServices, Skiline Terminal, Action Cam and most recently the combination of these in Destionation OS. In addition, the "Mechatronic Forge" production facility in Ebentalerstraße/Klagenfurt was moved into in 2020.
Active Skiline community
Not only is 20 years of Alturos Destinations is a reason to celebrate, but also the steadily growing Skiline community.
Skiline users were also very active last winter season: more than 5.8 million ski days, 28.2 billion vertical meters and almost 4 million photo point photos and ski movies generated. Despite Covid restrictions, Alturos Destinations was able to set a new record with numerous new summer attractions. The Skiline community has grown to 4.4 million registered users.
"We are very pleased that Skiline is so popular with guests, because with Skiline Alturos Destinations stages emotional experiences and converts anonymous guests into well-known users with personal, digital content, thereby opening up new possibilities in digital sales for mountain railways and tourism regions," says Gilberto Loacker, Chairman of Alturos Destinations.
"We are pleased that hundreds of customers trust Alturos Destinations and that we can count on a strong team of 140 people. Success is never defined by the entrepreneur himself, but always by his customers," summarizes Michael Saringer, CEO of Alturos Destinations.
"20 years of successful corporate management" is written on the certificate that Michael Saringer received from the Chamber of Commerce Chairman this week. "Managing a company successfully over many years requires dedication, commitment and courage. It takes the ability to think into the future and make decisions in the now. It needs people like you," emphasizes Franz Ahm.
Use Destination OS for your business
Alturo's Destination OS (Operating System) is a comprehensive solution for the implementation of digital sales strategies for tourist destinations and (mountain) railways. At Alturos Destinations, the focus is on sales and marketing in the course of destination management. From digital sales with Peaksolution® and the Destination App JAMES®, to digital communication with EMMA®, to entertainment on the mountain and community analysis with Skiline® - the largest winter sports community in the world - Alturos Destinations offers the all-round package. Alturo's Destination OS can thus be described as a tourism operating system. It enables the different applications to communicate with each other and can therefore be fully integrated into one another.
Share This Article