Bobsla Offers Sustainability That Is No Longer Boring And Expensive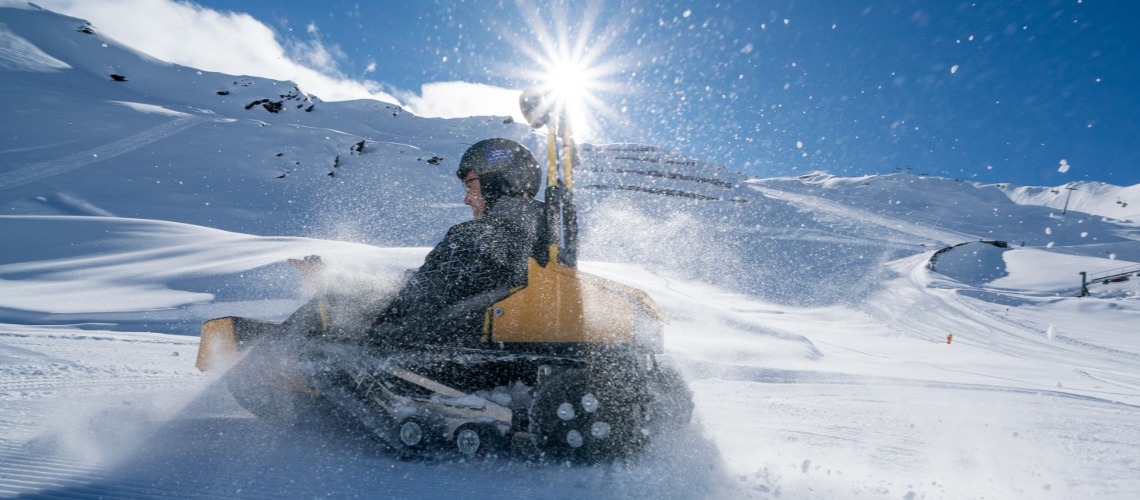 Snowmobiling is a great joy, but vehicles in general are expensive, demanding, heavy, dangerous and very polluting. These vehicles are not allowed in many areas because of the extreme pollution and noise.
Tesla made headlines everywhere with its radical reinvention of the car: Why didn't anyone do the same with the snowmobile? Is there a practical solution that is inexpensive and offers freedom when driving on snow?
"Electrifying snowmobiles is tough and expensive. Normal design de snowmobiles require a lot of power, otherwise the vehicle will only be boring in motion. Then more power requires more batteries, more batteries bring more weight and such sleds can sink into the snow. "Sergey Ignatyev, the founder of Bobsla, Tyrolean manufacturer of electric sleds.
Three years ago, Sergey came to Tyrol with his partner to test the prototype they had assembled - a "simpler" version of the vehicle that would keep the fun of driving on snow, but without the bells and whistles that most users make does not need. Weight and complexity were nasty, so he quickly toyed with the idea of ​​merging the properties of a sled with those of a snowmobile. The sled would provide the sliding body, while the caterpillars would provide power and guidance, much like an army tank. The Bobsla was born ...
The prototype that showed in 2018 and what you can now rent in ski areas in Austria and Switzerland - are different vehicles in terms of quality, durability and appearance. The most important things stay together - Bobsla doesn't drive - he swims on the snow.
The design is much simpler than previous snowmobiles, requires less complex and expensive parts and offers a number of advantages: It is compact and light, offers unique driving pleasure (especially its extreme agility and drift ability), offers a high level of safety with its stable roll cage and the center of gravity an inch above the snow.
"After we started Bobsla in Gurgl, after we received various awards for design (ISPO, Prowinter and many more), after we had a fantastic roadshow and received orders from Scandinavia, the COVID lockdown has begun. And we all have a lot of time to think about it "Sergey Ignatyev.
Bobsla is not the first mover in the world of electric vehicles for snow. The company Mattro from Schwaz brought a vehicle called Ziesel onto the market 8 years ago. With its original design and joystick steering, it offered impressive terrain characteristics with no emissions or noise ... at a considerable price.
The Aurora electric sled from Finland, currently the most advanced electric snowmobile, has been tested in Lapland for 4 years. Despite its excellent engineering, it was based on the same basic principles as other snowmobiles, resulting in high power consumption (only ~ 4 km / KWh, while a Tesla 3 SR offered ~ 6 km / kWh), heavy construction (> 350 kg), a consequent limited area of ​​40 km only and high price more than EUR 30,000.
Montreal-based jet ski manufacturer Taiga Motors, which was founded in 2015 by three McGill University graduates, also announced the launch of electric snowmobiles, which it had promised since 2018, with a great roar. In February 2021, Taiga Motors raised ~ $ 148 million through a SPAC deal (company value was about $ 430 million!), A phenomenal number considering the high promises but the shortage of delivery items.
Despite the excitement, total e-snowmobile sales accounted for less than 0.2% of the market, similar to the situation in the car market in 2010 ...
As the company Bobsla GmbH announced a year ago, they could redesign the drive train of their vehicle in June in order to solve the start-up problems of the vehicle. Newer electrics have shown impressive performance and capacity - there aren't that many electric vehicles that easily climb 600 meters and the remaining power is enough to go more miles (!) Further.
"In the second winter we found our secret of success - thanks to its patented design, Bobsla drives more kilometers at 1 KW hour than other electric sleds. Bobsla is more energy efficient, which is important for vehicles that can sink into snow. "
At the end of last winter, Bobsla GmbH has one more roadshow places in Switzerland for skiing, but the pandemic mood purchases did not make it easier and financially the company has to struggle its way into 2021. However, with its tiny turnover, the company could not only survive the COVID - Survive the lockdown but also continue product development - both in improving the quality of the current vehicle and in developing a vehicle for transport on snow. In June, new rubber tracks were tested on very soft snow in Gurgl.
"The times are tough for the entire ski area industry, not just for Bobsla. And we are working on solutions that will help us all work on them. We are looking for resorts that will be our partner in the pilot contract for Bobsla for Kids - similar to Bobsla, but even more cost-effective to attract guests, i.e. local guests, parents with young children.
As Bobsla GmbH announces, newer Bobsla for Kids will be almost twice as easy and almost twice as cheaper. According to company calculations, the repayment period can only be a few months, with a ticket price of only EUR 10.
"Our strategy is to enter the market with niche solutions for driving on snow. We aim to develop such solutions to let them perfectly fit needs of customers. And in the long run our goal is to provide convenient, affordable, amazing and safe transportation on snow. Of course, without pollution. Because snow should stay clean. "
A year ago, the leading Swiss newspaper, Tages Anzeiger, voted Bobsla the top winter sports news. We wish this startup the best of luck this season!
Share This Article