Zell Am See's Celina Schuster Is "Salzburg's Apprentice 2022"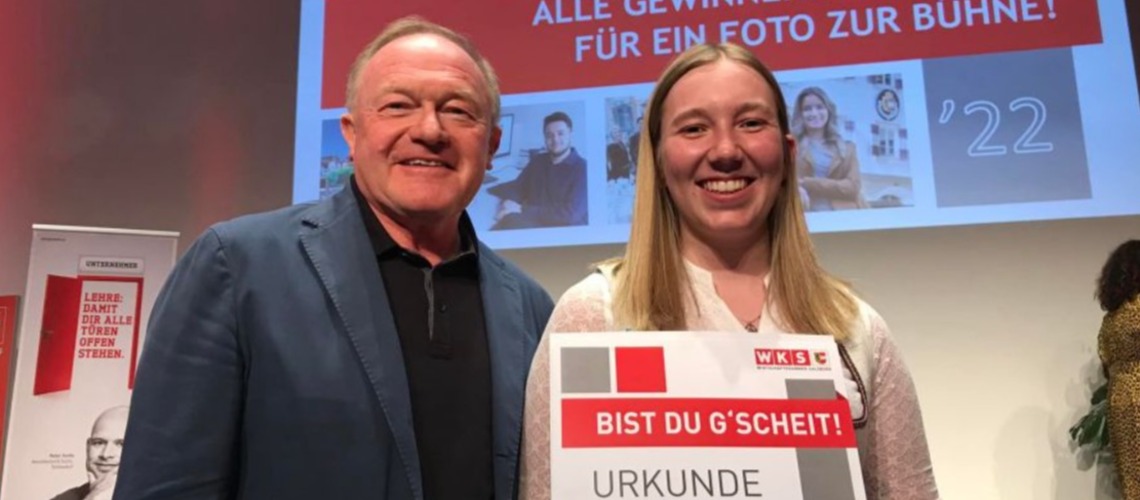 20-year-old Celina Schuster from Saalfelden is doing a double apprenticeship as a cable car and electrical engineer at Schmittenhöhebahn AG in Zell am See. As part of the gala "Are you smart!" she was named "Apprentice of the Year".
"I congratulate Celina Schuster on this award and am pleased that she has purposefully gained a foothold in a male-dominated work area with an exemplary self-assurance. It will be more than successful in the future, I'm sure of that after our personal meeting last night," said Governor Wilfried Haslauer at the "Are you smart!" gala.

Shoemaker: "Just the right thing!"

"Incredible, I am very happy about this title. I can't even put the feeling into words. I originally went to high school, but then realized it wasn't for me. When I got a taste of working as a cable car technician at Schmittenhöhebahn AG, I liked it so much that I knew straight away that this was exactly the right thing for me," said Schuster after the award ceremony as "Salzburg's Apprentice 2022" on Tuesday evening at WIFI Salzburg .

First woman with this qualification

The 20-year-old decided to do a double apprenticeship in cable car and electrical engineering with a high school diploma, making her the first woman in Austria to have completed this training. In order to be as well prepared as possible for her job, she is also doing further training at the Technical Training Center in Mitterberghütten in addition to her apprenticeship. There she attended the basic electrical engineering course and the electrical engineering control engineering course. In her free time, she works as a paramedic and plays the guitar and saxophone in the Leogang music band as an active member.

Jury nomination and online voting

Numerous young people were registered for the election, and an expert jury nominated ten of them for the final round. These entered the online voting. The focus of the assessment was not only academic and professional performance. The main focus was on individual personality traits, determination and commitment as well as development potential.
Award for the best apprenticeship companies

As part of the gala "Bis du g'scheit!" yesterday, the best training companies in Salzburg were also in the spotlight. These were awarded for special achievements in dual training. The winners are Josef Flasch GmbH (Wagrain) in the "Small Business" category, Empl Baugesellschaft mbH (Mittersill) in the "Medium Business" category and Lagermax Internationale Spedition GmbH (City of Salzburg) in the "Large Business" category.

Haslauer: "Apprenticeship as a guarantee of success."

"I think that there is a growing awareness that apprenticeship is not a dead end, but a maglev track to success with endless possibilities, be it as an employee, be it as an entrepreneur, or as an excellent basis for further training," shows Haslauer is convinced
Share This Article