Yakima Goes Heavy Duty In 2019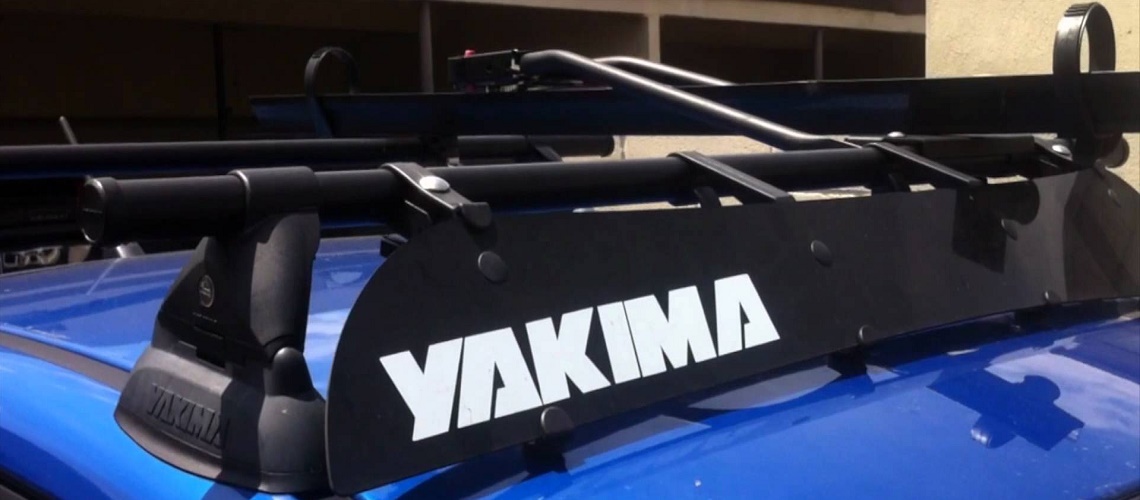 Keeping in step with both vehicle and gear trends from overlanding to kayak fishing, Yakima Racks is introducing its most rugged collection yet in 2019. The new products will be shown to the outdoor market at Outdoor Retailer Summer Market (booth #31015) in Denver, Colo.
Central to its 2019 line is thenew HD Truck Rack Collection. Built for the back roads and tested to Yakima's new Off Road rated standards, the heavy-duty rack collection includes three different systems: OverHaul HD, OutPost HDand BedRock HD. Each easily converts almost any truck into a gear-hauling machine.
Also debuting in 2019 are the HangOver, the first vertical bike rack built to Yakima standards; the BigCatchfishing kayak saddle, which transports kayaks up to 150 pounds; the SkyRise HD, the new ruggedized version of Yakima's popular rooftop tent; and the SkinnyWarrior, a new size of the best-selling cargo basket designed to create more roof rack space to carry other gear.
"We love how outdoor adventurers are continuing to up their demands on both their gear and their vehicles, and we're right there with products that meet those needs. Our response comes from two directions: making our gear more robust than ever, and helping people transform their vehicles into the ultimate gear carriers" said Joel Grabenstein, Senior Director of Marketing at Yakima. "Trucks, roof top tents, kayak fishing – these are all trends that are continuing to grow in popularity, and we're excited to meet the demands for these markets with our innovative new products."
Spring 2019 Products
HD Truck Rack Collection
Truck ownership continues to skyrocket, and Yakima is taking the desire to convert trucks gear-hauling machines to the next level with the new HD Truck Rack Collection. Unparalleled in its robustness thanks to Yakima's new Off Road rated standards, the heavy-duty rack collection includes three different systems: OverHaul HD, OutPost HDand BedRock HD.
OverHaul HD
For weekend adventures and hardworking weekdays, the new OverHaul HD adjustable truck rack brings best-in-class payload and unmatched versatility. Leveraging Yakima's new HD Bars for a 500 lb. on-road carrying capacity and paired with 300 lb. off-road rating, the OverHaul is the ideal foundation for heavy loads. Plus, it's easy to customize. The crossbar height can be adjusted 19-30 inches: way up for long loads to go over the cab; down low to get the rack and load down out of the wind; and the infinite number of positions in between.
The system is easy to take on and off the truck in minutes, with the Patent Pending QuickChange rack attachment, so the trucks only racked up when needed. The OverHaul fits all of Yakima's HD crossbar sizes and accepts SideBars for attaching off-road and utility accessories. Multiple tie-down points and the ability to fit most truck beds with the heavy duty BedGrip clamp design—including select tonneau covers—make this an ultra-functional rack that works and plays hard
OutPost HD
Designed to handle heavy loads on backcountry terrain, the OutPost HD is built for rugged overland adventures. The mid-height design provides a low center of gravity, easy accessibility to gear, and the perfect platform for the SkyRise rooftop tent. The engineered aluminum construction delivers an unmatched 500lb on-road carrying capacity, and is Yakima Off-Road Rated up to 300lbs. And it's the foundation for a fully loaded overland rack system. Pair the OutPost with the HD Bar length that best fits the bed and gear, then add Yakima SideBars, mounts and accessories to outfit any truck for every adventure.
BedRock HD
Sleek and strong, the BedRock HD's low-profile design, 300 lb. on-road and 180 lb. Off-Road ratings deliver an aerodynamic system that carries bikes, skis, fishing kayaks, or cargo boxes above the bed while preserving valuable cooler-carrying capacity underneath. Leveraging the new Yakima HD Bars, the BedRock HD provides strength and security, easily accessible tie-down points, and T-slot attachment capability that makes adding gear mounts a breeze.
HD Bar
Roof top tent? Fishing kayak? Lots of lumber? Yakima's burliest crossbar ever, the HD Bar is the go-to for heavy loads, rugged terrain, and maximum utility. It delivers the muscle that Yakima's new truck racks demand, and works with StreamLine towers when extra strength is required. The engineered aluminum construction delivers superior support without weighing things down, integrated tie-down points simplify load security, and the T-slot attachment technology makes adding gear mounts super-quick and simple. Available in multiple sizes, from 55" to 78".
HangOver
Introducing the HangOver, the first vertical bike rack and to meet the brand's demanding standards.
Tested in the lab and on the road, the HangOver safely hauls up to six mountain bikes to the trailhead. Perfect for group rides, big families and tour operators, the HangOver's vertical orientation carries more bikes in less space, and its easy-to-operate tilt mechanism makes accessing the tailgate a breeze.
Available in four- and six-bike capacities, the HangOver securely holds any bike with a suspension fork. Soft padding protects the fork's finish, and rotating wheel cups accommodate bikes with a variety of wheelbases. The HitchLock secures the rack to the vehicle and, of course, Yakima's signature bottle opener is built in.
BigCatch Fishing Kayak Saddle
Bust out the big boats! With a whopping 150 lb. capacity, the BigCatch is the first universal kayak saddle strong enough to handle heavy fishing kayaks and sit-on-tops. Simple to install and easy to load, the rubber-padded saddles conform to the kayak's hull for a super-secure, full-contact carry that's easy on the boat.? The kit includes felt pads that easily secure to the rear pads to help slide the boat into the cradle. Heavy Duty straps and Bow/Stern Tie Downs are also included and the universal mounting hardware fits most roof racks.
SkyRise HD
The SkyRise HD is the hub of the ultimate mobile base camp, and with a roomier geometry, improved four-season weather protection and enhanced durability, the newest version of Yakima's popular roof top tent brings more of everything for 2019.
The tent's geometry has been revised to deliver more usable space, plus expanded windows, doors, and skylights that provide grander views and better ventilation. The tent body is made from a thicker 600D Ripstop Poly fabric and an added layer of 3000mm waterproof PU coating, and the rain fly is 210D Ripstop Poly with a 3000mm PU coating – providing four-season weather protection. A burlier floor material ups the tent's durability. Floor-mounted d-rings and guy points make it easier to hang gear and guy out the tent for a secure pitch in windy conditions, and a new ladder design makes it easier to adjust for various vehicle and ground heights.
Adventurers can customize the SkyRise with Yakima's collection of roof top tent accessories.
SkinnyWarrior
A true warrior, the new SkinnyWarrior cargo basket is built from rugged, weather-resistant steel and includes a fairing to reduce drag and wind noise. A sleek addition to Yakima's cargo basket collection, this is a great load-and-go addition for a multisport rooftop system. Use the SkinnyWarrior to haul coolers and firewood, and save space to add bikes, boats, boards, or even a SkyRise rooftop tent.
Accessories include the SkinnyWarrior Extension for wrangling even more gear with 16" of additional space, and the StretchNet Skinny, which is designed for the SkinnyWarrior with or without extension and keeps loose gear safe and secure, even on bumpy back roads.
Share This Article