Winter Games NZ Revealing The Make-up Of Each Obsidian Team On Monday 3rd August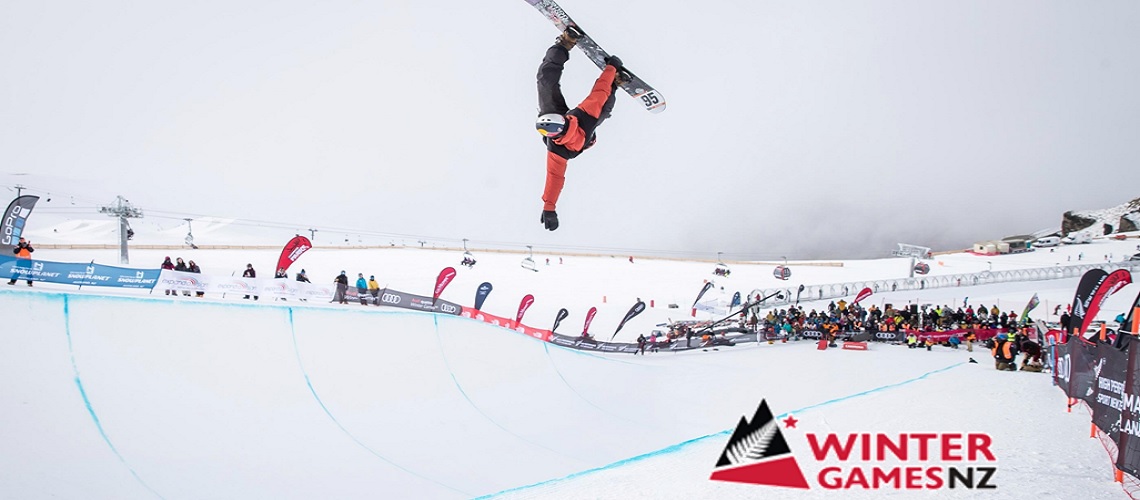 Winter Games NZ will be revealing the make-up of each team on Monday 3rd August so stay tuned for that announcement. They say:
What is Obsidian? We hear you ask! Well it's the biggest snow sports event this winter, with the finest kiwi talent competing in five epic challenges from 10 - 20 August.

21 of New Zealand's best athletes, from Olympic medallists through to Freeride World Tour winners, skiers versus snowboarders, women versus men and freeride versus park athletes. We have the best of the best at the top of their game.

Over the ten-day weather window, three teams will be battling it out to win the Edgar Challenge Trophy for the Obsidian. Each team comprises seven elite athletes and two world class videographers.

We have three snow sports legends as team leaders, with New Zealand's most well-known snow sports athlete Jossi Wells being joined by one of the most versatile female freeskiers in the world Janina Kuzma and freeride pro Sam Smoothy, as the third Team Captain. We will be revealing the make-up of each team on Monday 3rd August so stay tuned for that announcement.

The following five challenges make up the Obsidian. They are equally weighted at 20% each of the final score, to determine which team is our 2020 Obsidian Champion.

Freeride - A classic freeride competition format with an epic heli accessed mountain as this year's field of play. The judging format is based on the North Face Frontier event which is usually held during Winter Games NZ. 2020 will see stars from the FWT as well as Park and Pipe legends drop into this breath-taking venue.

Park Jam - A stylish jam format will allow the park athletes to shine. Cardrona Alpine Resort is building a custom rail garden in lower Stag Lane to allow as much freedom of expression and creativity as possible. We will be welcoming spectators to line the venue and watch these pros lay down some sweet moves. The exact date of this jam will be posted on our social, via news and our website once it is confirmed within the weather window. The judges will eliminate the lowest placed athletes in a nerve-wracking round robin knockout format until the ultimate winner is crowned.

Big Air - This Big Air event will see our park athletes bringing their A game to the third jump in Cardrona's Big Bucks park. We will be inviting everyone up for this awesome event as soon as we confirm the date in the weather window but don't doubt there will be a party going on with music, an MC and an epic vibe on the mountain. Athletes will again go toe to toe in a knockout format until one athlete is left victorious.

Mountain Shred - This challenge is about videography as well as our sport! Each team will be allocated a different local resort, where they will shred the mountain and session a line of their choice involving natural and enhanced features on the mountain. Their team videographers will create a video edit from the day, from which they will be judged 50% by the sports panel on the athletes tricks and execution and 50% by the media panel on the teams creativity and quality of the edit. The Mountain Shred venues are:
Treble Cone
Coronet Peak
The Remarkables

Once these edits are done we will be posting them on our Social channels so you can choose your favourite as well.

Obsidian Videography Edit - Each Obsidian team has a world class production company embedded as part of their crew. This challenge is the opportunity for the videographers to shine. They will be bringing their creative genius to the table and crafting an 8 minute edit of their team's journey at the Obsidian. The edit must be filmed within the 10-day weather window and all riding action must be captured on the day of the particular event. This edit will be 100% judged by the Media Panel and we will be premiering these at free community events in Wanaka (28th August) and Queenstown (29th August).

There will be more information to come on these awesome community events as we look to celebrate the Southern Lakes unique mountain culture.

From conception to reality the Obsidian has been an athlete focused, sport and content driven team event. We will be bringing the beauty of this innovative format and all the action to you via our digital channels and Sky Sports NZ.

You will be able to follow your favourite athletes and watch some exceptional snow content which we believe will blow your mind.

With the world starved of sports content and positive stories, we want to showcase our amazing place in the world and the epic talent of New Zealand's athletes. We look forward to bringing you with us on that journey over the next month. Sign up to our channels below and let us deliver some epic content you won't want to miss!
Share This Article